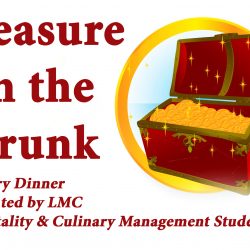 If you find the concept of a mystery dinner theatre experience exciting, don't commit the crime of waiting until it's too late to get in. Next month, the Lake Michigan College Hospitality and Culinary Management students will host Treasure in the Trunk, a mystery dinner theatre experience and silent auction for the fourth consecutive year, and — here's the important part — they sell out every year.
So, while the event itself will take place on Friday, April 28th at the Lake Michigan College Mendel Center, you cannot afford to wait anywhere near the long to line up tickets.
As has become tradition, students will prepare and serve a five-course, locally-sourced dinner. The interactive mystery production will be performed by both the TORP Comedy Troupe of Benton Harbor and LMC drama students. The silent auction will include hotel packages, restaurant gift certificates and personalized chef dinners, among other things.
This is the fourth year for the student-organized event, and it has sold out every year. All proceeds from the event will support the Hospitality and Culinary Management Student Club at the college.
The 2017 dinner also celebrates 40 years of hospitality education at LMC, where Chris Woodruff is the proud instructor. He says, "I'm so proud of our students and their enthusiastic involvement in the planning and execution of this event. I always hear great comments from our guests."
Doors for the silent auction and bar open at 5:30pm. Appetizers and the First Clue begin at 6:00pm. Tickets cost $40 per individual, $75 for two guests or $350 for a table of 10.
To purchase tickets for the event, or to make a donation online, click the link below or you can call 269-927-1221 for additional information. Here's the link:
http://www.themendelcenter.com/treasure-in-the-trunk
The Lake Michigan College Mendel Center is located at 2755 E. Napier Avenue in Benton Harbor.