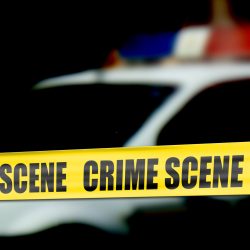 Strong police work in a collaborative effort has left two Indiana men behind bars for their roles in stealing a substantial amount of pricey equipment and vehicles from several businesses in Northwest Indiana that were being stored in a staging area in Van Buren County.
Police from multiple departments played a role in uncovering the theft ring and arresting a South Bend man and an Elkhart companion.
Van Buren County Sheriff Daniel Abbott says Deputies from his Uniform Response Division were on routine patrol in Decatur Township when they noticed a travel trailer parked next to the train tracks just outside of the Village of Decatur.
After a short time, the Sheriff's men were able to gain access to the property through an Amtrak right of way, and when they did they discovered multiple items on the property including several zero turn lawn mowers, a golf cart, a side-by-side off road ATV, a small farm tractor and mower deck, the 32-foot travel trailer and multiple steel and aluminum hauling trailers.
Unable to find anyone involved with the excess equipment, Deputies checked several vehicle identification numbers or VIN numbers and found that the travel trailer had been stolen in Indiana. So they proceeded to check the VIN and serial numbers of the other items and found that those items were also stolen in Indiana.
Deputies contacted the Michigan State Police Southwest Commercial Auto Recovery, or, SCAR Unit, and a search warrant was drafted.
During the execution of the search warrant on Friday afternoon, a 39 year old South Bend man and a 40 year old woman from Elkhart arrived on the scene hauling yet another trailer with another zero-turn lawn mower that was confirmed to have been stolen out of Goshen, Indiana.
All the items were confiscated for processing and further investigation, and with the help of the Middlebury and Goshen Indiana Police Departments, Deputies were able to determine that the larger items had been stolen from businesses in their respective cities.
Most of the items are brand new and have values of more than $10,000 each.
Once the investigation is completed the stolen property will be returned to the rightful owners.  The incident remains under investigation and will be updated accordingly. Both suspects were lodged in the Van Buren County Jail without incident.
Sheriff Abbott is asking that anyone who may have information relating to the case to please contact the Van Buren County Sheriff's Office, Crime Stoppers, or your Local Police Department.
The investigating Deputies included Deputy Daniel Perkins, Deputy Ryan Mcfanin, and Sergeant Greg Pentland.
Assisting Agencies included the Decatur Police Department, MSP Southwest Commercial Auto Recovery (SCAR), Middlebury Police Department, and the Goshen Police Department.