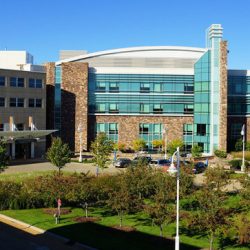 Trauma is the leading cause of death nationwide for young people aged from 1 to 44 years old. So just knowing that your local hospital is a designated trauma center should at least increase your peace of mind when facing traumatic situations in Michigan's Great Southwest, especially if the community faces large scale trauma events.
Lakeland Medical Center in St. Joseph and Lakeland Hospital in Watervliet were both recently designated as trauma centers in the state of Michigan through the year 2020.
For Lakeland Medical Center, St. Joseph the designation is as a Level III trauma center as declared by the American College of Surgeons (ACS). That designation represents the facility's ability to provide prompt assessment, resuscitation, surgery, intensive care, and stabilization of injured patients and emergency operations.
Meanwhile, for Lakeland Hospital in Watervliet, it was the Michigan Department of Health and Human Services (MDHHS) who awarded that facility with verification and designation as a Level IV trauma facility. Level IV designation means the facility provides advanced trauma life support (ATLS), evaluation, stabilization, and diagnostic capabilities for injured patients prior to transfer of patients to a higher level trauma center.
Elements of Level IV Trauma Centers include basic emergency department facilities to implement advanced trauma life support (ATLS) protocols, 24-hour trauma nurses and physicians available upon patient arrival, and the ability to provide surgery and critical-care services if necessary. In addition, a Level III Trauma Center offers 24-hour immediate coverage by emergency medicine physicians and the prompt availability of general surgeons and anesthesiologists as well as transfer agreements for patients requiring more comprehensive care at a Level I or Level II Trauma Center.
Lakeland President and CEO Dr. Loren Hamel says, "Lakeland Health is proud to offer two designated Trauma Centers, as well as a medical director of trauma, as we work to provide safe, high quality health care to members of our community during emergency situations." Hamel adds, "The work we are doing underscores our commitment to improve the health outcomes for those injured as a result of trauma which remains the leading cause of death in people ages one to 44 in the nation."