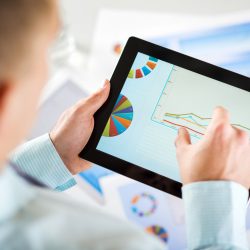 The summer lull that slowed the pace of the industrial economy in West Michigan briefly has concluded according to Professor Brian Long at Grand Valley State University and the result is an improving growth rate on multiple fronts.
Dr. Long, Director of Supply Chain Management Research, is out with his monthly census of business sentiment in the industrial economy for West Michigan and he says his research has turned up the resumption of the positive growth pattern we have seen for the past eight years following the brief summer respite.
According to his data, collected over the last two weeks of August, the New Orders Index of business improvement rose to +19, "up nicely from last month's reading of +8." In a similar move, Long says the Production Index "grew to +20 from +6."
Long says activity in the purchasing offices, as measured by his Purchasing Index, "moved higher to +24 from +12," while his Finished Goods Inventory Index remained stable at +2. However, his Raw Materials Inventories Index jumped to +16 from +4, "largely because of lead times starting to stretch out for some commodities."
When Long's report drills down to individual industries, he finds that "most of the individual industries in our survey remain virtually unchanged." Specifically, most auto parts suppliers continue to express concern about the slower sales figures that have been reported every month since the beginning of the year, but so far, "none of the firms in our local survey are talking about major sales declines."
The office furniture industry continues to show signs of topping out at the present level, "but no one is talking about any significant setback," according to Long. Some of the capital equipment firms are reporting weaker sales due to the slowdown in the auto parts industry. The summer maintenance schedules continue to bolster some of the local industrial distributors.
Long says in his August report, "Most firms realize that we are now over eight years into the recovery from the Great Recession, but none of the respondents feel that a major decline is coming any time soon." He adds, "Having successfully recovered from one of the sharpest dips in recent history, many of our local firms have wisely resisted the temptation to over expand."
Long goes on to include an update from Mike Dunlap's quarterly "Furniture Industry Report," calling the news "good." Dunlap's overall index came in at 57.49, fractionally below January 2017's 57.87. He notes, the highest recorded index was 59.72 in July of 2005, and the lowest was 41.45 in April of 2009 at the bottom of the Great Recession. Long tells us, "Much as our own survey has indicated, the office furniture industry appears to be stabilizing at the current level.
As is tradition, Long shares verbatim anecdotal comments from survey participants in an attempt to capture the mood of their confidence or concerns. Here are some of those comments as taken from Professor Long's August report:
"Lead times are starting to increase from our suppliers due to capacity issues."
"It's very challenging to hire and retain production staff."
"Will 2017 finish as strong as it started? That is the question we are currently facing."
"I'm too busy to comment!"
"We are seeing a seasonal slowdown, but future orders are still strong."
"We're on the upswing for new business, and it looks promising for the rest of the year."
"We're still seeing a very strong market."
"We see controlled growth with some signs of a little slowdown. But otherwise, we are selling nearly all we can produce."
"Business is steady."
"We need people, but the hindrance of red tape is excessive."
"Business is still strong, but we have been slower than plan."
"We have nothing of consequence to report."