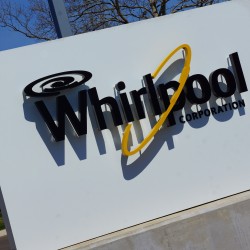 Probably a few high fives flying around the big house this week following news that Whirlpool Corporation has been tabbed as one of the World's Most Admired Companies once again. The news from Fortune Magazine marks the seventh consecutive year for the honor, recognizing the Benton Harbor appliance giant for its excellent reputation among corporate stakeholders.
Chairman of the Board & CEO Jeff Fettig says, "We're extremely proud of being recognized again on this prestigious list," adding, "For more than 105 years, we've been working to maintain the trust and confidence of our consumers and investors alike through product innovation and social responsibility."
Fortune's annual list is based on observations and opinions of executives who rate their peers and competitors in nine different categories including innovation, people management, use of corporate assets, social responsibility, quality of management, long-term investment, financial soundness, quality of products and services, and global competitiveness.
Whirlpool Corporation's appearance on this list of the World's Most Admired Companies is just the latest in a series of accolades coming the company's way. In December 2016, Forbes Magazine named Whirlpool Corporation on its Just 100 List, which recognizes America's best corporate citizens. Whirlpool Corporation has also received a perfect score on the Human Rights Campaign's U.S. Corporate Equality Index for the past 13 years.
Whirlpool Corporation is the number one major appliance manufacturer in the world, with approximately $21 billion in annual sales, 97,000 employees and 70 manufacturing and technology research centers in 2015. The company markets Whirlpool, KitchenAid, Maytag, Consul, Brastemp, Amana, Bauknecht, Jenn-Air, Indesit and other major brand names in nearly every country throughout the world.