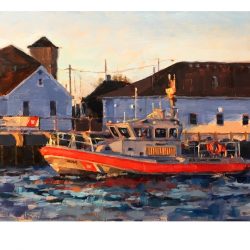 Prolific St. Joseph Artist Kristin Hosbein's passionate support for the United States Coast Guard is earning her some pretty incredible recognition at the highest levels of that agency's command. For the fourth time in her professional painting career, one of Kristin's remarkable oil paintings is destined for Washington D.C. where it has been selected as part of the Coast Guard's permanent collection.
An original oil painting, entitled "Heading out in District 9", created by the award-winning local artist who headquarters her work at a studio in The Box Factory for the Arts in St. Joseph, was chosen to be included in the 2016 permanent collection of the United States Coast Guard in the nation's capitol.
The work depicts the District 9 Coast Guard Station in St Joseph, with a 45′ medium response boat piloted by BM3 Brigitte A Baskin, as it is heading out to Lake Michigan. The St. Joe Coast Guard station has been in the same location dating back all the way to 1874. The painting also includes the former 9th District Armory Depot, which currently houses the St. Joseph River Yacht Club.
It's not a first time honor, either, inasmuch as this is actually the fourth painting of Kristin's work that has been included into the national collection. Two paintings were accepted into the 2011 exhibition, one which portrayed the participation of the Coast Guard in the Gulf of Mexico oil spill, and the second, illustrating the role of Coast Guard women in the defense of escorting the Navy aircraft carrier, USS George H.W. Bush out to sea from Mayport, Florida, Ms. Hosbein's third work awarded in 2014, represented cold water ice rescue training in the Great Lakes.
Kristin tells us, "I believe passionately in supporting those that risk their lives for our safety by creating colorful moments of inspiration portraying the USCG in action."
The inaugural exhibition of the work representing the 2016 USCG Art Collection will be held at the Salmagundi Club in New York City from July 17th through July 28th. This year marks the 36th anniversary of the art program.
Her paintings are truly memorable, light-filled moments captured with decisive brushwork in the ala-prima tradition. I have long been a fan of her work, dating back to when she created the very first Moody on the Market logo for me when I used it as a private newsletter, years before there was such a thing as this website.
Kristin has won numerous awards, and has studied with notable contemporary masters. She is an artist member of the Palette and Chisel in Chicago, Oil Painters of America and is represented on Mackinac Island by Mackinac's Little Gallery on Market Street. Locally her work can be seen at the Inn at Harbor Shores, and the Bistro at the Boulevard.
For more information about the USCG Art Program look online at https://www.uscg.mil/art/.
Check out the very talented Ms. Kristin K. Hosbein by clicking through to her website below: