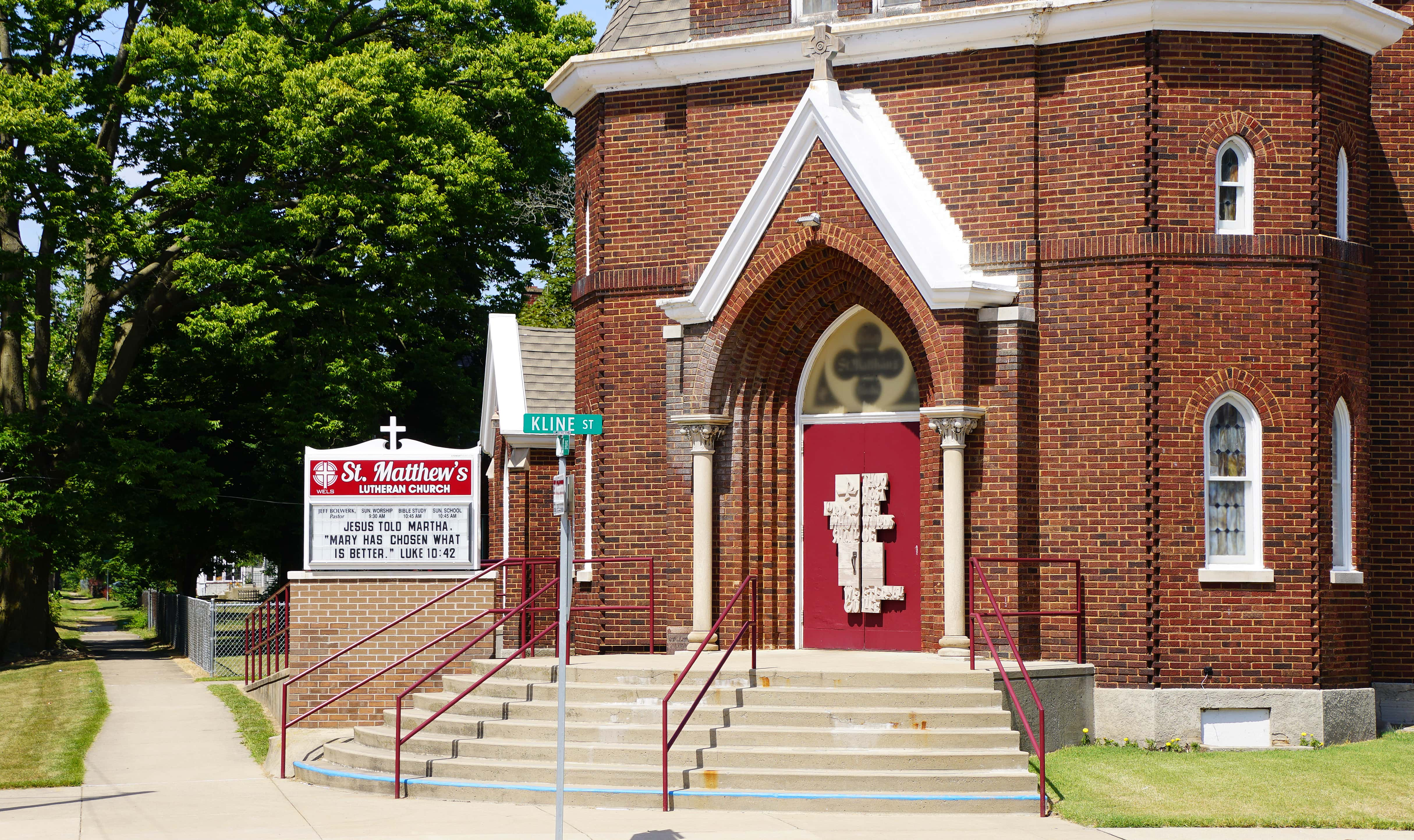 The resilient congregation of St. Matthew's Evangelical Lutheran Church at the corner of Colfax and Kline in the city of Benton Harbor is gearing up for a major anniversary marking the 100th year of the church building that has certainly stood the test of time. Their formal celebration is slated for Sunday, August 25th, but the church's clergy and members are already marking the occasion with remembrances and stories to tell.
Yet, the building almost didn't survive. It was 1987 when a fire, started by an arsonist, tested the resolve of the congregation at St. Matthew's, but turned out to be a blessing in disguise.
Rather than use the insurance money for a church at a new location, the people of St. Matthew's decided to stay and regard it as their ongoing mission from God to reach out to the people of Benton Harbor. That decision left St. Matthew's with a core of the most dedicated Lutherans anywhere, and they continue their commitment to God's mission of reaching out with the Gospel, regardless of any difficulties hurled their way.
They are, as Pastor Jeff Bolwerk says, "Looking forward as we look back." Here is his message to the congregation ahead of the anniversary celebration:
So then, you are no longer foreigners and strangers, but you are fellow citizens with the saints and members of God's household. You have been built on the foundation of the apostles and prophets, with Christ Jesus himself as the Cornerstone. (Ephesians 2:19-20)
"It's good to look back and remember how God has blessed us. From the small wooden church on Lavette Avenue to a large brick building with a steeple, a bell, and stained glass windows. God had certainly been gracious to the members of St. Matthew's. So in 1919, as they laid the cornerstone of the new church building, the people gathered to praise God for his goodness. They praised God for his greatest blessing to them, God's Son, Jesus, who is the true Cornerstone of the Christian Church. Through Jesus, God freely offers forgiveness of sins and eternal life to all who believe. It was that living faith, created by God's Word, that moved the members of St. Matthew's to build the church as a place to serve God and glorify his name.
It's good to remember all the different ways that God has blessed others through us. Jesus' Church here on earth does not exists as an entity unto itself. God put us here to be a blessing to others. Those blessings took on many different forms: the immigrants that were welcomed, the community members helped with their material needs, and the family, friends, co-workers, and neighbors with whom the good new of Jesus saving work was shared.
While it is good to remember the past, it is even better to think of all the ways God continues to bless us, and bless others through us. The true words and promises of God continues to be proclaimed among us. Brothers and sisters in Christ continue to care for each other and encourage each other to acts of love and kindness. St. Matthew's continues to share with the people of this world what they so desperately want and need: hope for a better future, a peace that lasts, and the comfort of knowing that life is not lived in vain. We share all these things as we share all the blessings God has promised through faith in his Son, Jesus Christ. We pray that God will allow us to continue to praise and proclaim his saving name from this church building for many years to come."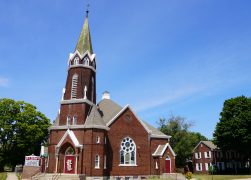 As the congregation continues to plan for their celebration later this month, a number of the older members of the St. Matthew's family shared some thoughts and stories of their own:
Mr. William (Bill) Rauh: St. Matthew's Lutheran Church has been my home ever since my baptism there in 1927. I was married there in 1953 as was one of my sons in 1994. St. Matthew's was there for me when I buried my wife, mother and father, and my sister. I attended St. Matthew's Lutheran School as did all of my children. During my life time St. Matthew's has been there during both good and sad times. Most importantly it is the place that has provided me the opportunity to hear God's Word. For that I am ever grateful.
Mrs. Shirley Akright: I remember when we had the fire in the church back in the 1980's. Everyone came together to help. People would help setup and take down chairs in the school gym for worship each week while the church was being repaired.
Mrs. Ellie Maas: Ellie related a story from her friend Lilli Fridi. Lilli's family emigrated to the United States when she was a little girl. That year Lilli attended St. Matthew's Christmas Eve service. She understood very little English, and she was overcome with emotion when they concluded the service with "Stille Nacht." What a blessing to this small girl so far from all she knew in the old country. It was an impression to last a lifetime.
Mrs. Elsie Harke (96 years old): Elsie, her husband Gus, and son Heinz moved to Pittsburgh when they first came to the United States. Elsie's sister, Olga Stachowski, lived in Benton Harbor at the time and told Elsie that Benton Harbor was more like the old country. So Elsie took a bus to visit and decided the family should move here. Unfortunately, Gus became sick back in Pittsburgh, so they had to wait until he got better to move, which wasn't until the next spring. Some Lutherans from the old country sent a truck to bring their belongings to Benton Harbor.
The family joined St. Matthew's because worshiping in German was important to them. Pastor Wendland was the pastor at St. Matthew's when they arrived. When Pastor Wendland went to Africa on a mission trip, Pastor Hasse took over the German worship for a while until Pastor Fricke arrived. After Pastor Fricke was Pastor Biedenbender who was also fluent in German.
There were 300 children in the school at that time. Before they put on the addition, kindergarten was held in the church basement, which is where her son Heinz had his kindergarten class. To accommodate all the families and children St. Matthew's had two Christmas Eve Children's services, one for kids in K to 4th grade, and one from the kids in 5th to 8th.
Elsie was amazed that in the United States parents brought their infants to church. Back in the old country people did not bring babies to church. At the time they joined St. Matthew's, Holy Communion was only given once a month, and the people followed the tradition of fasting on the mornings when there was Communion even though this was not something decreed in the Bible. Elsie joined the choir in 1958.
Mrs. Olga Sauder (94 years old): She and her husband and young daughter, Hilda, came to the United State in 1952. They were sponsored by her aunt and uncle Anna and Julius Jeske, who were already living in Benton Harbor. Since her aunt and uncle went to St. Matthew's, Olga and her husband decided to join also.
There were three worship services at that time: English worship at 8:00 am, German worship at 9:30 am, and a second English service at 11:00 am. Pastor Wendland was the pastor when they joined, and since he had gone to school in Germany he did all three services. At that time there were about 100 members who attended the German worship.
Olga's father came to the U.S. for a time, but then returned to Poland. After he returned he was restricted from coming back after the wall was built between East and West Germany.
There were many differences Olga noticed between the church in Germany and St. Matthew's. Back in Germany they only had Holy Communion four times a year, where St. Matthew's offered it every month, and then eventually twice a month. In Germany the Confirmation class was held in the village with all of the confirmation age children. The class would be led by one of the church leaders. In the U.S. all the confirmation age children met at the school and were taught by the pastor.
Olga remembers how, when the neighborhood began to change in the 1960's, St. Matthew's started losing members to Grace Lutheran in St. Joseph, and to St. Paul's Lutheran in Stevensville.
Mrs. Ruth Brenner: The first time my husband and I entered St. Matthew's Lutheran Church with our four little ones we were amazed at how big the church was. Then we noticed how beautiful the altar and the pulpit were, and all the stained glass windows as well. To hear the organ being played as the service started and then with the congregation singing the hymns was so nice. We also enjoyed the choir singing the special songs.
On Easter Sunday the choir and students from the school would sing. And then there were the Christmas Eve services. The church would be all decorated for the holiday. The children performed by singing Christmas hymns and reciting the birth of Jesus as written in the Bible. The choir also sang beautiful hymns that night.
Any other services were just as special – to hear the pastor deliver the sermon. We also had vicars who assisted the pastor and gained experience to become a pastor.
We have had organists, and choir directors, and choir members who always performed so well. The church council, the Ladies Aid, our cleaning ladies, and many others make St. Matthew's a very special place to worship every Sunday, and all the extra special services we have during the year and after 100 years the church is still as beautiful as ever.
Mrs. Carol Biedenbender: In 1965, my husband, the late Rev. Kermit Biedenbender received the call to become the Pastor of St. Matthews Lutheran Church in Benton Harbor. One of the reasons he was asked to serve was because he was fluent in the German language. While we were there the congregation had three services per Sunday: Two in English and one in German.
We knew we would be moving to a rapidly changing neighborhood. What a challenge. We would be going to the largest congregation we had ever served, and a very diverse community at that. It was also a wonderful opportunity to have our children receive a Christian education in a Christian school. We lived in the parsonage next to the church, where we raised our eight children, for twenty-nine years.
There were many difficulties and challenges. There were people moving away, deterioration of the area, the church fire and racial unrest. These things were outnumbered by the love we felt among our congregation members and our great neighbors! Some of the things our church family did, some of which I was privileged to help with, were the school, Sunday School, day care, our thrift shop and Vacation Bible School. Also the Christmas Gift Project we did for the community at Christmastime for many years. What a group of dedicated workers we had and still have.
Our beautiful church is not just a building to me, but a symbol of God's great love and a group of Christians that I will never forget.
The Daily Palladium Newspaper shared the dedication of the current church building in 1920 with a huge splash on the front page, and multiple pages beyond including a large photo of the church. In part that story said: "The edifice occupies a commanding position on one of the city's principal north and south traffic arteries, set amid an excellent residential section and overlooking the broad valley of the St. Joseph River and the bluffs of the sister city."
It went on to report: "Old Gothic lines of architecture similar to those which distinguish the famous cathedrals of Europe are followed consistently to the last detail. The main auditorium is a mode of Gothic construction and breathes the atmosphere of quiet worship and solemnity without being in the least oppressive."
A day later the newspaper reported, "Close to 2,500 people, including visitors from South Bend, Dowagiac, South Haven, Bridgman, Sawyer and Stevensville attended the first service to be held in the recently completed St. Matthew's Lutheran Church."
In 1926, a new Estey two manual pipe organ with pedals was purchased from Lyon & Healy of Chicago for $6,000 "ready to play," while the old organ had a trade-in value of $350.00.
In 1919 the cornerstone was laid for St. Matthew's Church. In August of that year a dedication service was held to celebrate the building of the new church. 100 years later St. Matthew's is still serving the community of Benton Harbor, and in memory of the laying of the cornerstone there will be a special anniversary worship service held on Sunday, August 25th, 2019 at 3:00 pm. Pastor Mike Biedenbender, a son of the congregation, will be the guest preacher, highlighted by special music along with a commemoration booklet.
Following the service there will be memorabilia displays setup around the church and grounds, and an Anniversary Guest Register will be available for all to sign. Appetizers and refreshments will be served, and the congregation encourages everyone to "Come and join us for this special event!"
You'll find the church at 121 Kline Street (at the intersection with Colfax Avenue) in the city of Benton Harbor.