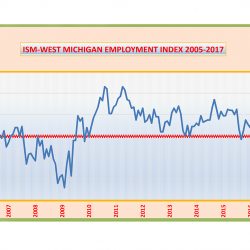 One never knows what a New Year will bring so when a guardian of the data tells us that we've started anew on a positive note, that has to be a good thing. That's where we find ourselves in measuring the health and well-being of the West Michigan Industrial Economy as routinely measured by Grand Valley State University Economist Brian Long.
Long's regularly monthly update shows 2018 is starting on a positive note, with "The numbers for January, better than we expected." Long is Director of Supply Management Research in the Seidman College of Business at Grand Valley State University in Grand Rapids. He says that according to the data collected in the last two weeks of January, his New Orders Index of business improvement, rose modestly to +23 from +19. In a similar move, the West Michigan Production Index edged up to +24 from +22. Activity in the purchasing offices, the Purchasing Index, rose modestly to +18 from +16.
Long points out that "Overall, the West Michigan industrial economy can still be described as slow growth, but January saw a modest uptick in the pace," and provided specifics from several industrial fronts.
By way of example he notes that the automotive parts producers remain cautious about 2018 as questions continue about auto sales as the year unfolds. Long suggests, "The market continues to shift away from sedans and in the direction of light trucks, crossovers, and SUVs, hence, the specific product line that a given parts manufacturer is supporting becomes important."
Long also reiterates his argument that the office furniture business continues to show signs of topping out, "but the current level is both high and profitable." Additionally, the back-to-work attitudes of the post-holiday season resulted in some modest improvement for industrial distributors in West Michigan, nevertheless, "This month's big boom is centered on SOME of the manufacturers of capital equipment." He notes, "Numerous firms were apparently waiting for the passage of the new tax law before making a firm commitment, so it is not a total surprise to find that a few local firms are swamped with orders."
In scanning the unemployment picture, Professor Long admits that January is often regarded as a back-to-work month, and says this year was no exception. The West Michigan index of Employment rose to +20 from +15, continuing the positive job growth we have now seen for almost a full year. However, the December seasonally adjusted unemployment rate reported by Michigan's Department of Technology, Management and Budget rose to 5.1-percent, noticeably higher than the 4.5-percent rate reported for December last year. Long says, "In addition, the unemployment rate at most of our local reporting units are now as much as a half percentage point higher than last year at the same time. Whereas we have declared West Michigan to finally be back at 'full employment,' the apparent backtracking has been unsettling. However, drilling down into the state's database reveals that much of the modest rebound is the result of workers reentering the workforce."
Professor Long also adds, "Unfortunately, those people returning to the workforce are often not among the skilled, trained, or certified workers who are needed by employers. Hence, the participants in our survey continue to complain about the shortage of qualified workers."
When studying the overall economy, Long turns philosophical saying, "Yes, the stock market, which is now largely controlled by computers talking to computers, was due for a setback. However, most experts note that the trigger has been the threat of higher interest rates as opposed to some new fundamental development. Corporate earnings remain positive, which should help to create a plateau after the selloff."
However, Long says, "A more ominous fundamental disruption, like trade war or military action from North Korea could put a significant damper on the stock market as well as the overall economy. The post-war record expansion partially resulted from the 1981 tax cuts and lasted for 10 years. The current expansion is now approaching nine years old, and will need to make it to June 2019 to be a record. Barring a catastrophic geopolitical event, there is a chance that the old record may be broken."
As is Long's traditional survey format, he shares a number of verbatim anecdotal comments from unidentified respondents to help capture the feel of the report's data…and here are some of those shared from the report at the end of January:
"A thriving economy means aggressive price increase strategies are coming. I'm expecting a lot of upward price pressure in the first quarter of 2018."
"The fourth quarter is looking pretty strong, and will finish out the year."
"Very busy with orders and quotes. Are we nuts ??"
"We're having great volume during the holiday season!"
"Overall, it has been a solid year for us."
"2017 was very busy, and 2018 is expected to be as busy as long as the funds are there as promised."
"Quoting activity is very active for the first quarter of 2018."
"Economy appears to be healthy, and 2018 looks promising."
"Business outlook is strong going into 2018!!"
"We're getting hammered with price increases of 5% to 8%!"
"We are looking forward to a strong 2018, but are cautious with the uncertainty for 2019."
"We're closing out a record year of new business, which is more than double our original projection."
 "2018 looks like another strong year with plenty of growth opportunity."
You can read Dr. Long's complete report by clicking the link below: