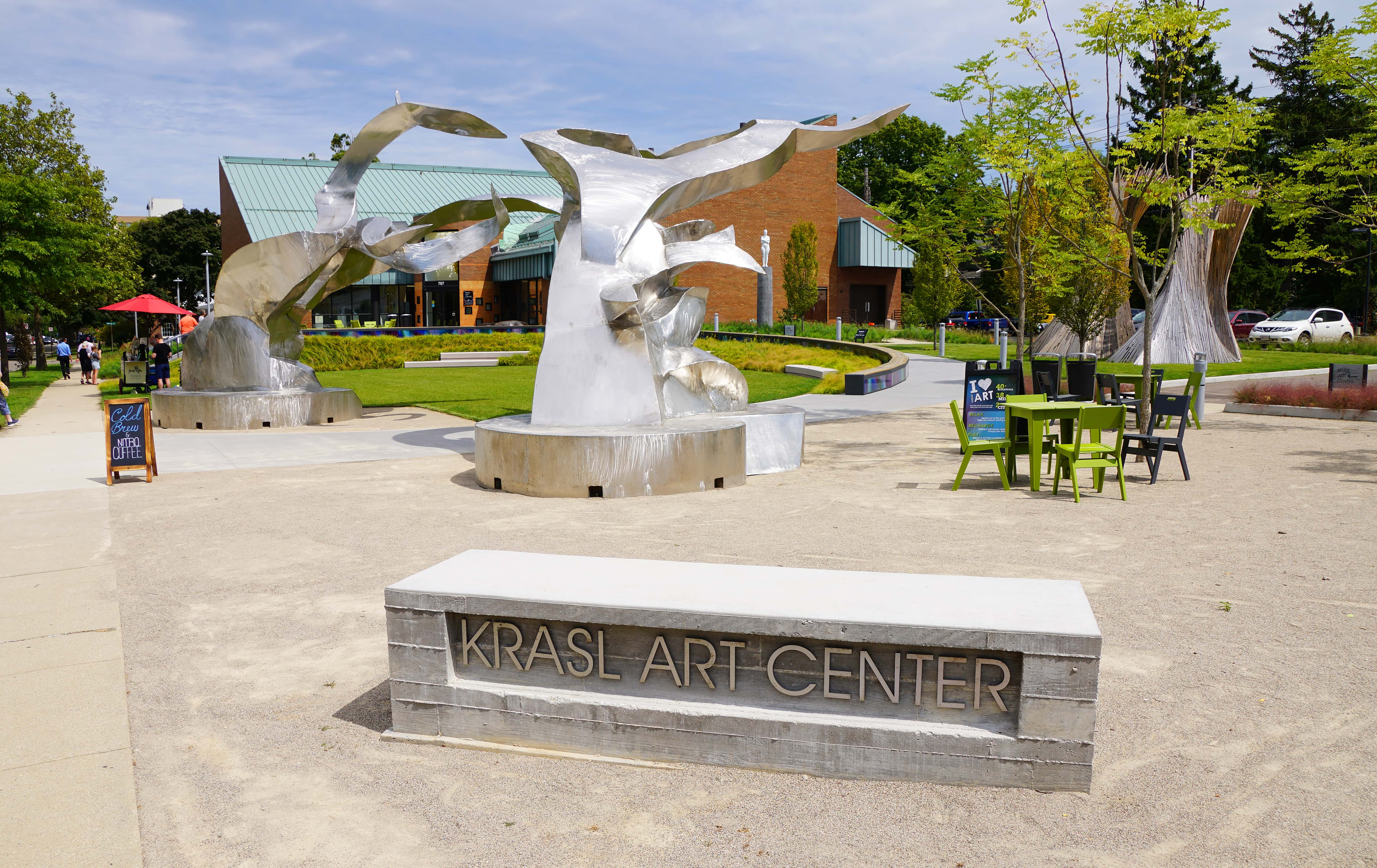 When the Krasl Art Center's Annual Member's Show for 2019 goes up next month, visitors to the center in St. Joseph will find an incredible range of "Resiliency through Art."
The upcoming show, running from December 6th through January 20th, will reflect how the greater community of Michigan's Great Southwest has adapted to adversity, trauma, tragedy, threats, and stress.
Organizers at Krasl Art Center say they are proud to present the theme of Resiliency for the 2019 Members' Show. Each year, members are invited to submit one new artwork of their making addressing the current year's exhibition theme. Continuing with the center's current exhibition, which is still on view through December 1st, Resiliency is defined as "the process of adapting well in the face of adversity, trauma, tragedy, threats and even stress – such as family and relationship problems, serious health problems, or workplace and financial stresses." The exhibition is underwritten by Chemical Bank.
This continuation of Krasl's current exhibition, Resiliency, was inspired by dialogue between the center and Spectrum Health Lakeland. In 2016 and 2019, Spectrum Health Lakeland completed Community Health Needs Assessments in which mental health emerged as the most urgent need throughout Berrien County.
In 2016, Krasl Art Center committed to inspiring meaningful change and strengthening the community through visual arts as its new mission. Combining the center's expertise in art, and the hospital's expertise in wellness, both exhibitions represent the collaborative efforts to improve quality of life. Both exhibitions are the first in a line of artist-guided programming designed to facilitate better understanding of mental health and explore the concept of community resiliency. Look for events at Krasl, the Benton Harbor Public Library, and the Maud Preston Palenske Memorial Library in St. Joseph continuing into 2020.
All media, styles, and skill-sets are accepted in the 2019 Members' Show encouraging creativity and community bonding. Collaborative efforts are encouraged and performance pieces will be considered. Krasl members are invited to submit their artworks for display on December 1st from 11 AM to 5 PM, and December 2nd from 11 AM to 8 PM. The exhibition will then be on view from December 6th, 2019 through January 20th, 2020. Artwork will be available for pickup from January 22nd through the 26th during the center's public hours.
If you're not a member, that's not a problem. You can join the Krasl family when you drop off your artwork on December 1st and 2nd. There is only one size requirement: artworks must be able to fit through the Krasl Art Center's front doors. All mediums and levels of expertise are welcome. You can visit the online link below for additional artwork criteria, information on membership levels, and a discount offer from Waterfront Framing and Fine Art in St. Joe. Here's the link:
https://krasl.org/art/exhibitions/upcoming/
Krasl Art Center Deputy Director and Curator Tami Miller says, "Our members and the surrounding community are extremely important to KAC, and we are thrilled to celebrate them and their collective resiliency with this unique exhibition. We are pleased to offer this opportunity to present members' artwork professionally displayed in KAC's beautiful galleries."
Here is a line up of Exhibition Programming: (All events are free and open to the public unless otherwise noted)
2019 MEMBERS' SHOW ARTWORK SUBMISSION DATES
SUNDAY, DECEMBER 1, 11 AM – 5 PM
MONDAY, DECEMBER 2, 11 AM – 8 PM
OPENING PARTY
FRIDAY, DECEMBER 6th, from 5:30 – 8 PM — Join Krasl Art Center for the biggest opening of the year. Featuring live music by Motown Machine, art-making for all ages with art therapist Holly Garces (5:30 – 7:30 PM), a VIP lounge, cash bar featuring Lake Michigan Vintners and The Livery microbrewery (6 – 8 PM), and small bites by Bistro on the Boulevard.
RESILIENCY REVEAL PAINTING WORKSHOP
SATURDAY, DECEMBER 7th from 11:30 AM – 1 PM — Reflect on what makes us strong with teaching artist Keith Stevens. Create vibrant silhouettes and consider the things life throws our way as you cover them with layers of paint. Then, wash the paint away to see the resilient figures reemerge. Space is limited. Email education@krasl.org to reserve your spot today.
COFFEE WITH THE CURATOR
WEDNESDAY, DECEMBER 11th at 12 PM — Join Deputy Director & Curator Tami Miller and select artists from the show for a guided tour of the exhibition. Featuring KAC premier coffee provider Forté Coffee.
RESILIENCY IN RITUAL
WEDNESDAY, JANUARY 8th at 10 AM — Local artist Kathy Zerler celebrates the significance of morning rituals in this New Year. Morning rituals help get us out of bed, face the day, and live in the moment. Zerler will share personal and fictional accounts of these wonderful practices and invite guests to share their own, all while enjoying a warm cup of coffee or tea.
THOUGHTFUL THURSDAY + ARTIST TALKS
THURSDAY, JANUARY 9th from 7 – 8 PM — Exhibiting Member Artists are invited to join this special Thoughtful Thursday program, touring the galleries and sharing the inspirations, anecdotes and techniques behind the artworks on view.
UNDERSTANDING ART TOURS
Book a tour of the 2019 Members' Show for a class or group. Email the education department at education@krasl.org.
Krasl Art Center is a nonprofit art museum and learning center that enriches the lives of people living in or visiting Southwest Michigan by delivering enlightening art experiences through diverse education opportunities, meaningful events, and high quality exhibits and collections. Krasl Art Center's mission is to inspire meaningful change and strengthen community through the visual arts. To learn more, visit krasl.org.