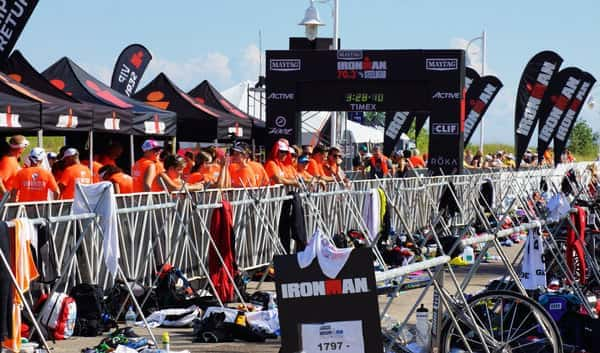 For the second consecutive year, 79-year old Jack Fife from Indianapolis will be the oldest entrant in the Maytage Ironman 70.3 Steelhead race this weekend in Michigan's Great Southwest, competing in a field or more than 2,100 registered participants. At the other end of the spectrum, a local competitor, 18 year old Logan Borah from St. Joseph will be the youngest racer to take on the Ironman in his first ever 70.3 Ironman event.
A veritable city is under construction at Jean Klock Park along the shores of Lake Michigan in Benton Harbor to handle the crush of athletes, both professional and amateur taking on the endurance test from 42 states and 22 countries around the world. The Ironman Village will officially open at 2pm on Friday, June 28th, while the 16th anniversary race in Southwest Michigan begins Sunday morning at 6:45am with a single, 1.2-mile triangular swim loop taking place in Lake Michigan starting and ending on the shores of Jean Klock Park.
Following the icy swim, triathletes will take to the 56-mile bike course through the scenic northern Berrien and eastern Van Buren County countryside before returning to Jean Klock to dismount and run a double loop run course that starts at the beach, briefly takes them through part of the Jack Nicklaus Harbor Shores Golf Course, and then two loops of the Whirlpool Corporate campus park on North M-63 before finishing again at Jean Klock Beach after 13.1-miles.
Also in the mix are such athletes as 56 year old Gregory Reed of Gibsonia, Pennsylvania, a veteran of 3 Ironman 140.6 and 12 Ironman 70.3s. He is a USAT Age Group National Champion and has completed 190 triathlons since 193 in 8 different countries and 25 different states.
For 29 year old Brendan Joyce of St. Joseph, it's round three after he was hit by a drunk driver on his bike five days before Steelhead 2015.
For 53 year old Anne Marie Peck out of Granger, Indiana, it's a race in honor of being 20 years cancer free. Five years after her cancer treatment, she lost her left kidney to a rare benign tumor that ruptured on it. In 2017, Anne Marie was diagnosed again with invasive breast cancer, but after starting treatment it was discovered that it was a mostly benign tumor. Nine months later, her mother passed away due to lung & bone cancer. Anne Marie is celebrating the courage it takes to battle cancer with this race.
For 31 year old Megan Newton of New Albany, Indiana, the race was a Father's Day surprise for her dad. She is a self-proclaimed "Daddy's Girl" who says she and her dad were signed up to run the Steelhead together two years ago, but he was injured and unable to race. Now that he is ready to race again, she revealed on Father's Day that she will be racing with him.
Then, there's the story of 24 year old Kirsten Clemens from University City, Missouri. Kirsten is a kid's cancer nurse that enjoys triathlons in her off time. She does not live in the same city as her mother anymore, but they always come together to do triathlons. After finishing Ironman Louisville last October, she found out that she had qualified for the 2019 Ironman World Championship. Her mom will be in Kona to watch Kirsten cross the finish line.
Among the stars to watch closely, 36 year old Joe Gambles from Tasmania who currently lives in Boulder, Colorado, will wear Bib #39. He has 16 top three finishes in the past 10 years, nine of which he emerged from as the Champion.
Wearing Bib #30 is last year's 2nd place finisher, 36 year old Andrew Starykowicz from Wauconda, Illinois who went on to win Ironman Waco, Ironman Texas, and finish 3rd in the Ironman North American Championship in Texas earlier this year.
Among the women at the top, 40 year old Meredith Kessler from Westerville, Ohio who is a 16-time Ironman 70.3 Champion, and an 11-time Ironman Champion including victories around the world.
Triathletes come from all walks of life to enter the Maytag Steelhead event including airline pilots, architects, chefs, dentists, firefighters, lifeguards, nurses and doctors, police officers, social workers and teacher.
The race starts at 6:45am on Sunday morning for the men, five minutes later for the women, and will end with award ceremonies at Jean Klock Park at 4pm that day.