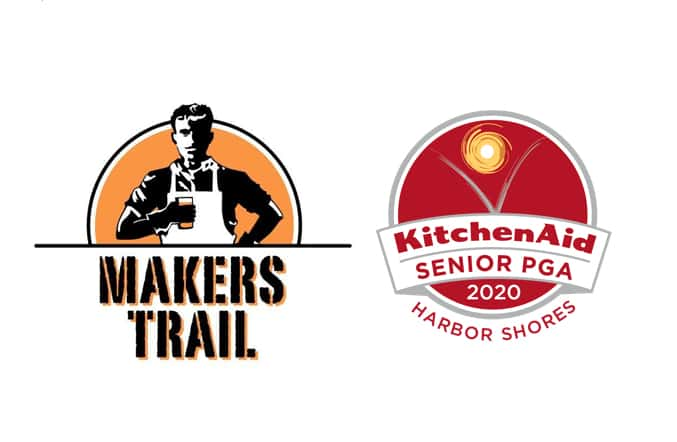 One of the hottest tickets in town when the KitchenAid Senior PGA Championship hits Harbor Shores is the amazing Makers Trail 19th Hole Pavilion, and 2020 will be an exceptional year on the course thanks to a stellar line up of Makers ready to hit the trail.
The 2020 KitchenAid Senior PGA Championship is mixing up the perfect cocktail for its upcoming May Championship, combining golf and scenic views with some of the finest craft beverages that Michigan's Great Southwest has to offer. Event organizers have announced the 10 breweries, wineries and distilleries slated to be showcased in the 2020 KitchenAid Senior PGA Championship Makers Trail 19th Hole pavilion.
The Championship invites fans to experience the participating Makers' finest craft beverages at their establishments in advance of next year's event and get to the "bottom of the cup" of what their serving inside the 19th Hole. What they're saying is, you don't have to wait until the Championship in May to try each delicious craft beverage. This fall and winter, you're invited to trek the trail of breweries, wineries and distilleries to find your favorites before Championship weekend next year.
The 2020 Makers include (click on any or all to learn more about them):
The Makers Trail 19th Hole special ticket option offers a fan experience like no other. The upgraded ticket gives those in attendance special access to a covered pavilion with comfortable seating, TVs to keep an eye on the action, and a relaxed atmosphere to enjoy Championship golf from a premier vantage point.
Ryan Ogle is Championship Director for the KitchenAid Senior PGA Championship. He says, "Perfectly positioned behind the 17th hole green at Harbor Shores, the Makers Trail 19th Hole is a popular location to witness championship golf while creating memories with friends in a unique setting." Ogle adds, "We are bringing this experience back due to popular demand and will be sourcing some of the best local options for our guests."
Millicent Huminsky from the Southwest Michigan Tourist Council admits, "We love being a partner in one of the main attractions of the KitchenAid Senior PGA Championship here in Southwest Michigan, casting a broad spotlight on the many wonderful Makers throughout the region." She adds, "KitchenAid and the Championship have been instrumental in attracting visitors to the area and we are proud to be involved with a major event that is so dedicated to our community."
Discounted Weekly Makers Trail 19th Hole tickets are on sale now for a limited time and include one daily ticket to each Championship round (Thursday through Sunday). Upon arrival, each individual ticket holder will receive five (5) $5 concession vouchers for use inside the 19th Hole pavilion.
For more on the Championship, Makers Trail and how to purchase tickets, click this online link:
https://attend.srpga.com/tickets/
The KitchenAid Senior PGA Championship was born in 1937 on the grounds of Augusta National Golf Club. Since then, famed champions such as Sam Snead, Arnold Palmer, Gary Player, Jack Nicklaus, Tom Watson, Lee Trevino, Raymond Floyd and Colin Montgomerie have hoisted the Alfred S. Bourne Trophy. Make plans today to be on hand when the 2020 Champ hoists Alfred skyward right here in Michigan's Great Southwest.