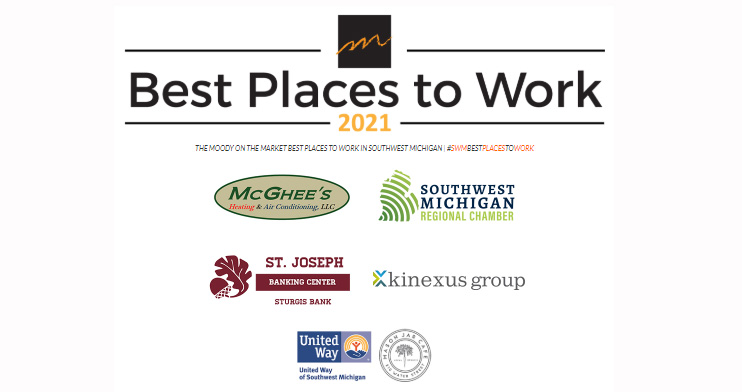 The winners of the 2021 Class of the Moody on the Market 20 Best Places to Work in Michigan's Great Southwest have been selected and are now ready to take a bow.
Thanks to our underwriting sponsors of McGhee's Heating & Air Conditioning, the Southwest Michigan Regional Chamber, Kinexus Group and the St. Joseph Banking Center of Sturgis Bank & Trust with support from the United Way of Southwest Michigan and the Mason Jar Cafe, the selection committee has produced a solid list of 20 winning enterprises from the three dozen nominated entities sent their way.
That group of judges comprising the selection committee come from the recent ranks of the Moody on the Market 40 Under 40 Young Professionals in our region including the Committee Chair Jodie Kitchell from United Federal Credit Union, and her hand-selected crew of Emily Schrock from St. Joseph Today, Amber Layman from Whirlpool and Dugout Dolls, and Brooke Totzke from Heritage Family Farms. They also allowed me to have a single vote in the process as well, and we all spent countless hours reading the extensive nomination forms in search of the very best.
There's a very nice cross section from Southwest Michigan ranging from Paw Paw to Sawyer and lots of places in between. The companies range in size from just three employees to more than 550, so there is great diversity in the mix.
While nine of the winners are anchored in and around St. Joseph, there is a wide range beyond with three from Benton Harbor, and one each from Paw Paw, Buchanan, Sawyer, Niles, Constantine, Stevensville, South Haven and Berrien Springs.
They come from the construction trades, hospitality, retail, the service sector, health care, finance, education, professional services, manufacturing, and real estate.
You'll be able to read about their Super Powers, the key words that reflect the culture of their companies, some of the great perks and privileges, how they feel treated on the job, and their jubilation over being selected among the very best in our entire region.
It's all available on Moody on the Market . com, and under the tab at the top under Awards Programs where you can find the current and past winners of the 20 Best Places to Work, the 40 Under 40 Young Professionals in our midst, and the 15 Under 15 Best Small Business Enterprises with 15 or fewer employees in the region over the past several years.