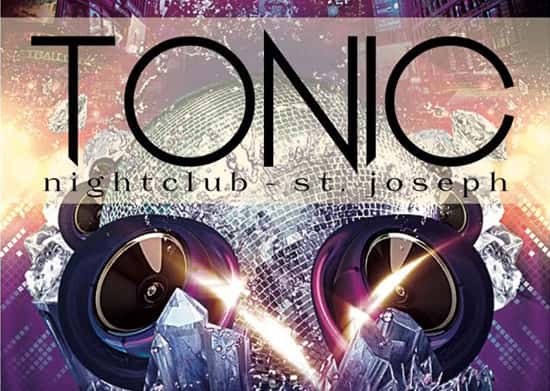 If St. Joe entrepreneur and restaurateur Robert Montgomery ever stops innovating it will be a sad day for the region. The man who has built, renovated, rebuilt, added onto, changed and re-tooled one of the most popular restaurants and bars in St. Joe clearly isn't done yet. In fact, he's gearing up for a new nightclub in downtown St. Joe right alongside his 221 Main. Coming in October is the new Tonic. The first new nightclub in St. Joe in a long time.
Montgomery tells me it's a response to market demand, noting, "All those ladies who want to go out dancing but complain there's nowhere to go and nothing to do past 9 o'clock will be happy to know that's gonna change starting the second week of October."
Tonic will be right next door to 221 Main, located in the old pub section. Robert says, "After Labor Day, we're closing off the wall to separate the restaurant from what will become the nightclub." He says Tonic will be open on Thursdays, Fridays and Saturdays from 9pm-2am, along with a few special dates such as New Year's Eve and Thanksgiving Eve.
To keep the club hopping and the dance floor filled, Montgomery has a solid line up. He says, "We have a number of local DJs that will be in rotation on Fridays and Saturdays so we can offer a good mix of talent that won't go stale. Also, once a month — usually the first Saturday of the month — we'll be bringing in headliner DJs – big names from Chicago, South Bend, Grand Rapids, Lansing & more! It should be a ton of fun!"
Montgomery wants to provide lots of options, so on Thursdays, he says, "We plan to have a variety of themes along with a lot of drink specials. We want to have a Country Night one Thursday a month and possibly a Salsa Night as well."
Finally, this star of quality customer attention to detail says, "Once a month Tonic will be throwing a theme party! From the 80s Party slated for November to the Hawaiian Luau/Beach Bash in July, we plan to keep things interesting for those looking for a fun, energetic nightlife experience."
Montgomery is a master idea generator, who seemingly never rests. He has turned his 221 Main into a restaurant that will satisfy just about anyone, from steak lovers to those in search of Atlantic Salmon, perch, chicken marsala or just Mac & Cheese, and he's in the house most of the time to assure customer satisfaction.
Upstairs from 221, Robert literally hand-crafted his sister restaurant, The Terrace, which offers both indoor and outdoor dining (in season, of course) in what he describes as "an upscale yet comfortable atmosphere." It's a completely different menu from 221, featuring a seafood focus while still offering a range of entrees and small plates to please the crowd. The Terrace also offers everything from Prohibition-era to modern classic cocktails, currently showcasing more than 290 whiskies from all over the world.
Montgomery has evolved the building's multi-level dining rooms with cozy lighting to a space full of wonderful detail. From the exposed brick to the wall of live plants, the giant wine tower to the roaring fireplace out on the deck, there is plenty to catch the eye, including gorgeous sunsets over the city views of downtown St. Joe.
Stay tuned for the latest. Tonic. Coming in October.