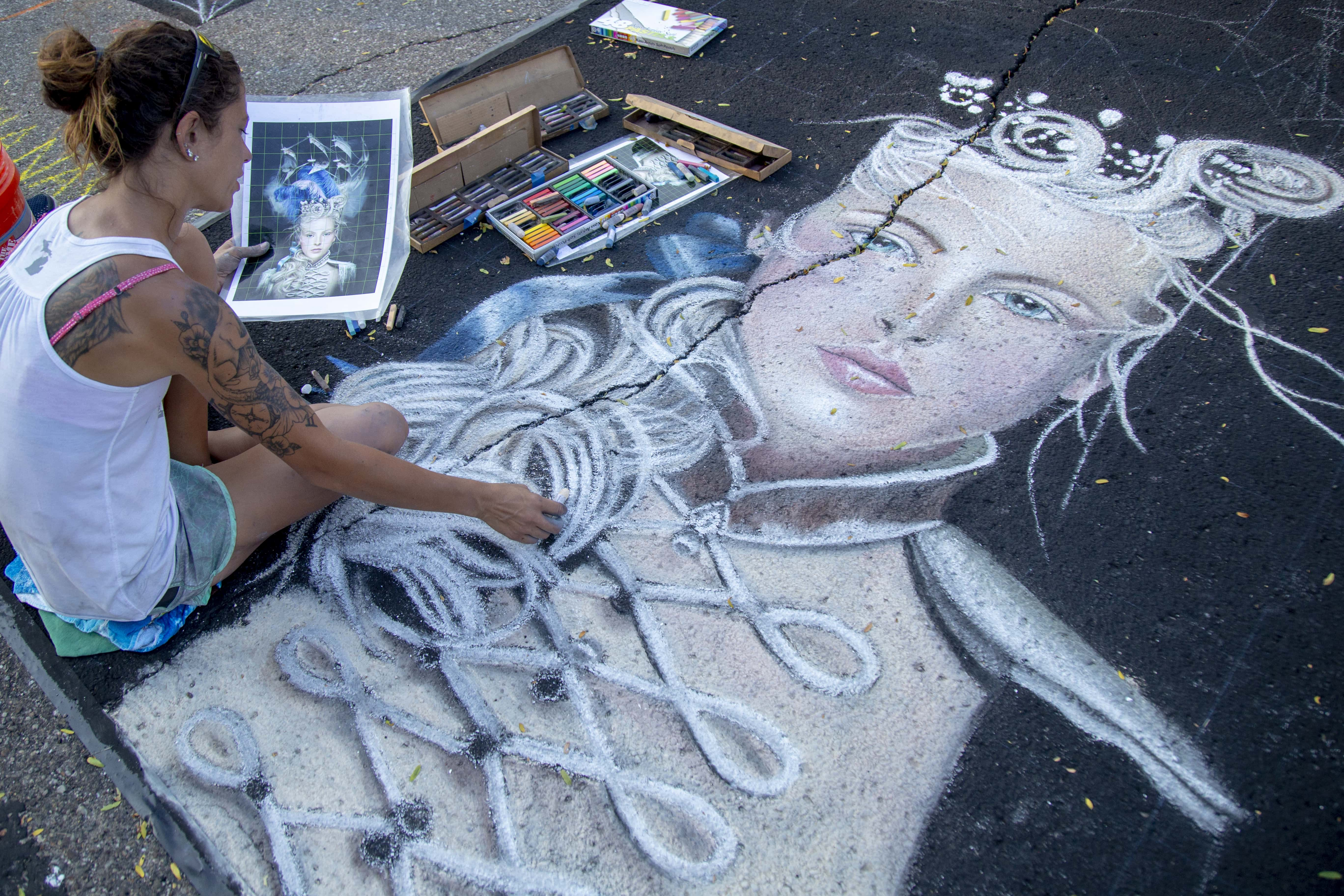 Need a summer boredom buster for your family before the back-to-school crunch begins? St. Joseph is hosting its 23rd Annual Chalk the Block Aug. 2 – Aug. 4.
Sponsored by Silver Harbor Brewing and Fit 4 Fall 5K, underwritten by LECO Corporation, this free event brings in regional artists who create chalk masterpieces downtown on Broad St., between Lake Blvd. and State St. Various other professional chalk artists are coming in from across the country to participate in this event. Event goers can also vote for their favorite artist renderings in the People's Choice vote. Tickets will be sold at the People's Choice Tent on Broad St. for one dollar each from 12 p.m. to 6 p.m. on Saturday and 11 a.m. to 4 p.m. on Sunday. One dollar equals one vote towards the favored artist; the artist with the most tickets by the end of the weekend wins the People's Choice Award.
Chalk art isn't the only entertainment planned. Additional weekend activities include lighthouse and heritage walking tours, Farmers Market, Antiques on the Bluff, Friday and Sunday concerts, Outdoor Summer Movie and free horse-drawn trolley rides around this Victorian-era downtown.
St. Joseph Today and Silver Harbor Brewing have collaborated for a special beer release. "Golden Ticket can be found on tap now at Silver Harbor Brewing," said Amy Zapal, executive director, St. Joseph Today. "It's a double chocolate oatmeal stout inspired by Gene Wilder and Willie Wonka and the Chocolate Factory! Just like the movie, the love for the craft and the art behind thinking bigger, they've gone big by doubling up this beer. A double mash, double oatmeal stout brewed with two different types of chocolate, lending smooth semi sweet chocolate notes with a mellow warmth."
Zapal said in addition to Silver Harbor Brewing and Fit 4 Fall 5K, underwritten by LECO Corporation, event sponsors include Cook Nuclear Indiana Michigan Power and the Paul and Rose Suchovsky Charitable Trust. With a special thanks to Lazy Ballerina Winery, Sherwin Williams, the City of St. Joseph and Butzbaugh Properties.
Event attendees are encouraged to celebrate the beauty of St. Joseph throughout Chalk the Block weekend. "Not only can you see awesome chalk art around town, folks can shop at beautiful boutiques and stores, walk to Whirlpool Compass Fountain and downtown beaches, jam to live music or catch a movie outdoors by Lake Michigan." Zapal said.
Chalk the Block activities include:
Aug. 2
10 a.m. to 2 p.m. St. Joe Lighthouse Open Hours
7:30 p.m. Friday Night Concert: B-Side Growlers: John E.N. Howard Bandshell
Aug. 3
All day Chalk the Block: Broad St.
9 a.m. to 2 p.m. St. Joe Farmers Market: Lake Bluff Park
10 a.m. to 2 p.m. St. Joe Lighthouse Open Hours
12 p.m. to 4 p.m. Kids Chalk Zone at Wanderlust Outfitters
12 p.m. to 6 p.m. People's Choice Voting Open
4 p.m. Summer Jam 2019: Shadowland Pavilion
8:55 p.m. (sunset) Outdoor Summer Movies: Incredibles 2
Aug. 4
All day Chalk the Block Viewing: Blocks completed by mid-afternoon, judging follows
10 a.m. to 5 p.m. Antiques on the Bluff: Lake Bluff Park
11 a.m. to 2 p.m. Horse-Drawn Trolley Rides: board at Elm and State St.
11 a.m. to 4 p.m. People's Choice Voting Open
12 p.m. to 4 p.m. St. Joe Lighthouse Open Hours
3:30 p.m. and 7:30 p.m. St. Joseph Municipal Band: John E.N. Howard Bandshell
Zapal said this year's individual block sponsors are Advanced Family Eye Care, Biggby Coffee, Black Dog Farm, Box Factory for the Arts, Forever Clean Soap Works, Fuzzy Butz, Hilton Garden Inn, Holt Bosse, John Devries Agency, Kilwin's, Krasl Art Center, Perennial Accents, Pier 1000, Schu's, Scooter Joe's, Silver Beach Carousel, Silver Beach Pizza, Southwestern MI Tourist Council, SW MI Human Trafficking Task Force, The Buck Burgers & Brew, The Herald-Palladium, The Heritage Museum & Cultural Center, The Toy Company, Third Coast Surf Shop, Tim's Too, TJ Maxx, United Way of SWMI, Waterfront Framing & Fine Art, White Pine Winery and Zoup.
Stay tuned for more information on upcoming community murals.
St. Joseph Today is a 501(c)(3) membership-based organization dedicated to developing and promoting events and businesses in St. Joseph, Mich. and its surrounding communities. For more information about Chalk the Block or upcoming events, visit stjoetoday.com, facebook.com/stjoetoday, the Welcome Center or call 269-985-1111.