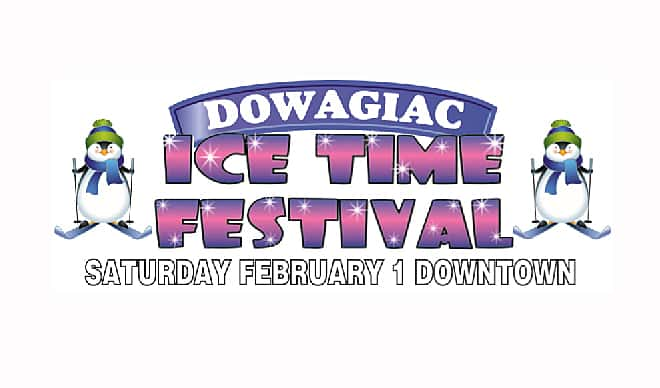 While many folks try to hit escape mode and head to warmer climes during this time of the year, there are those among us who revel in the ice and snow that tradition says should be on our doorstep in the early months of the year, and tops among them are the ice festival coordinators across the region.
One of those is Kris Soenen, Event Chair and Treasurer of the Greater Dowagiac Chamber of  Commerce, who says that Dowagiac's Ice Time Festival, slated to arrive on February 1st in that communities central business district is designed to be snow packed full of activities, encouraging families to enjoy Michigan's great outdoors.
New this year to the Dowagiac Ice Time Festival is a showcase of Frosty Foosball, wherein a human Foosball court will be set up for open play, as well as an official tournament. Soenen encourages you to get your six-person team together and check out the Chamber's Facebook page for more details.
Ice Time will again host Jan Bloom and his team of huskies for a Sled Dog Meet & Greet, as he shares information about Michigan's great pastime of sled dog racing and displays the sleds currently in use.
The 7th Annual Frozen Fish Toss Open Competition, sponsored by The Wounded Minnow, is also a part of this 24th Annual Ice Team Festival. The fish toss competition gets under way at 12:30pm, and Soenen says, "It's fun, free and goofy," adding, "The number of teams participating keeps growing – from our area, from Chicagoland and even as far away as Columbia and Germany, as our last year's winners were. They all come out to have fun with us in the snow, ice or sunshine—whatever the day brings."
While snow would be a welcome touch to this day-long event, it's not a prerequisite. The 300-pound ice blocks are trucked in for the carving that gets under way at 8am, and auxiliary events are held from one end of the downtown to the other, with some retailers offering up special event sales and the clearance of winter merchandise.
Soenen shares her deep appreciation in welcoming back six corporate underwriters, which have made the festival possible. They include:
Platinum Level sponsor Lyons Industries
Gold Level sponsors Clark Chapel/Starks Family Funeral Homes and Dowagiac Area Federal Credit Union
Silver Level sponsors Dowsett Chiropractic Health Center and SEMCO Energy
Bronze Level sponsor Who Knew Consignment
The day long affair runs on Saturday, February 1st in downtown Dowagiac. Click this link for the full schedule: