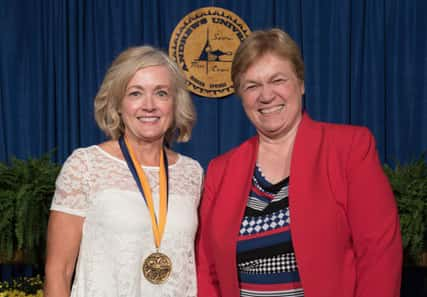 A St. Joseph woman who has overcome a lot in her life and not only prevailed but soared to the top of her profession is celebrating a couple of major milestones this week that are noteworthy on multiple fronts.
Deborah Berecz is a family lawyer today for good reason. She has been a student of conflict since she was six years old, enduring her own parents' contentious marriage and eventual divorce. She graduated from Andrews University in Berrien Springs 30 years ago at almost 30 years of age because she took a few detours on her way to that college degree, all of which provided another few credit hours toward becoming a conflict resolution professional. More on that part of the story in a moment.
This month she is celebrating her 25th anniversary of practicing family law in St. Joseph. This Thursday, November 15th, her firm Berecz & Associates, PLC, will host an open house from 4-to-7pm at The Box Factory for the Arts. She will be joined by her colleagues and office mates, John Smietanka and Anne Buckleitner of Smietanka, Buckleitner, Steffes & Gezon who, along with Deborah herself, have been in the Box Factory for five years now. Together, they are welcoming Gwendolyn Powell Braswell to their space as she celebrates the grand opening of Legacy Counsel, PLC, an estate planning law firm.
Deborah is also celebrating her recent selection as an honored alum awarded the Andrews University Alumni Association Medallion, from University President Dr. Andrea Luxton, and together they are shown in the photo accompanying this story on Moody on the Market. The award was made at a banquet in Berrien Springs after Berecz was nominated by a fellow alum and selected by the board on the basis of unusual achievement in a profession or occupation.
Deborah was a 1988 graduate of Andrews University, and a 1993 graduate of Notre Dame Law School.
Those detours along the way included an early marriage of her own, the birth of her son, Jamison Bennett, and then her own divorce and remarriage. All of those experiences contributed to her education and a deep understanding of her clients' challenges.
While at Andrews, Deborah served as Chair of the Branch Network, a student association's religious organization. After attending Notre Dame Law School, Deb knew that her experience over years of observing and negotiating conflict within her own family might have a purpose and could be used to serve others, so after earning her law degree, she focused on family practice.
After practicing for a few years, it became clear to Deb that while the courthouse was a fine place to resolve contract disputes and car accidents, it simply wasn't designed for people who would continue in a relationship. Divorced families regularly see one another at parenting exchanges, their children's school and extracurricular events, at church and birthdays, graduations, weddings and the like. Setting spouses up as adversaries when they divorced only further lessened the hope of a cordial, respectful and cooperative post-divorce relationship for the children's benefit. As she watched the devastating effects on children from a system that often exacerbated conflict and deepened wounds, it broke her heart.
So, she set an audacious goal. To change the way divorce is done in the communities in which she practiced. She spent hours working with a local family court judge to develop a new norm. She also served as Chair of the Alternative Dispute Resolution section of the State Bar of Michigan and today mediation is ordered by the court in every case involving children. Family lawyers now move into problem-solving through mediation rather than putting families through multiple court hearings and depositions. Many people are choosing to start with mediation before the court or lawyers are even involved. Deb acknowledges that gratefully, family law is practiced far differently today than it was in the early years of her practice.
Deborah Berecz has clearly made a huge difference in the lives of her clients. Upon receipt of the alumni award, Deb says, "I was moved and grateful to have been selected as an honored alumnus. I'm grateful for 25 years of meaningful work and I look forward to continuing to improve legal services for families experiencing the deeply human challenge of divorce."
It's a milestone month and great reason for celebration at Berecz & Associates of St. Joseph.