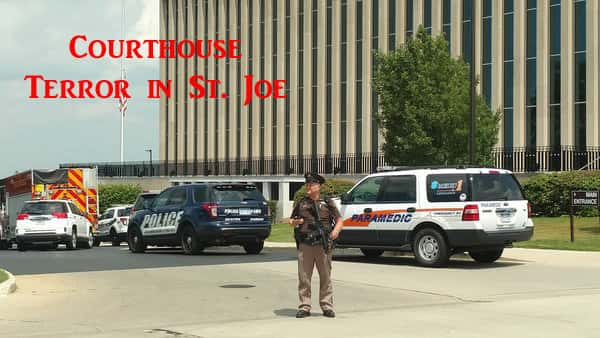 Two Berrien County Courthouse Bailiffs are dead, the man who shot them has been killed, a Berrien County Sheriff's Deputy is hospitalized in stable condition and "several other" civilians are also in stable condition following a terrorizing affair at the Berrien County Courthouse in St. Joseph this afternoon.
The incident began shortly before 2:30 this afternoon when somebody got into a fight with the two bailiffs, overpowering one and wrestling away that court officer's gun and began firing. A Berrien County Sheriff's Deputy returned fire killing the suspect and leading to the evacuation of the sprawling four story building along the St. Joseph River. The deadly confrontation also led to the shutdown of several roads in the vicinity of the building, including Benton Harbor's Main Street from the Riverview Drive roundabout to the St. Joseph River bridge.
Berrien County Sheriff Paul Bailey met briefly with the media delivering the news "with a heavy heart." Police from multiple jurisdictions turned out in the wake of the gunfire and helped in a floor by floor sweep to assure that there were no other suspects and that others left in the building were safe. The sweep included K-9 searches of the parking lots on both sides of the facility, and evacuated workers were finally released to their personal vehicles at 4:30pm this afternoon.
The State Police Crime Lab arrived on the scene at 4:41pm and joined officers in a Trial Court Lobby Command Center and a second floor conference room to begin the task of sorting through evidence. The Berrien County Medical Examiner arrived on the scene at 4:15pm.
Early reports of the shooter remaining at large in the building may have been precipitated by the floor-by-floor search process, and other reports of a hostage situation appear to have been proven unfounded.
The Courthouse, on Port Street, was cordoned off and news media and others were pushed back to the parking lot of the Horizon Bank and other areas outside of the perimeter. A homicide task force has been established by Sheriff Bailey and he made plans to meet with the media again at 6pm.
Berrien County Judge Gary Bruce dispatched a Facebook message in the middle of affair saying, "Just so everyone knows. I'm OK. Thanks for asking. It's a horrific scene here at the courthouse and we are just now getting information. I'm heartsick over this."
Zaya Stark is a courier assigned to the courthouse who posted a Twitter message within minutes of the first shots being fired saying, "There's someone shooting at the third floor of the Berrien County Courthouse in St. Joseph, where I courier. I am safe and unharmed."
The St. Joseph Catholic Church's Rose Center, a block and a half away was established as a center for family members of the victims and other courthouse employees to gather for information and counseling services by Riverwood.
Congressman Fred Upton issued this statement on the shooting shortly before 4:30pm:  "What occurred today in my hometown breaks my heart. My thoughts are with our entire community — our friends and neighbors. This tragic event reminds us all too well that our law enforcement officers have their lives on the line every day not knowing what that day will bring. We have lost two very able public servants and we all grieve for them and their families. As we learn more about this horrific situation, one thing is clear: we must do better to prevent these types of tragedies from occurring."