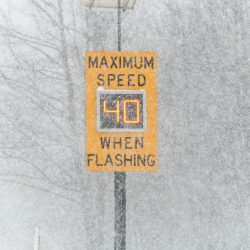 It didn't take long for the first snowflakes of the season to morph into the first multi-vehicle pileup of the season this morning. Within hours of the first snowfall, the cooling temperatures converted many area roadways into ice rink conditions in some cases but it was excessive speed and following too closely that led to a 32-vehicle melee involving cars, trucks, SUVs and semis on Westbound I-94 in Van Buren County.
Michigan State Police Lt. Dale Hinz from the Paw Paw Post says that shortly after 9:15 this morning the pileup began near Mattawan's Exit 66 and eventually careened into a full-fledged shutdown of the entire interstate near there for the better part of two hours before a lane or two began to open back up.
Hinz says that were several minor injuries in the chain-reaction crashes, but "none (seemed) to be life threatening." Multiple wreckers were called to the scene to remove damaged vehicles which were then transferred to a Park & Ride carpooling lot nearby.
Traffic ended up being backed up all the way into Kalamazoo County at the height of the incident, but the freeway was essentially declared open again by about 11:30am. In the meantime, motorists were being asked by the State Police and Van Buren County Sheriff's Deputies to avoid that area as much as possible to help facilitate the clean up and investigation work.
The Michigan State Police reminds drivers to exercise extra care when driving in snowy conditions like those being experienced today.  Hinz reminds, "Reducing speed and increasing following distance between vehicles can prevent these crashes."
Meanwhile, Cass County Sheriff Richard Behnke reported that his office received calls for service on 21 individual traffic crashes this morning between the hours of 6:00am and Noon. He, too, noted that none of the crashes involved any serious injuries and most were believed to be weather related in some way.
Another huge bottleneck this morning developed when a crash at the t-intersection of Glenlord Road and Niles Road in Royalton Township forced traffic to back up on both Niles and M-139. Additionally, a couple of lanes of I-94 were blocked near New Buffalo when vehicles collided near Exit 1, LaPorte Road.
While road conditions did get dicey very quickly once the snow began shortly after 4:30am, authorities say most of the crashes could have been avoided or in some way mitigated by more prudent respect for the weather and its impact on the road conditions. More snow is expected to accumulate today and into the weekend, so use caution when entering and exiting restricted access freeways and respect the space of other motorists to avoid the potentially deadly interactions that become all too commonplace while winter driving skills are re-sharpened each year.