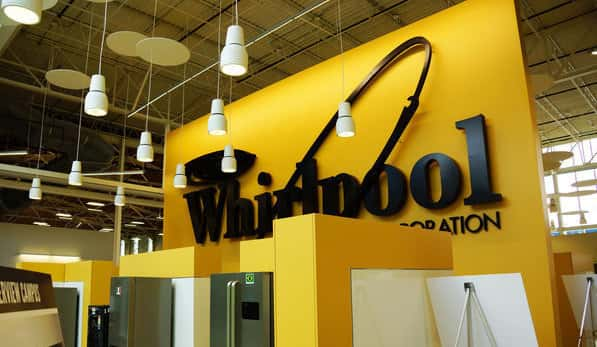 A major new investment and roughly 50 new jobs are on the way for Whirlpool Corporation following announcement this morning of a $40.6-million investment and expansion of more than 86,000 square feet of manufacturing space by the Benton Harbor-based appliance giant.
Whirlpool Corporation officials today announced plans for the $40.6 million investment in operations at its dishwasher-manufacturing facility located in Findlay, Ohio. The plant anticipates adding approximately 50 new jobs with this investment.
The expansion of 86,400 square feet will provide additional assembly capacity and material space to support strong consumer demand for Whirlpool-built products, and also will improve the flow of parts and products through the plant. A groundbreaking ceremony is planned for early spring following final approval of state and local assistance.

Jim Keppler is Vice President of Whirlpool's Integrated Supply Chain & Quality organization. He says, "This is an important day for Whirlpool Corporation and another example of our ongoing commitment to American manufacturing." He adds, "It represents not only an investment in the men and women of the Findlay plant, but also in the many others who assemble appliances at our eight additional U.S. manufacturing plants. We are proud to employ more U.S. appliance manufacturing employees than any other U.S.-based appliance manufacturer, and this investment is consistent with our leadership position in the industry."

Whirlpool Corporation continues to create jobs and invest in U.S. manufacturing. Since 2010, it has invested more than $1 billion in new facilities and plant upgrades, including a $40 million expansion of its Greenville, Ohio, manufacturing plant that will add 400 new jobs by 2018.

Dale Lewis is the plant leader at the Findlay facility. He says, "This project is the result of our outstanding partnership with the state of Ohio, JobsOhio and local officials, who played a critical role in securing this project for our plant." Lewis adds, "I am excited about what the future holds for Findlay operations. This is such a huge vote of confidence in all of us at Whirlpool Corporation, Findlay and for the Findlay community."

Other investments in Ohio include a $200 million investment in the company's Clyde laundry facilities as well as moving commercial front-load washing machine production from Monterrey, Mexico, to Clyde in 2014. The relocation added nearly 100 jobs and again reaffirmed the company's commitment to its U.S. manufacturing base and its skilled workforce.

Kristi Tanner is Managing Director of JobsOhio. She says, "Today's announcement of 50 new jobs at Whirlpool Corporation's Findlay plant is exciting news for the state of Ohio, where this global manufacturing leader employs more 10,000 workers at six different facilities." She notes, "The company's investment shows its confidence in Ohio's workers and its commitment to the quality of the products it sells worldwide."

The Findlay, Ohio, plant assembles dishwashers for the company's portfolio of brands, including Whirlpool, Maytag, KitchenAid and Jenn-Air.