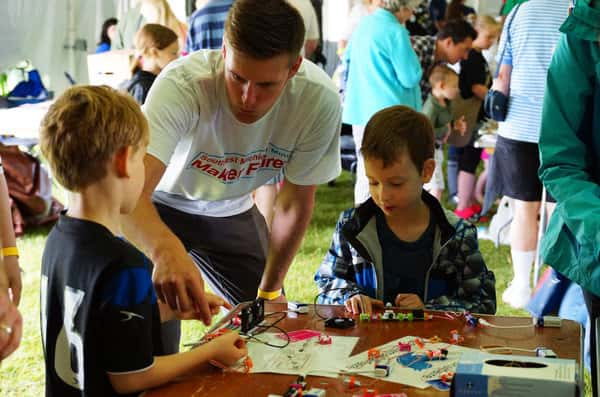 Do you consider yourself a "maker?" Whether you're a craftsman, a tinkerer, a wannabe inventor, or just love to make things that seemingly no one else can quite master, the team at the Fifth Annual Southwest Michigan Mini Maker Faire would like to hear from you. They have issued their Annual Call for Makers in search of Area Makers, with both individuals and groups welcome to apply.
Applications from makers are due by May 1st, 2019, and the Maker Faire itself is scheduled for Saturday, June 1st from 10 am to 4 pm, at Whirlpool Centennial Park located below the bluff in St. Joseph at 330 Broad Street.
The fifth annual Mini Maker Faire will be a day of family-friendly making, learning, crafting, inventing and tinkering below the bluff in downtown St. Joseph.
All area makers are encouraged to participate in the event. The application window is open now until May 1st. To submit your application, simply click the link below:
The SWMI Mini Maker Faire is being produced, in partnership with Maker Media, by:
Berrien Regional Educational Services Agency (RESA)
Cornerstone Alliance
Kinexus
St. Joseph Today
Indiana Michigan Power
Maker Faire is the Greatest Show (and Tell) on Earth—a family-¬friendly showcase of invention, creativity and resourcefulness, and a celebration of the Maker movement. It's a place where people show what they are making, and share what they are learning. Makers range from tech enthusiasts to crafters to homesteaders to scientists to garage tinkerers. They are of all ages and backgrounds. The aim of Maker Faire is to entertain, inform, connect and grow this community.  Southwest Michigan Mini Maker Faire is independently organized and operated under license from Maker Media, Inc.
You can follow the event and its planning and progress on Facebook as well by following the link below: