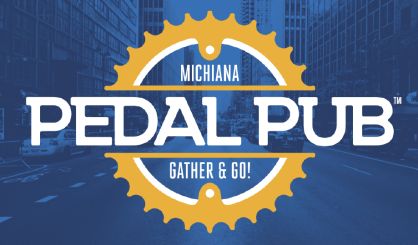 Imagine a bar on wheels. Pedal Pubs are a fun concept sweeping the nation where the participants, usually around 8-10 people, pedal a moveable 'pub' down sidewalks and streets going from one establishment to the next, supervised by an attendant from the business.
Two sisters from Northern Indiana took some time last night to lay out their proposal for Michiana Pedal Pub for the St. Joseph City Commission Monday night.
In the case of their pedal-able pub, 15 riders would be part of the action, with 10 of those spaces for pedaling and steering. One of the two sisters would be on hand to control the alcohol purchased and brought "on board" by the participants.
Shellie Kermin told the commission, as reported Monday by WSJM News, "We would provide this service to the age group of 21 and over, only. The groups are responsible to bring their own (alcohol). We do not allow any glass, we do not allow any hard alcohol, it's just beer and wine."
Julie McGinnis as well as Kermin confirmed to the commission that they both have restaurant management experience and can spot problems early-on that might require intervention.
Kermin says they considered St. Joseph instead of other communities such as New Buffalo or South Haven because "some cities get too big, and then it's difficult." She added they both felt St. Joseph was laid out better. In April, according to public records, the pair applied for a Pedal Pub in New Buffalo city and were denied approval at this time.
In the Commission's comments on the proposal, Commissioner Jeff Richards pointed out that "there are some potentially some congestion, cleanliness, behavior, tying up traffic when you do stop at areas so people can visit – and I think that's a good idea, except there's a lot of people on the streets."
If the sisters receive approval for their business at upcoming Commission meetings, they would like to open in the Spring. At Monday's meeting, the Commission took no action on the matter at this time.