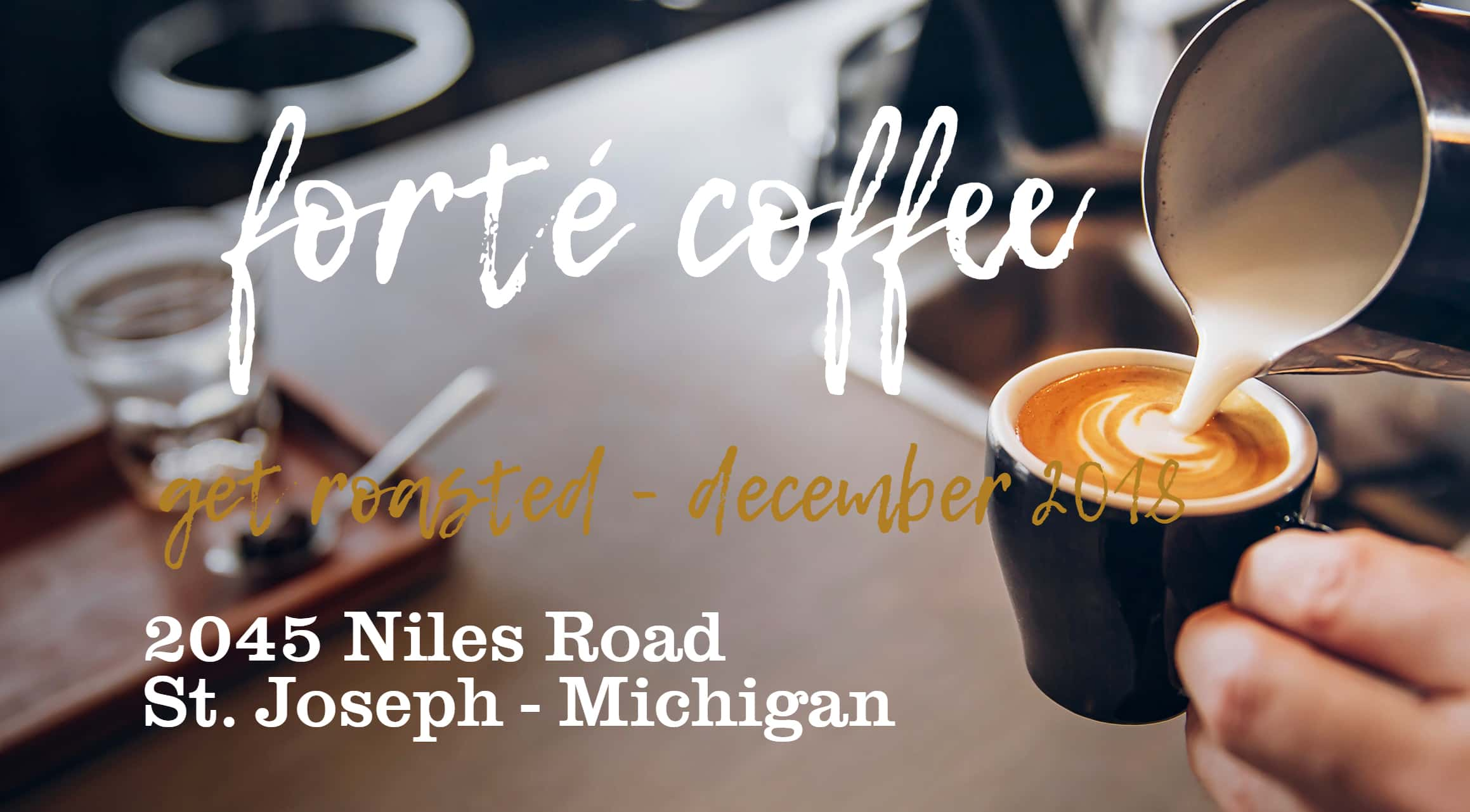 Brian Maynard grew up in a house where his dad always had a cup of coffee in his hand, but it was lousy coffee. Came out of a can, and was about as nondescript as you can imagine. Brian himself didn't start drinking coffee until he about 12 or 13 and he would simply load it up with cream and sugar. He got his first job in the restaurant business at the age of 13 and soon discovered coffee was essentially a survival tool, and caffeine a lifesaver. Nevertheless, he tells me, "I didn't know that really good coffee existed, just like I didn't know that great food existed until I went to culinary school." Now…he's just days away from launching his very own first-class coffee shop where he will even roast his own beans in Southtown St. Joseph. It will be called Forte Coffee Company.
It was a trip to Chicago sometime in the early 80s that set the stage for this moment. That's when Maynard wandered into a coffee place that he can't even remember the name of where he had a cup of coffee that literally blew his mind. He says he immediately thought, "This is what coffee is supposed to taste like," so over the next couple of days he went back in and tried everything. He says back then hardly anybody in America knew what a cappuccino was, and he spent all of his money on coffee that he took back home. He says, "I was running a conference center in northern Michigan in a very rural area, and I was dreading the day that I would run out of coffee. It occurred to me, that other people might be in the same situation. So, I started a mail-order coffee business, and for young people, that's a hard concept to understand, right? I ran ads in magazines, people would then mail a letter to me, I would mail a catalog back to them, they mailed me a check and then I mailed them their coffee, so it took four to six weeks. Nothing remotely 'instant' about that gratification! I did that in the 80s, basically, and never really made money with it, but I essentially earned enough to get coffee for 'free' for myself by selling it to others. I was in it for the coffee."
When he was later hired as Executive Director of the Mendel Center on the Benton Harbor Campus of Lake Michigan College and began his family, the mail order coffee business was set aside.
Brian worked at the college for quite some time and then later Whirlpool recruited him to be the director of their corporate conference center. He spent some time working for them and then got into marketing and ran the brand work for KitchenAid and Jenn-Air, and while there he launched the coffee products for both of those brands, so he's had the passion for coffee since his teen years.
The passion is intense. Maynard says, "I've always been passionate about it. When I travel, I always bring my own coffee, I have a French press, a little immersion water-heater, so I'm a bit of a snob about coffee. I don't make coffee in hotel rooms, unless I'm bringing my own and making it."
Add it all up and after Maynard stepped away from Whirlpool last fall, he says, "I knew that I wanted another act, and there were a lot of things I talked about doing, and I frankly interviewed and had conversations with being head of marketing for other companies and other brands." But, one day he was working with a franchise consultant who, among other franchise ideas presented him with one for coffee. He says, "I got really intrigued by that idea, and looked at their books, spent time with them, and while I think it's a fine concept, there were a lot of things I didn't like about what they were doing, and franchises are either great because you have a system, and so on, or they're bad because there's no freedom and you have to follow their system."
After later talking with a consultant who basically said that for a fee he would put Brian into the coffee business  with literally everything from the machines, the tables and chairs, to the menu, he started doing the math on how much that equipment would cost and then realized how much he was actually charging. He admits, "I realized I used to do that myself prior to moving here. I worked for a chain restaurant where I supervised the openings of new restaurants and have opened probably 50 in my life, and did restaurant consulting, so with my background already in this, I figured I don't need to pay somebody what I already know."
Maynard also has a huge network of friends who are chefs, celebrity chefs, restaurateurs, which he has tapped into for advice.
Maynard hopes to open here in December, as he calls it his "hopening date!" He adds, "We will be all about coffee. What I mean by that is obviously we'll have espresso-based drinks, and great coffee, but we're actually going to roast everything that is consumed right here in the shop."
Green coffee beans will come in the door, and coffee will go back out, and even ground and roasted beans can go out by the bag, too.
Brian has mastered the art of market research and has spent a lot of time visiting about 75 or so independent, craft, coffee houses throughout the country, everywhere from Seattle to New Orleans to Denver, and. "All over the place, frankly, sort of stealing the best ideas and that sort of thing, and we're pretty excited."
He'll start interviewing people this week to start hiring staff, and then it's onward and upward. Regarding his staff, Brian says, "They will perform barista duties, but I've been calling the role "Coffee Specialist," and the reason that I've done that is because I want everyone here to know all aspects of the business. I want people who are interested in this industry and people who are interested in the specialty coffee business, somebody who might be interested in going on to being a production roaster, that sort of thing." He recognizes that not everybody who wants to work there will have that same passion, but he wants them steeped in hospitality, being warm and friendly, and creating a convivial environment."
The new Forte Coffee Company will open at 2045 Niles Road, just down from Verizon. It is an 1800 square foot space, which was a little larger than he had anticipated needing, but as a result he's created a conference room. He says, "Having been with Whirlpool a number of years I know that sometimes conference rooms can be at a premium here and you can't get them. We have one that is set up to seat 14 people, 10 to 12 ideally." He has also set it up with a big screen TV, and white boards flanking that, a rail along the wall for foam-core board presentations, map rails to hang things. Unlike most places where you have to rent space for the full day, Maynard will offer shorter options. He'll have a two hour minimum at $50 per hour, however, when you rent it, he will give you back a gift card that is worth 25-percent of the value of your rental, which you can use to purchase coffee or sandwiches, muffins, scones, or whatever, so you can rent to 2, 3, 5 hours, whatever you need.
Forte Coffee will make everything in-house, however, sandwiches and salads will be pre-made and offered as grab-and-go options. They'll make them in the morning and you can order at the counter, They'll make their own muffins, cookies, and scones, pretty much every day. He says, "We'll also have merchandise, coffee making equipment, French presses, pour-over equipment, t-shirts and mugs, and those sorts of things."
Once the doors are officially open you will find Forte Coffee open for business every Monday through Friday from 7am to 7pm, Saturdays from 8am to 7pm and Sundays from 9am to 3pm. They'll play it by ear to expand or reduce the hours according to traffic.
Unlike elsewhere, Brian says, "We'll teach roasting classes, coffee basics, 'cupping' or tasting of coffee and what to look for and that sort of thing." He says, "The coffee industry has become very analogous to the wine industry. Coffee has been treated — and really still is — as a commodity, and there are a lot of blends – and we will have a blend – but there is a movement towards single-origin coffees. The reason for that is that, like wine, there is a terroir that goes along with coffee. There's also a movement towards roasting to a lesser degree. A lot of places, like the national chains, tend to roast everything dark. I like dark roasted coffees sometimes, I like light roasted coffees sometimes. When you roast dark, if you roast beyond medium, you're really not tasting the bean any more, you're tasting the roast. If you roast lighter or maybe up to slightly past medium, now you're actually tasting the bean, actually tasting the terroir, so to speak."
Maynard will have the Forte Blend, but adds, "We will also have other coffees that we will prepare for you, if you want, on our slow bar. The slow bar is for when you want to taste a Kenyan Double-A, or a Tanzanian Teaberry, or whatever it is that you are interested in trying, we'll make it French press, pour-over, or AeroPress one cup, and then you can taste that. We'll also have cold-brewed coffee on tap, and nitro-infused cold brew, tea, hot chocolate, and smoothies."
Brian says he never intended to be a coffee roaster, however during his market research he found himself in Pueblo, Colorado, and "I stopped at a little place called Solar Roasters. I was chatting with the young woman and telling her my story and asking her a couple of questions and she said, you should talk to the owner. I didn't realize that the little café was attached to the roasting facility. I tell him my story, about culinary school, etc, and what I'm thinking about and he interrupts me and asked 'Why aren't you roasting your own coffee?' to which I responded, 'I don't know anything about roasting coffee.' He answers, 'You told me you went to culinary school. It's just cooking stuff.'" Suddenly Brian got interested in the economics of it, and admits, "Frankly there aren't that many people who are actually doing that in this area. A few. And they're great, So I, too, started roasting coffee."
Passion for perfection re-entered the picture as the excitement re-triggered Maynard's motivation. So, he has joined the Specialty Coffee Association and the Coffee Roasters Guild, and went to barista school for new owners out in Seattle at the Seattle Barista Academy. He says, from there, "I went to roasting school up in Minnesota with Mill City Roasters, and as I said, I've visited now probably 75 independent coffee shops and what I really have loved about that is this industry is very open and sharing. When they learn what I'm doing, particularly if they know that I'm not a competitor, they starting flinging recommendations and ideas all over the place. I was not intending to roast coffee. I know that it's a very complicated thing to do, it's not something you just wake up some morning and say I think I'll roast coffee, but now that I know how, it's going to be great."
Building contractor Joe Giannola continues the build-out, Maynard continues with the finishing touches, and is launching the hiring process, and everyone  else, awaiting a super new cup of coffee in the neighborhood will hope that Christmas comes early with an opening salvo real soon.