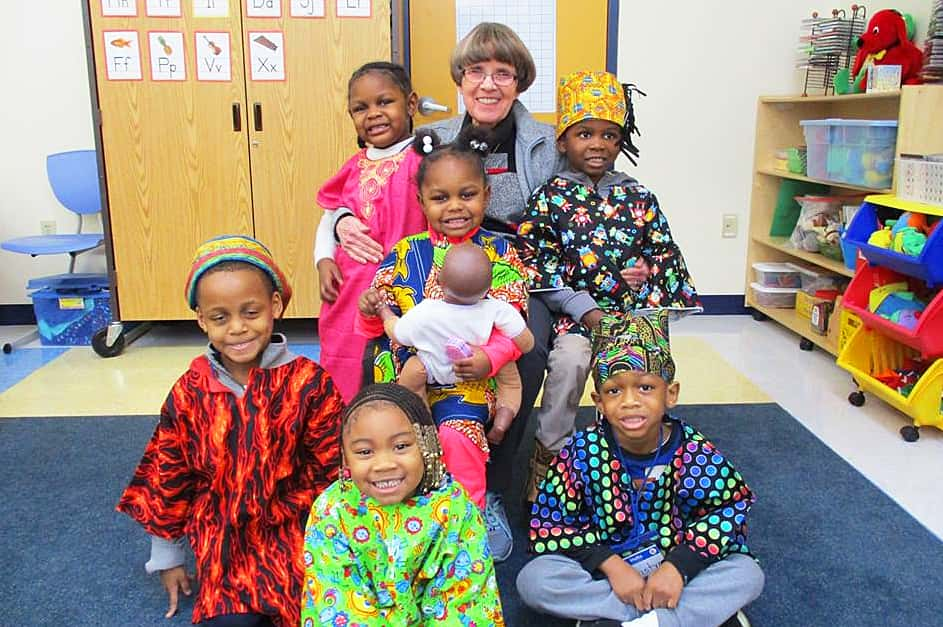 We've all heard the long running truism that if you love what you do for a living, you will never "work" a day in your life. Assuming that's the case, my friend Sister Paulita Walters is absolutely to be believed when she says that although she has been a teacher for more than 52 years, she doesn't "work", she "ministers to God's family." Yet, a formal part of that ministry comes to an end this year as the good Sister retires from nearly four decades at the helm at The Readiness Center in Benton Harbor.
Sister Paulita has three core mantras:
"God is present in the now."
"Every child can learn."
"All parents want to be good parents."
Her life and accomplishments joyfully reflect the embodiment of those very mantras.
Sister Paulita is retiring this year after 39 years of dedication to the children and families of The Readiness Center, and her friends are hosting a Celebration this Saturday, June 15th, at the Hilton Garden Inn of Benton Harbor.
Sister Paulita entered the Sisters of Mercy religious order in 1963. The ministries of that Catholic order are primarily focused on the education and welfare of the poor and disadvantaged.
Sister Paulita earned her master's degree in Early Childhood Education from Boston College and taught Kindergarten-fourth grade in various Michigan Catholic schools for 13 years before coming to Benton Harbor and establishing The Readiness Center. Her idea for the Readiness Center was sparked in 1978 when she came to Benton Harbor one summer to teach an interdenominational Bible school. In working with inner city kids, she realized children from disadvantaged communities often fell behind in school because their parents lacked the skills…but not the desire…to guide their children towards success. In 1980, The Readiness Center opened its doors to serve twenty children and their mothers in the first preschool and parenting class.
Since its inception, approximately 1,400 children and their families (which now regularly include fathers as well as mothers in the parenting program) have participated in The Readiness Center. In addition to the preschool and parenting program, The Readiness Center offers an after-school program for elementary school children, a teen program, and a summer program.  Reality is that 95-percent of the former students have graduated from high school.  Approximately 7-percent of the Readiness Center "graduates" have gone on to earn post-secondary degrees.  Thanks to Sister Paulita's vision, former Readiness Center students now work in education, healthcare, social work, law enforcement, and technical trades.
In recognition of her tireless mission to serve the children and families of Benton Harbor through The Readiness Center and involvement in local community committees, Sr. Paulita has earned many awards. Her accolades include:
The Children's Trust Fund Shawn Moore Memorial Award
The Berrien County Council for Children Service Award
The Award for Outstanding Service to the City of Benton Harbor
Recognition from the Race Relations Council of Southwest Michigan and Groundwork for a Just World
The 100 Women Strong Leader of Distinction Award
The Lake Michigan College Dr. Martin Luther King Jr Diversity Award.
Sr. Paulita was also recognized with the Caring Arms award from the Michigan Lt. Governor's office and the Institute for Children, Youth, and Families, as well as receiving the Regina Cunningham award from the Sisters of Mercy Action Foundation for fostering social equity.
Upon "retiring" from her full-time work as administrator and lead teacher of The Readiness Center, Sr. Paulita will join Sr. Sharon Wedig, the former assistant administrator of the Readiness Center, as a full-time volunteer for the Readiness Center. She also looks forward to spending more time this summer cheering on her beloved Detroit Tigers to a winning season. (Hope does spring eternal!)
This weekend's Open House to honor Sister Paulita will take place on Saturday, June 15th, from 2:00pm to 6:00pm at the Hilton Garden Inn located at 1300 Cinema Way in Benton Harbor, with a short program beginning at 4:00pm. While an RSVP is not required, it is encouraged, to help with counts. You can do so by calling 269-926-4084 or online by clicking this link: http://bit.ly/CelebrateRC
In September, 1980, the Readiness Center, located in Benton Harbor, started with a $2,000 grant. The Center opened its doors with two components: parent/child time and preschool. In January of that first year, classes for adults were added as requested by parents. Now the preschool curriculum includes prevention programs (drug, violence, and sexual abuse). Parents continue to set their own curriculum and suggest luncheon speakers. According to the needs/wishes of parents and availability of local resources, they have the following classes on site: sewing, crafts, computers and parenting.
In 1995, they started their City Kids' (grades K-5) after school homework assistance and prevention programs (drugs and violence). Children do their homework and then practice skills on the computers, play learning games, or read books.
In 1999, they initiated a Dads and Kids program. As a result, many fathers now come on a regular basis with their child to the preschool component.
In the spring of 2004, they developed a teen mentor program which has not only enhanced the after-school program, but also has assisted in job skill development for the teens in that program.
They are, first and foremost, a credible organization, having received the State of Michigan Children's Trust Fund Shawn Moore Memorial Award, the Outstanding Service Award from the Berrien County Council of Children, a Service Award from Lake Michigan College, a Michigan's Caring Arms Award for our work with children and families, and an award from Groundwork for a Just World.
Word of mouth brings parents and children to the program. They do not advertise. Their program is free and some transportation is provided. For the preschool component, the parent's only cost is their time, 2 hours while their child is in class, the most important of which is the 1/2 hour daily working with their child.
The success of the Center is due to participant input at every level of program development and evolution. They foster self-esteem by providing educational settings wherein persons do succeed.
Many of the organization's first preschoolers are now college graduates, and they also have alumni at several universities and colleges. Former parents and children are teachers, nurses, social workers, and clerical workers.  Parents and children are making their lives better through education and job promotions at The Readiness Center of Benton Harbor.
The photo accompanying this story on Moody on the Market shared by The Readiness Center Facebook page shows Sister Paulita in exactly the way she always wishes to be portrayed, surrounding by her charges eager to learn and ready for fun.