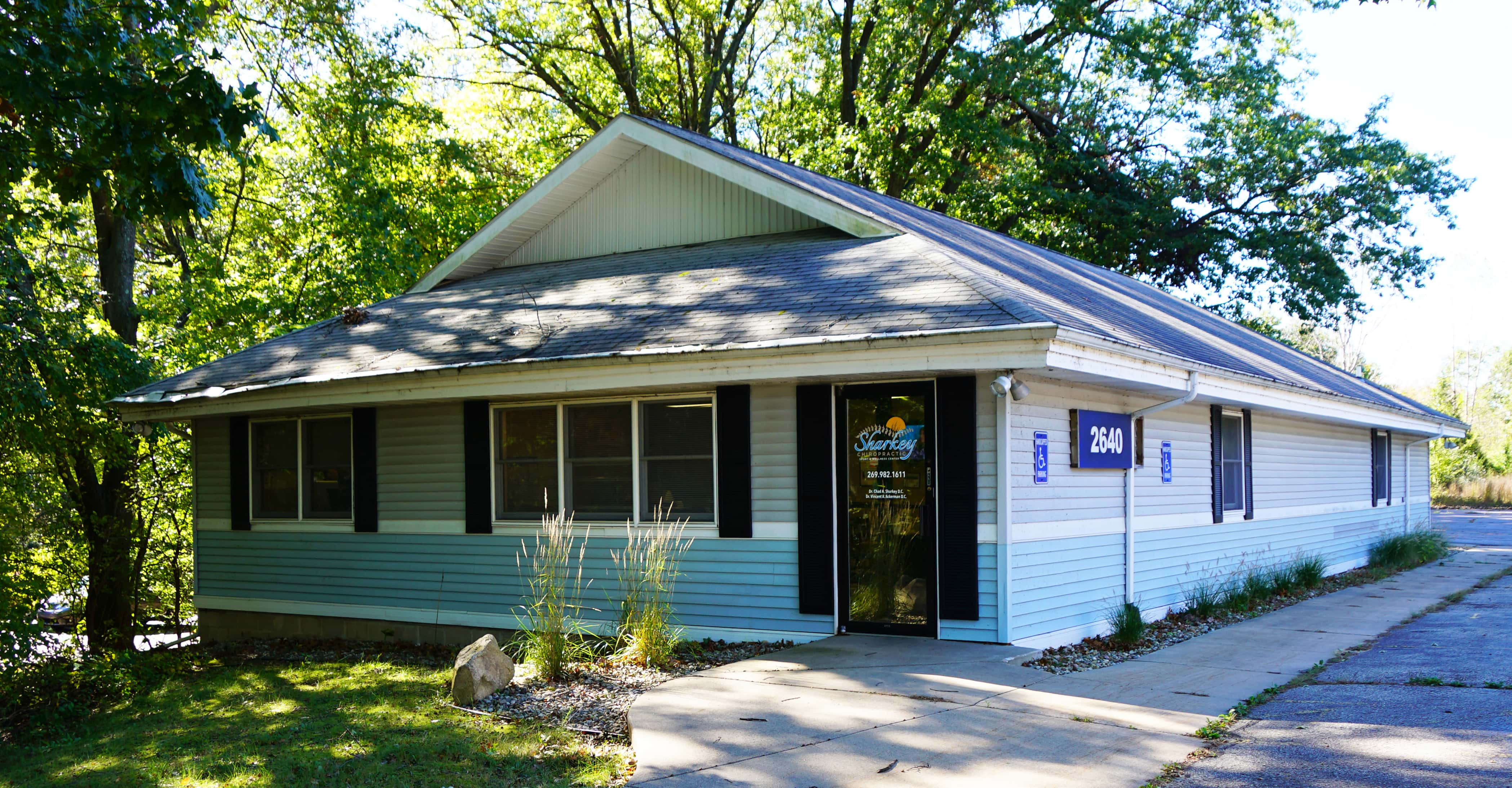 The Chiropractic community is shifting in Michigan's Great Southwest. The 16-year run of Dr. Chad Sharkey is coming to an end as he relocates to Gulf Shores, Alabama next month, after selling his practice to Dr. Sandy Martin of All Star Family Chiropractic. She in turn will consolidate her operation from downtown Benton Harbor to the Sharkey clinic site on S. Cleveland Avenue in St. Joseph Charter Township.
Dr. Martin tells me that she has taken ownership of Sharkey's practice and will relocate her own practice to the Sharkey site at 2640 S. Cleveland Avenue in St. Joe effective next Monday, October 22nd. The move brings to a close the chapter of All Star's location on Main Street in the central business district of Benton Harbor, and the Sharkey name will disappear from the practice in the near future as the consolidated enterprise will fly the flag of All Star Family Chiropractic.
Dr. Chad Sharkey, who has owned and operated the Sharkey Chiropractic practice for the last 16 years is joining the team at Gulf Coast Family Chiropractic in Gulf Shores Alabama early next month. He and his family will relocate there in the first week of November, and he will begin his active practice there shortly thereafter -- as soon as his Alabama license is finalized.
Sharkey has been a long time staple in this community as not only a Chiropractor, but also as a coach for the St. Joe JV football team for the last 16 years. Patients of Dr. Sharkey will still see the familiar and friendly faces of Dr. Vince Ackerman, Massage Therapist Cathy, and assistants Jenn and Marcia as part of the consolidation.
Dr. Sandy Martin and her team, Jessica and Tiera from All Star Family Chiropractic will be joining the Sharkey team and soon thereafter change the name to All Star Family Chiropractic.
To celebrate the acquisition, relocation and consolidation, the entire family at the clinic will be hosting a Halloween/Open House Party at the new location on October 31st from 12:30-6:30pm for all community members and trick-o-treaters alike.
Just this month Dr. Martin and her team quietly marked the fifth anniversary of the practice she originally launched in downtown Benton Harbor on October 1, 2013. She has been anchored at 204 W. Main Street in the city ever since then. One thing you can almost be assured of -- Dr. Martin and her colleagues will undoubtedly miss the wafting aromas from Lark's BBQ right across the street.
Based on a mission "to be a positive force and inspirational resource for our community's health through family-based, state-of-the-art chiropractic care," Dr. Martin is ready for the next chapter in her burgeoning business in the world of chiropractic care.