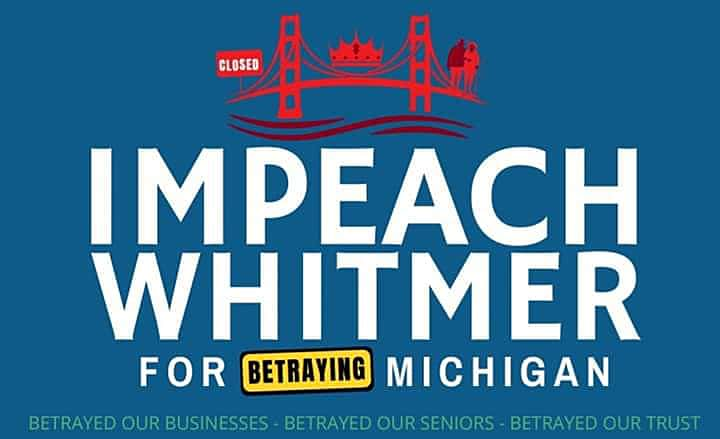 The movement underway in Michigan to impeach Gov. Gretchen Whitmer is gaining legislative clout as five lawmakers in Lansing have joined the effort to oust her with Allegan County State Rep Mary Whiteford among them.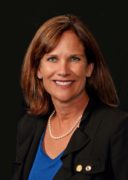 Whiteford joined three State House colleagues and one Michigan Senator in signing on to the Impeach Gretchen Whitmer headed up by Chairman Brandon Hall of Grand Haven.
Hall announced Wednesday that four members of the House and a State Senator, have joined the movement to launch an impeachment inquiry into Governor Whitmer.
Hall says, "Gretchen Whitmer's historic, unprecedented destruction of our state requires historic, unprecedented impeachment proceedings," and adds, "Playtime is over, the time to talk with this ruthless tyrant is over. It's time for bold leadership, and I'm elated so many legislators are standing up."
The legislators backing an impeachment inquiry publicly so far include:
State Rep. Mary Whiteford
State Rep. Shane Hernandez
State Rep. Ryan Berman
State Rep. Matt Maddock
State Senator Tom Barrett
Hall promises, "More legislators will be announced in the coming days and weeks," adding,  "It's time for subpoenas. It's time for sworn testimony. It's time to impeach Gretchen Whitmer and put her on trial before Michigan as we know it is dead, relegated to the ash heap of history."
Hall cites many reasons for impeachment, saying, "For every dead grandparent at the nursing homes she turned into death camps as a result of her evil policies, for every business filing bankruptcy because she forced them to close, for Joe Biden advisor Ed Duggan's corrupt Coronavirus contract, for not even following her own Executive Orders, for every family that has been destroyed, Gretchen Whitmer will be impeached, and stand trial in the Senate."
Hall, who also supports other efforts underway such as Unlock Michigan, Restore Freedom, and Recalling Whitmer, says it's important to stand up to Whitmer in any and every way possible.
He urges, "Fighting back is imperative," and concludes, "Michiganders across our beautiful state will not wear Gretchen Whitmer's muzzle, we're not going to stay in our kennels-we're not going to take this anymore."
The legislators are joined by leaders across Michigan who are ready to Impeach Whitmer, including:
Republican National Committeewoman Kathy Berden
2nd Republican Congressional District Chair Kent Vanderwood
11th Republican Congressional District Chair Meshawn Maddock
Wayne 11th Republican Congressional District Chair James Hooper
Wayne 12th Republican Congressional District Chair Jason Mueller
Livingston County GOP Chair Meghan Reckling
Former State Senator Patrick Colbeck
Former Michigan Republican Party Vice Chair Scott Greenlee
Former 2nd Republican Congressional District Chair Mike Hewitt
Linda Lee Tarver, Immediate Past President, Republican Women's Federation of Michigan
State House candidate Chase Turner
Oceana County Commissioner Andrew Sebolt
Former Allegan County Republican Party Chair Ken Whiteford
8th District Congressional Candidates
Kristina Lyke
Mike Detmer
Alan Hoover
11th District Congressional Candidates
Whittney Williams
Kerry Bentivolio
Carmelita Greco
For more information, and daily updates, you can follow along on Facebook.com/ImpeachWhitmer