The Berrien County Sheriff's Department has issued a Scam Warning this morning regarding a con-artist offering driveway sealing services that he takes payment up front for and then either never delivers or fails to complete the work.
Deputies say the man shown in the photo is 26-year old Pierre O'Hara. He is six-feet tall and weighs 160 pounds with brown hair and blue eyes. He is reportedly driving a white Dodge pickup bearing South Carolina license plate number 8858NA.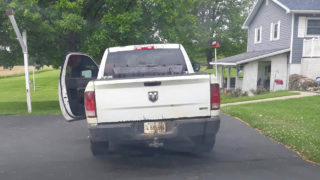 He has victimized several people already in areas including Berrien Springs, Buchanan, Bertrand Township and Niles Township.
Deputies say that O'Hara is offering to seal driveways and provides paperwork from Seal Master/ Sherwin Williams as a contractor. He reportedly takes payments up front and then leaves without completing the work, or failing to do any work at all. He has also been seen on security cameras looking into barns and garages in the region.
Authorities are asking you to please share this information with family members and friends and if you see the man or have been scammed, they ask you to contact the Berrien County Sheriff's Office – Detective Bureau at 269.983.7141 x: 7224 as soon as possible.