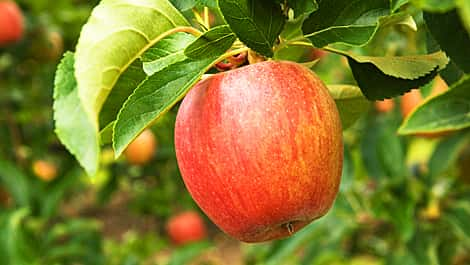 With Michigan schools all be back in session beginning next Tuesday, your chance to include a fresh Michigan apple in your kids' lunch bag appears to be at hand. In fact, Michigan State University Extension officials who expected a late, but "average" harvest this fall ranging from 25 to 26-million bushels, are finding out that many local farms and fruit stands do have the fruit already.
The official crop estimate of 25.25 million bushels (roughly 1.06 billion pounds) of apples was announced last week at the US Apple Outlook meeting in Chicago. The 2019 crop estimate is on par with the average Michigan Apple harvest of about 25.2 million bushels per year. MSU Extension estimates are a touch higher around 26-million bushels for the 2019 harvest.
Diane Smith is Executive Director of the Michigan Apple Committee. She tells us, "Many factors contribute to the size of an apple crop, including weather and the size of the previous year's crop. To make the estimate, growers and other industry experts report on what they are seeing in various regions of the state, then come to a consensus on the crop size estimate." She says, "Reports have been consistently indicating a clean crop with good sized apples."
According to the USDA, Michigan harvested 25 million bushels of apples in 2018. There are more than 11.3 million apple trees in commercial production, covering 35,500 acres on 825 family-run farms in Michigan. Unfortunately, the acreage employed in growing apples has been getting smaller not only in Michigan, but here in the heart of the fruit belt of Michigan's Great Southwest as well. MSU Extension records show that our region has just under 200 apple growing orchards covering some 7,300 acres. With increasing yields in each orchard, however, the annual crop has remained largely steady.
Michigan Apple Committee's Smith says, "July was the hottest month this summer, and paired with the cool, rainy spring, both seasons provided favorable weather conditions for growing apples," and adds, "Good quality, size, and the anticipation of a full crop point to numerous retail opportunities this year."
Michigan Apples are typically shipped from mid-August all the way through the following June, and Michigan Apple packers and shippers work throughout the year to bring Michigan Apples to more than 30 states and 18 countries worldwide, according to Smith.
When the cold and wet spring delayed blooms, the harvest date was essentially pushed back in our region by about a week or so, but early varieties are already being harvested and are on the market.
Smith says, "Michigan Apple growers dedicate their lives to producing fresh, flavorful, high-quality apples. As always, they have been working hard to produce this year's crop and are excited to share their great-tasting apples with consumers this fall."
Our region produces large quantities of multiple varieties including Red Delicious, Golden Delicious, Honeycrisp, Gala, Jonathan, Rome and Empire apples.
The Michigan Apple Committee is a grower-funded nonprofit organization devoted to marketing, education and research activities to distinguish the Michigan apple and encourage its consumption in Michigan and around the world. For more information, visit MichiganApples.com.
Several key players on the local ag scene are saying that not all apples are delayed this year. Mike Hildebrand in Berrien Springs says, "We started packing apples last Friday and will start picking Galas next week…probably Monday. Honeycrisp will begin around September 15th."
Alissa McManus, co-owner of Piggott's Farm Market on Napier Avenue in Benton Harbor says, "Ummmm, no! Fresh local apples are available at local farm stands. We have eight different varieties at Piggott's!"
Grower Angela Thompson says, "Plenty of good, in season, local apples now to go in school lunches. Golden Supreme, Mollies Delicious, Pristine, Red Free, Gala, Paula Red and more. Let's get local apples in kids lunches!"
Best advice…visit your local farm markets and seek out all of the natural goodness and keep going back for more!