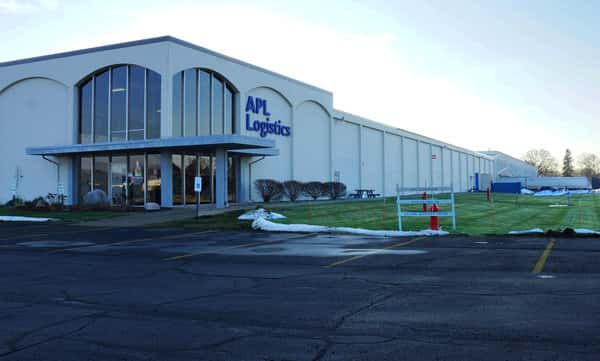 A year ago they were selected by United Way of Southwest Michigan as one of two Small Business of the Year Award winners in ceremonies at Shadowland Ballroom in St. Joseph. By the time the 2016 campaign launches this fall, they could well be just a memory. APL Logistics of Coloma appears to be gearing up for the last haul according to employees who say they were notified of corporate plans to cease operations at the sprawling Coloma Road warehouse complex less than two weeks ago.
According to those employees, about 40 to 50 employees, many with 30 years or more on the job, have been told that the sizable complex will halt operations at 4412 Coloma Road by June 30, 2016.
Some employees originally worked for Michigan Fruit Canners at that site before the company was purchased by APL Logistics. The majority of the building is used for warehousing and distribution, but there is still a fruit can labeling production unit that will apparently be melded into the company's Fennville facility owned by Pinnacle Foods. Pinnacle is the parent corporation to many household names like Birdseye, Van de Kamps, Log Cabin, Duncan Hines, Mrs. Paul's, Wilderness, Vlasic, Lenders and Wish Bone. The warehousing and distribution facility will apparently be supplanted by other facilities elsewhere in the system.
APL Logistics is a large-scale firm headquartered in Scottsdale, Arizona with additional corporate offices in the United Kingdom, Miami, Dubai, Shanghai, Singapore, and Mumbai, India. Globally, the integrated supply chain services company employs more than 6,000 people out of 110 locations in more than 60 countries.
One employee says that they have been told there will be no options for transfers, and despite an early promise of reference letters, Chicago corporate leaders have changed that plan and say only confirmation of years of service would go to inquirers, not management reference letters.
Steve Mullins, Senior of Hartford is General Manager of the Coloma facility, but he is in Calgary, Alberta, Canada this week where his company is opening up a Continental Tire distribution center and was unavailable for comment on the status of the Coloma units. Mullins himself just began his 33rd year with APL Logistics on January 3rd.
Employees at the Coloma warehouse, which is actually in Hagar Township, were called together at 2:30pm on Wednesday, January 20th for management to deliver the news of the impending shutdown. Stay tuned for further details as they become available.