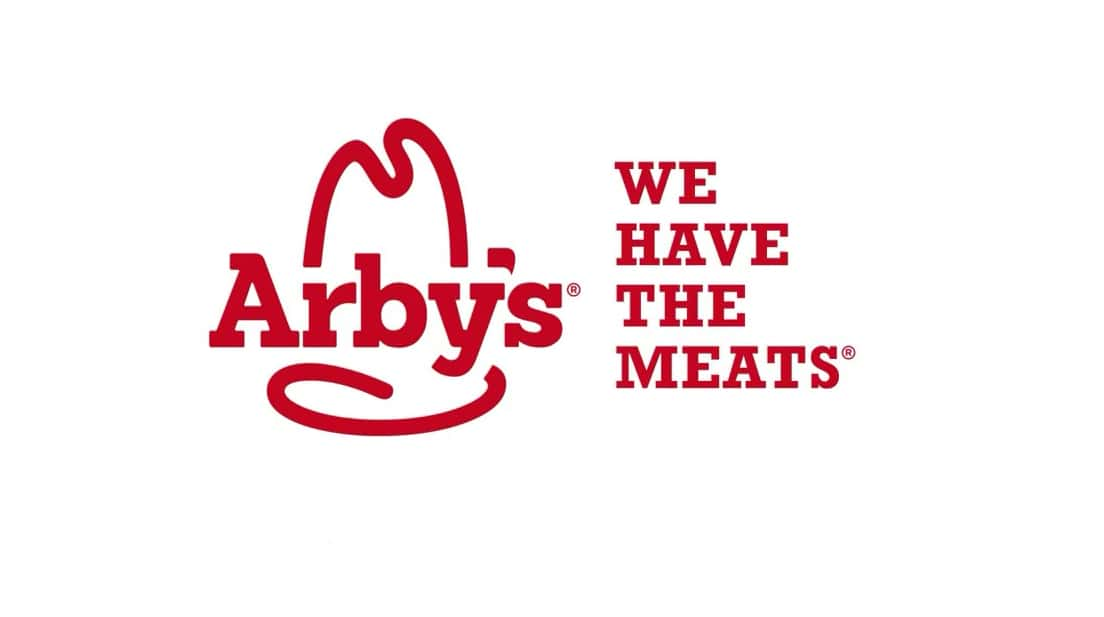 The Internet of food fanatics awakened Wednesday to deep concerns over one of their favorite pizzas and hit the pillow tonight with dreams of their favorite roast beef sandwiches dancing in their brains faster than any sugarplum in the history of man.
Facebook and other social media platforms in Michigan's Great Southwest rolled out of bed this morning to the news that the popular DiMaggio's Pizzeria in Hagar Shores was on fire in a smoky blaze that will result in several months of rehabilitation and remodeling for the resort diner, but their food interests shifted shortly thereafter to the seemingly never-ending search for proof positive that Arby's would in some way, some day, make a triumphant return to the Berrien County shoreline with a new restaurant in St. Joseph or Benton Harbor.
Two Facebook fans of Arby's, Jenni Bush and Donna Lippert seem to have accomplished what everyone else in the region, including multiple news outlets, had been unable to accomplish -- an affirmative response from team Arby's that, yes, in fact, a new restaurant is in our future.
Bush was one of many who posted to Facebook this morning about the possibility of an Arby's return to St. Joseph and Benton Harbor when she said, "Rumor has it that Arby's is coming back to the twin cities!" Now, keep in mind, that such a statement has been made multiple times for months with nothing concrete to back it up. We chased down rumors on multiple occasions and always came up with ambiguous replies at best and no hint of reality.
Jenni, however, appeared to strike gold this afternoon when Arby's Facebook administrators straight up answered her question. She stated online: "I have been told several times that Arby's is coming back to Benton Harbor/St. Joseph, MI sometime this year. I am wondering if this is true?" To which Arby's online administrators responded, straight up, "We plan to have a location in Benton Harbor, MI in late 2019." Here's a screen shot of her Facebook messenger query and reply: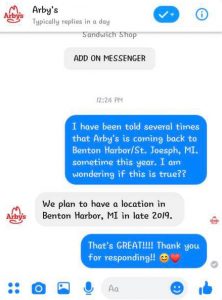 The response has been bombarded there and on multiple other threads addressing the restaurant all through the day today with some mocking, some praying, many leery and others incredulous over the news of the impending return of the team that has "the meats!"
Attempts to further corroborate what that brief communication implies have gone unanswered, but we'll continue to sort it out.
Arby's was a long time presence in both St. Joseph and Benton Harbor with restaurants on both Napier Avenue in Benton Harbor, across from what is now Slumberland Furniture and in the space along Niles Avenue which is now home to Dairy Queen Chill n Grill in St. Joseph.
There are all sorts of theories as to why those franchise operations left the community, but seemingly ever since they left the hue and cry has been growing with every passing year in search of their return.
Arby's fans in the region have been left to make the trek to South Haven or Niles to find the nearest Arby's, but if Jenni Bush and Donna Lippert have, in fact, unearthed the definitive response, then the strong vibrations are undoubtedly here to stay until opening day, wherever that may take place.
Speculation has pegged the return to at least two potential locations -- one at Napier and M-139 across from Walgreens and the other in the strip center at M-139 and I-94 which houses Sonic. There is no proof at this time that either site will be where Arby's settles. Years ago bakery deliverymen said that they were destined to go into the former Hardee's at Pipestone, I-94 and Mall Drive, but that was long ago debunked and that site has languished ever since Hardee's left the building.
Stay tuned, and we'll continue to try to track down both a time frame and a location if the Arby's statement is factual. In the meantime, rest easy that DiMaggio's will refurbish and be back, and sweet dreams of that deep voiced announcer telling you, "We have the meats!"