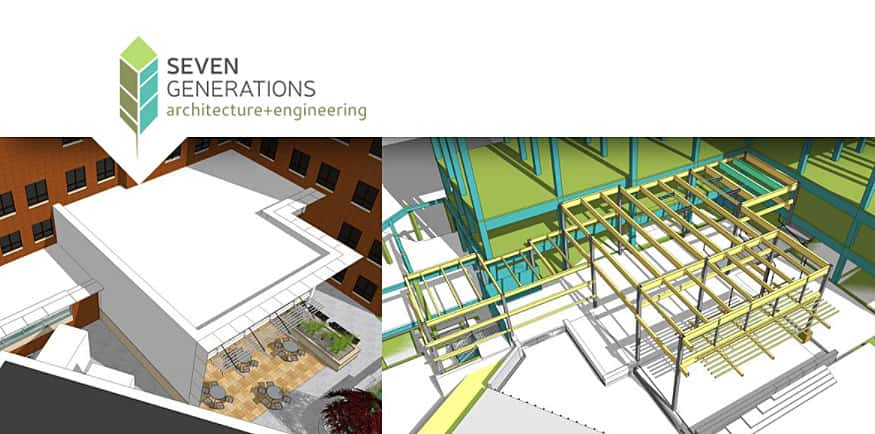 A specialty architecture and engineering firm that was first based in the central business district of Benton Harbor but quickly outgrew its space along Main Street several years ago has now outgrown facilities in Kalamazoo as well and will move to new quarters in East Kalamazoo's historic River's Edge District to accommodate its burgeoning staff.
Seven Generations Architecture & Engineering, which was originally anchored on Main Street in downtown Benton Harbor after being founded six years ago, announced plans this week to move its headquarters to The Foundry in East Kalamazoo's River's Edge District. The relocation will accommodate Seven Generations A+E's substantial expansion and will help to increase productivity, efficiency and client service. The planned date for moving is Dec. 1, 2018.
The premier tribally-owned, 8(a) and HUBZone certified architecture and engineering firm will depart Western Michigan University's Business Technology & Research Park which is where they moved to after outgrowing facilities in Benton Harbor.
Jeremy Berg is Managing Director of Seven Generations A+E. He says, "Our beautiful new office at The Foundry will be an open concept which will encourage collaboration for our design teams." He explains, "We also feel the need to connect more directly with our Kalamazoo community and our move downtown will allow us to be more physically present."
The Foundry is a 52,000 square foot facility with co-working and office space designed in the Herman Miller Living Office concept, which includes exposed girders, clerestory windows and areas for breakout meetings.
Seven Generations A+E, which was founded by Mno-Bmadsen, the independent non-gaming investment arm of the Pokagon Band of Potawatomi Indians, will hold a ribbon-cutting ceremony on December 14th at its new location at The Foundry. The celebration will include a benediction led by a Pokagon elder, a drum ceremony and a social hour with tribal and local cuisine and music.
Since Seven Generations A+E was founded in Benton Harbor in 2012 the company's expertise and offerings have expanded significantly to become certified as an 8(a) small disadvantaged business and a HUBZone company that employs people in historically underutilized business areas. These two important designations permit Seven Generations A+E to receive specialized consideration when bidding on government projects.
During the last three years, Seven Generations A+E has nearly quadrupled in size and the firm's revenues have dramatically increased as a result of winning significant government bids, including $50 million in federal contracting during the next five years. With the company's relocation to a larger and more collaborative office, Seven Generations A+E is planning to increase the number of employees even more in the near term to support the firm's plan for continued growth and diversification.
Seven Generations A+E, which has been located in the business technological research park within Western Michigan University's engineering campus for four years, has been planning the move for more than a year. With the assistance of a grant from the Michigan Economic Development Corporation. (MEDC), Seven Generations A+E was able to secure capital resources to help with the company's move to The Foundry.
MEDC Chief Executive Officer Jeff Mason says, "Seven Generations A+E's move and expansion demonstrates their commitment to the ongoing growth of Kalamazoo's business community," and adds, "The company's tribal belief that today's generation is responsible for the prosperity of future generations is a model for planning and developing sustainable solutions both for a business and a community."
MEDC performs due diligence and administers business and community development programs on behalf of the Michigan Strategic Fund, and is the state's chief marketing and business attraction arm, supporting private investment, job growth and promoting a positive image for Michigan.
Seven Generations A+E received a $215,000 grant toward the renovation of the new space along with purchasing of machinery and computer equipment. Funds come from MEDC's Tribal Business development unit, which supports and promotes economic development for the state's 12 federally recognized Indian tribes.
Founded in 2012, Seven Generations A+E has a focus on environmental stewardship, and the firm specializes in the federal, state, municipal, commercial and tribal markets.