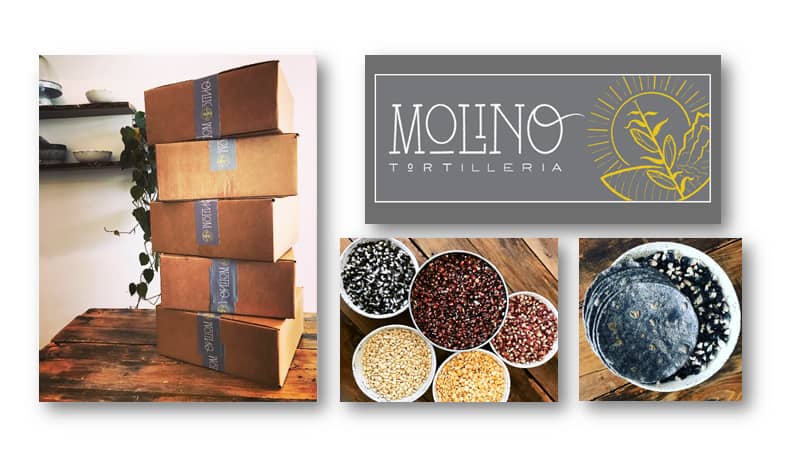 The meteoric rise of Molino Tortilleria continues unabated…even in a pandemic. The Sawyer-based maker of Heirloom Mexican Corn Tortillas, produced the way the ancestors made them, can now have them delivered right to your door anywhere in the United States.
They literally debuted on the local food scene last summer selling tortillas and Mexican inspired pastries from their booth at the downtown St. Joseph Farmers Market, but Molino Tortilleria quickly became a market favorite and began expanding their reach by working with local restaurants and chefs to showcase their unique products.
Aaron & Christie Harris, the husband and wife team behind Molino, began their journey as people just trying to make a good taco. Little did they know what would be ahead of them. Aaron says, "We never had any intention of starting a business, we just wanted to make good tacos for ourselves." When tortilla options where they lived fell short, the couple took it upon themselves to try their hand at making them from scratch. As Aaron says, "We just kind of got hooked on the process when we dug into what it took to create our own corn tortillas."
Molino Tortilleria insists they are not reinventing the wheel or blazing a trail, it's quite the opposite actually. The process they use to cook the corn and create masa, the corn dough used to make tortillas, is called Nixtamalization, and evidence of its use in Mesoamerican cultures can be traced back thousands of years– and for good reason. Nixtamalized corn has many health benefits when compared to untreated corn. It removes toxins, imparts calcium, activates amino acids, and vitamin B3 while also freeing trapped niacin found naturally in the corn, allowing they body to absorb the nutrients more readily. The process has remained almost completely unchanged. In fact, Aaron says, "We're just going back to the way it's always been done, simple ingredients, stone-ground, and made fresh." Before the rise of commercially processed corn flour, that is how tortillas were made. Dried corn cooked in lime-treated water, allowed to soak overnight, washed, and ground in a mill using real volcanic stone to create fresh masa.
Opening its doors in February of 2020 Molino has had to adapt almost from the very beginning to navigate operating a new business during COVID-19 lockdowns.
Aaron notes, "As a brand new business, we knew we were going to have to adapt quickly to stay afloat but we were able to get creative and find ways to make ourselves useful to our customers during these strange times," and adds, "In a way, the pandemic and restrictions forced us to think outside the box. We had always intended to mostly supply restaurants but when many of those clients slowed at the beginning of COVID we turned our attention to our retail customers and tried to find ways we could serve them and remain relevant."
Molino began experimenting with Do-It-Yourself taco kits, grocery delivery and even started a small weekend Mexican street food menu available for carryout. After navigating through the summer Molino has changed quite a bit, but they feel that they are better for it.
One of the biggest changes has been the addition of Molino's online marketplace which can be found here:https://www.molinomarket.com/. Molino's co-founder Christie Harris has thoughtfully curated an online marketplace to complement their core offerings of tortillas, masa & pan dulce by sourcing unique ingredients for Mexican cuisine like spices, dried chiles & salsas as well other locally made goods like artisan chocolate and sauces.
What started off as just a one-page ordering site for their products has transformed into a beautiful online marketplace that customers have really come to enjoy shopping weekly. Until now Molino has only offered curbside pick up to their local customers, but has now added a shipping program to deliver tortillas, pan dulce, and other market goods right to customer's front doors. Christie says, "We're really excited to begin shipping," and adds, "Our business is located in a sort of vacation town so over the summer we had many out-of-state customers discover us and have asked us when they get back home if we'll ship them products." The answer is: Yes!
Molino will now ship weekly to customers all over the U.S. and they have garnered a lot of interest already, as Aaron says, "This is really going to help us spread awareness about the company and serve a lot of people who sadly don't have access to quality tortillas." You can view their entire list of offerings including fresh-made tortillas now available for shipping at www.MolinoMarket.com.