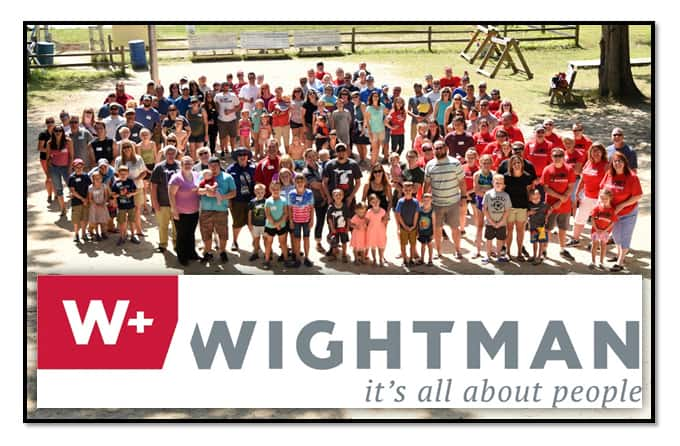 They started well over 70-years ago as a one-man shop handling land surveying in Michigan's Great Southwest, but as the company has grown dramatically not only in size and scale but in expertise and capabilities, Wightman & Associates of Benton Harbor decided it was time to streamline the name and freshen up the brand alongside an updated web presence. Henceforth the team shall be known exclusively as Wightman.
Headquartered along Pipestone Road in Benton Harbor, Wightman also sports offices in Allegan and Kalamazoo, and today they have formally announced their streamlined name change to Wightman, as part of a larger refresh of the firm's brand that includes both a new logo and their updated web site domain.
Matt Davis serves as President of Wightman. He says, "We have used our upcoming 75th anniversary in 2021 as an opportunity to strategically reflect on the tremendous growth Wightman has experienced and to look forward to the expanding future of our firm." He adds, "We have evolved from a small, regional survey and engineering enterprise into a multi-disciplinary firm serving clients in several states. The updated corporate name and logo aligns better with who we are today while still staying connected to our roots."
The company was founded back in 1946 by G. L. Wightman in St. Joseph, specializing in land surveying and civil engineering. Over time, the solo proprietor business grew in size, scope, and geographic reach. Today, the full-service consulting firm employs more than 120 professionals who analyze, advise, design, and deliver successful projects in partnership with Government, Education, Commercial and Utility sectors throughout Michigan and the Midwest.
The new Wightman logo includes the tagline, "It's all about people," to reflect the company's mission, values, and goals to serve people and the communities in which it operates.
Davis says, "The tagline sums up the purpose and culture of Wightman. It aligns with our long-standing emphasis on personal relationships and improving people's lives through the work we do."
Wightman provides architecture, civil engineering, environmental, and land surveying services through a team of licensed industry experts. Additional complementary services Wightman offers include planning, GIS, landscape architecture, and interior design, as well as newly added high definition laser scanning and drone imaging.
Other recent expansion activities Wightman has completed include a newly expanded Allegan office which opened in the fall of 2017, and a new, larger location in Kalamazoo which opened in November 2018 with grand opening activities scheduled early here in the New Year.
The web site and email domain has been changed to gowightman.com. Those wishing to learn more about the firm or to contact a member of the Wightman team are invited to visit the web site or call 269-927-0100.
Wightman is a full-service consulting firm that exists to serve people and the communities they live in. Learn more by clicking the link: http://gowightman.com