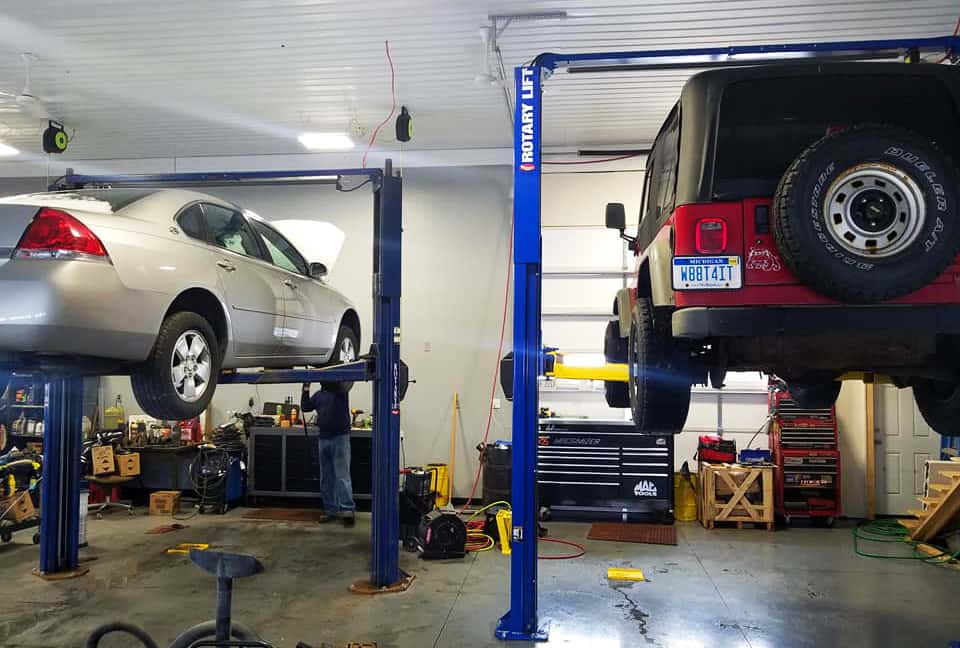 A young Bainbridge Township family that has been plagued by misfortune had finally settled into a groove early this year only to be confronted by neighbors who are threatening their very livelihood and petitioning others to follow suit.
Steve and Amy Schrage are nearing their wit's end as they fight to save their small business operation, One Way Auto, a business co-owned by Steve's cousin Chad Kesterke.
While many people dream of being able to work from home, Steve is actually forced to do so by the circumstances surrounding his infant daughter's critical healthcare regimen, and he has turned life's lemons into a fine glass of lemonade by establishing One Way Auto in a new 3-bay repair building adjacent to his Napier Avenue home in Bainbridge Township.
One Way Auto, located at 6101 E. Napier Avenue, was launched last December by Schrage and Kesterke and has been successful in attracting many repeat customers who rely on them to keep family vehicles and even commercial trucks and vans running smoothly.
It has been anything but smooth for the Schrage family, however as a string of seemingly never ending tragedies has struck, totally unrelated to the business, but playing into the reason it was established in the first place.
It started  when Steve and Amy had twin girls born by emergency C-section due to a rare disease at 27 weeks. One of the girls, Emma, has suffered through multiple medical complications and life-threatening illness. At two weeks old she had to undergo immediate surgery, and later open heart surgery, suffering cardiac arrest and even a stroke. That left her with cerebral palsy. All-in-all, she faces complex and fragile medical needs around-the-clock.
After more than 3-months in the hospital's intensive care unit, a Specialized Care Nurse was found, but she has since retired and the family has been several months without that specialized attention.
Shortly after the girls arrived at their Bainbridge Township home, fire raged through the family garage destroying it and everything in it. Just one week later, the family's home was struck by lightning and it was only a hungry baby, smoke detectors and a fire extinguisher that saved the family and their home.
Faced with all those issues, Steve decided to start his own business and got approval to build his three-bay garage with office space and waiting area for One Way Auto. His previous job was in serious jeopardy due to surgeries and emergencies keeping him out.
Realizing that an at-home business site was the best chance to provide for his family, the business was started. It is crucial to little Emma's very life to have her father working close at hand, inasmuch as medical emergencies can arise in a flash. Real emergencies already have like a spiking deadly fever from an infection, severe blood loss, dehydration and malnutrition or bacterial overgrowth. Time is always of the essence when she needs to be raced to her surgeons an hour away at Bronson Hospital.
The Schrage family situation is extremely unique. She can't just be shuttled off to daycare so her parents can go to a job elsewhere. Special needs come in all forms, and this is the best way the family has been able to cope with the issues.
Unfortunately, one neighbor has launched a petition drive to shut the business of One Way Auto down. That neighbor's efforts have already cost the family thousands in costly legal support and advice, money that is already needed elsewhere far more productive.
Now, the team at One Way Auto, and the Schrage family are reaching out to the Bainbridge Township community asking that they not sign the petition and allow the business to continue its successful 8-month run. The shop has done all sorts of auto repairs on cars, trucks, tractors and more and is rated highly by those who have used the business. You can reach One Way Auto by phone at 269-930-0805.
If the company is forced to cease business there, the fate of little Emma and her entire family will be placed at serious risk, and they're simply asking for compassion from the community they call home.