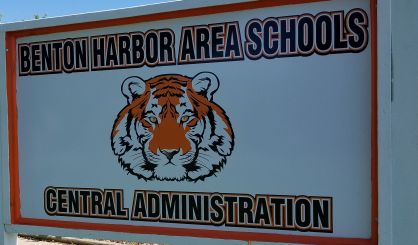 Benton Harbor Area Schools is among 54 school districts statewide entering into partnership agreements with the state to improve academic performance. The Michigan Department of Education announced this week all of the affected districts have schools scoring in the bottom 5% on the state's index accountability system or have a four-year graduation rate of 67% or less. Department spokesperson Bill Disessa tells us under the agreement, the state will provide help and support to schools to help them improve over 18 months.
"We work with the local district, in this case, Benton Harbor, and they sort of take the lead in coming up with some of the benchmarks, milestones in their plans," Disessa said. "In other words, it's sort of their plan. Then we work with them, give them support, and they also get support from the local ISD, to try to meet those goals."
Disessa says after the 18 months, there will be a review. After 36 months, another review will determine if the partnership agreement has improved academic performance or if other accountability measures need to be followed. Benton Harbor Area Schools has previously been in partnership agreements with the state in 2014 and 2017. It's expected this new agreement will be signed in April. . Also entering partnership agreements with the state are the Benton Harbor Charter School Academy and Mildred C. Wells Preparatory Academy.