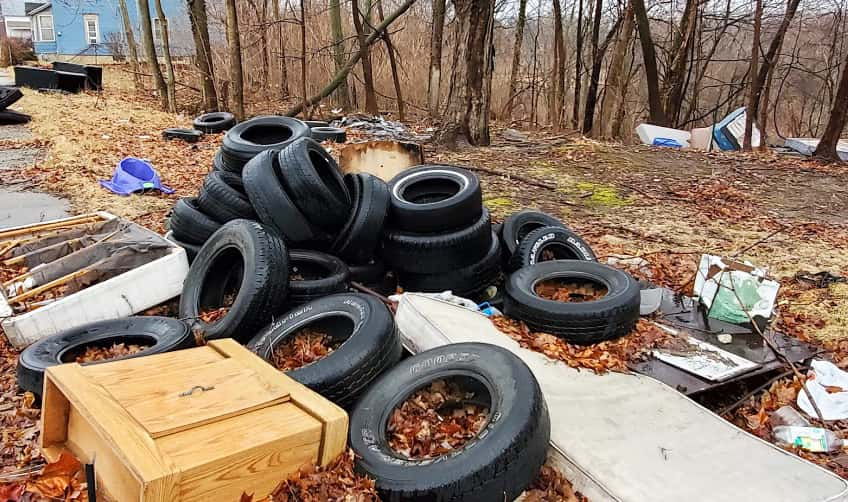 If your business is one of those believed to be involved in the illegal dumping of old tires and other auto parts randomly in the community of Benton Harbor you have two options — do what's right or face fines, costs and even the potential seizure of the vehicle you are caught dumping things from. The same goes for residents who are dumping all sorts of household materials from furniture to garbage indiscriminately in the city.
The City of Benton Harbor has today declared war on the massive amount of trash, tires, and debris that are being dumped illegally throughout the city. There are piles of illegally dumped rubbish and debris literally throughout the entire city from the northside to the south. Illegal dumpers have been dumping trash and tires in alleys, on the side of roads, on vacant lots, and even behind people's homes.
The volume of trash, debris and tires throughout the city is staggering. The city has spent over $169,487 over the course of three and a half years on extra dumpsters to remove illegally dumped trash.
Public Safety Chief Dan McGinnis says the Public Safety Department has begun an investigation into illegal dumping. Since the effort was launched last week, 4 arrests have been made so far. The Michigan Department of Environmental Quality will be assisting in the investigation. The City will be looking at beefing up the current trash and rubbish ordinance with increased fines, adding the cost of remediation, and possible vehicle seizure for person's caught in the act of dumping.
McGinnis says the city is asking for citizen's help in detecting and prosecuting persons responsible for polluting the city with illegal trash and rubbish, noting, "We need the residents to help stop illegal dumping in our community."
Citizens are encouraged to call or text the newly established Illegal Dumping Tip Line at (269) 944-7929.
Click the link below for three dozen more photos provided by the city to show how bad the illegal dumping has become:
https://photos.google.com/share/AF1QipOzql-P8EZ0f9eXZ5gVTNs91zWI7NKZeVw54ZLLK-W6k7aazyqD2sAnDTaA5Q6ZvQ?key=SDlBSVhWUmpKVzlWLU9MaVNkZmJkakRtbm9UNUln