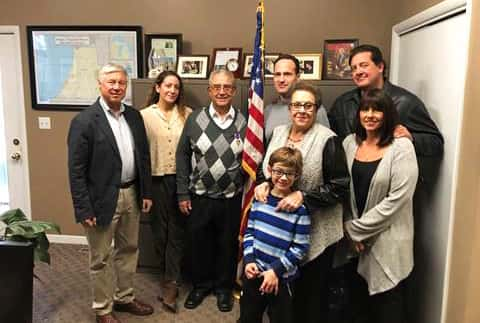 The holidays are always a great time for families to get together, but this year a Benton Harbor family got an extra boost of goodwill for the season while gathering for the patriarch of the family to receive a Purple Heart Medal from Congressman Fred Upton.
In private ceremonies at Upton's St. Joseph office yesterday, Sunday, November 17th, the Congressman presented the Purple Heart Medal to U.S. Army Specialist Philip Damico of Benton Harbor.
Damico was drafted in 1967 and served in the Army in Vietnam until 1969 when he was injured by an explosive.
Upton says, "It was such an honor to share this moment with a Patriot and a real American hero – Philip Damico, as well as several members of his family." He adds, "Specialist Damico served his country with distinction, risked his life to protect our freedoms, and did it with unflinching bravery. The Purple Heart Medal is such a small token of appreciation compared to everything he did to defend our way of life. We will forever be grateful to him and his family for their sacrifices."
Damico says, "I'm grateful for Fred taking the time to meet my family and me and present the Purple Heart Medal," and adds, "It was a special day for my wife, our kids and their spouses, and our grandkids. But it's also important that we always remember and honor those who paid the ultimate sacrifice and never returned home, as well as their families."
The Purple Heart Medal is awarded to members of the armed forces of the United States who are wounded by an instrument of war in the hands of the enemy. Often described as the military's oldest medal, George Washington created it in 1782. To mark the bicentennial of Washington's birth, in 1932, the Purple Heart was revived by Presidential Executive Order.