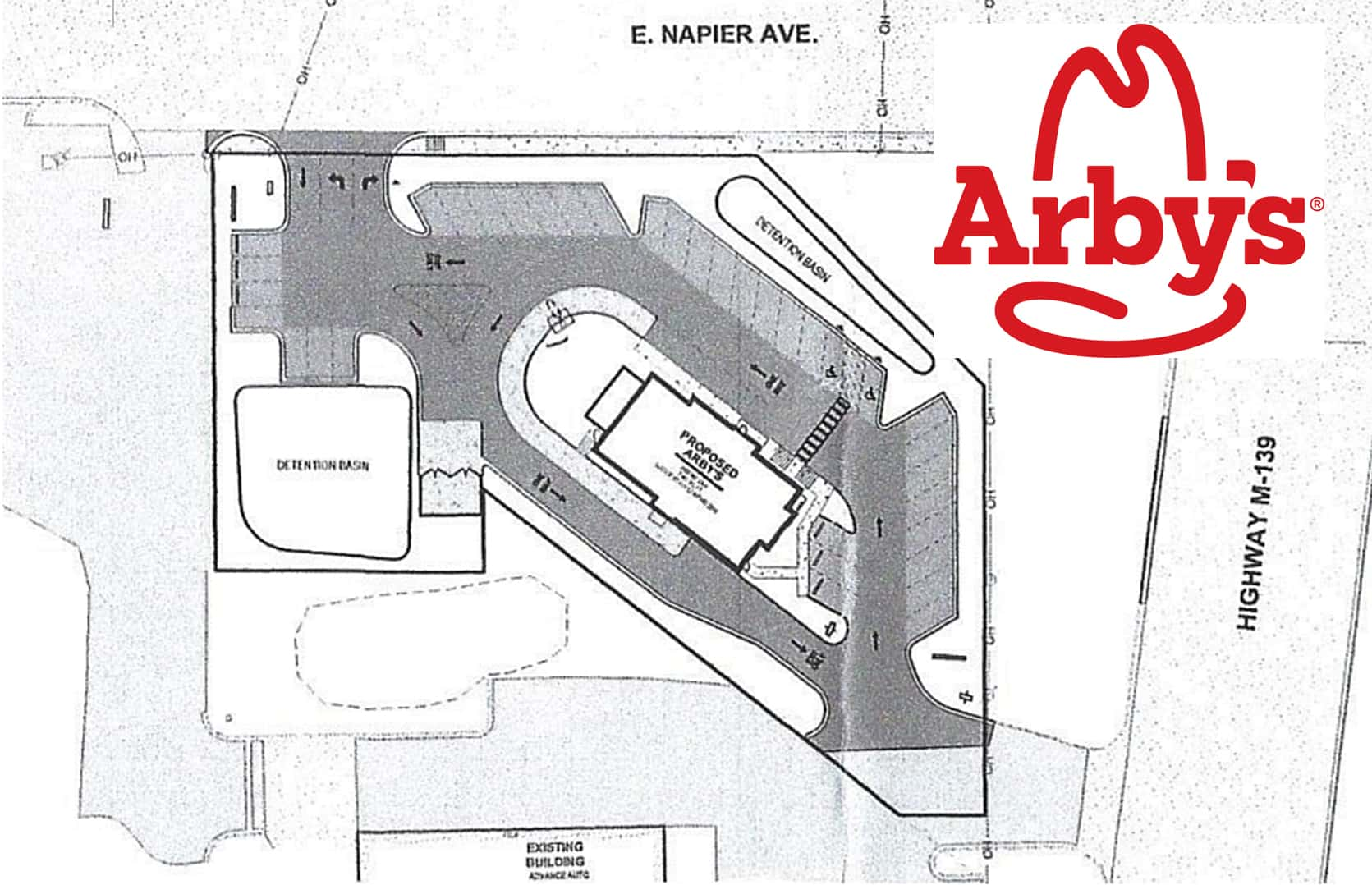 Look's like you'll "Have the Meats," by this fall, if all the pieces fall into place with local government officials, building contractors, development professionals, inspectors and everyone else with a say in the matter.
Benton Township Planners gave the green light tonight to Browning Properties II, LLC of Brentwood, Tennessee, for a site plan submitted to them for development of a new, 2,800 square foot, Arby's Restaurant at the corner of M-139 and Napier Avenue on the site of the former Sanitary Cleaners and a former walk-in clinic that closed several years ago. It's literally a block away from the long time former site of Arby's on the other side of Napier Avenue west of the projected site approved in the Special Planning Commission Meeting at Benton Charter Township Hall tonight.
The Township Planning Commission unanimously approved  the site plan request to develop an Arby's at the southwest corner of Napier and M-139 subject to County Road Commission and Michigan Department  of Transportation approvals of the proposed curb cuts on Napier Avenue and M-139 as well as the County Drain Commission's approval of detention ponds on the site.
Browning Properties II, LLC's representative, who discussed and presented the Arby's site plan submitted to the Township tonight to these other governmental agencies, said they expect these agencies respective approvals by early March 2019, following which construction will get underway immediately this spring.
They also announced, that the closing on the two properties needed to be purchased to facilitate the new Arby's -- the former Sanitary Cleaners at the intersection of M-139 and Napier and the former walk-in clinic located on Napier adjacent to the west of the former Sanitary Cleaners,  would occur by April 1st, 2019 subject to approval of the Arby's site plan by those other governmental agencies. The project will be under the guidance of Development Management Group of Nashville, Tennessee.
Browning Properties II, LLC's representative was asked by the Planning Commission when they expected the Arby's to open, to which he replied, by September 2019 provided all approvals were reached to accommodate closing on the properties by April 1st, 2019.
Jim Paul of JPA Development in Benton Harbor provided details on tonight's meeting to Moody on the Market.com. Paul had a vested interest in the project after working for nearly a year since March of 2018 to convince Arby's developers to consider several sites he had to offer in the region. Unfortunately for him, his sites, elsewhere on Napier, finished second and third in the running for a new site for the restaurant which has drawn considerable attention and demand from local fast food fans who have been clamoring for an Arby's in St. Joseph and Benton Harbor virtually since the previous sites on Napier in Benton Harbor and Niles Avenue in St. Joseph both closed down years ago.