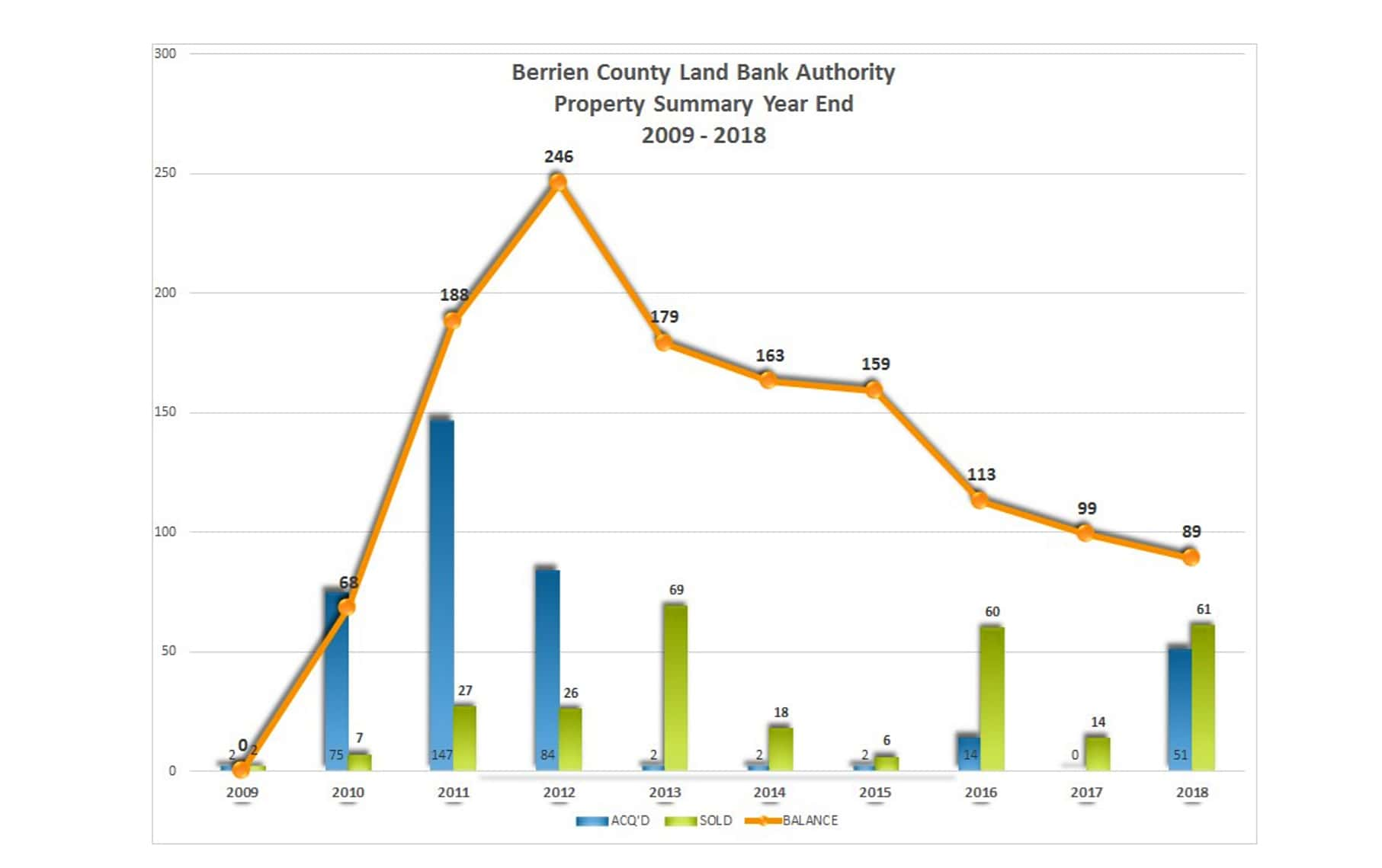 When Berrien County Treasurer Bret Witkowski first conceived of a Berrien County Land Bank Authority more than 10 years ago, not everybody was on board with his idea, but he persisted and found a way to make it happen, and now, 10 years in, the Land Bank is celebrating a stellar year in action.
Witkowski issued his 2018 Annual Report this week and says that, "Reflecting back on the events and activities by the Berrien County Land Bank Authority over the past year and in our 10th year of being created, there has been a lot of work improving the neighborhoods and returning property to productive re-use." He notes, "Through thoughtful acquisitions, demolitions, maintenance, and disposition, we have returned 290 properties — 61 in 2018 alone — back to taxpaying, productive re-use."
In fact, in the past year Witkowski's work saw a property that was disposed to a local partner complete a three year rehabilitation project, and efforts to market neighboring property owners to purchase side lots continued.
The makings of another great success story actually began three years ago in 2015, when the Land Bank received a real estate owned donation of residential property located at 1221 Pearl Street in Benton Harbor. The property was in need of some minor update and repairs and Witkowski reached out to his partners.
He tells us, "The Land Bank transferred the property to Kinexus which planned to utilize the Youth Build program to train youth age 16-24 to learn skilled trades. The program participants eventually gutted the home and did a complete rehab. Youth Build had its ribbon cutting ceremony on August 18, 2018 with participants and community partners celebrating their accomplishment."
Witkowski is gratified by successes like that, saying, "Projects take time and with patience, effort and resources, that project was completed –Rehabbed and Ready. The property is listed for sale for $49,000 and is a turn key home in the City of Benton Harbor. It isn't often that the Land Bank receives residential foreclosures that are in need or scheduled for demolition. We look forward to future successes like this."
There are currently 89 sites available for purchase down from a peak 246 in 2012. The state equalized value that has been captured is north of $1,661,250.
The whole goal of the Land Bank Authority is get property back into the hands of the public and on the tax rolls again. A major deal this past year is also slated to put the former Alreco property in Benton Harbor back on the tax rolls when it gets sold to a medical marijuana production company. That abandoned facility had actually gone to the auction block several times before landing in the Land Bank inventory. Witkowski says it will be sold for a "decent price" and it will return to the tax rolls when that deal is complete.