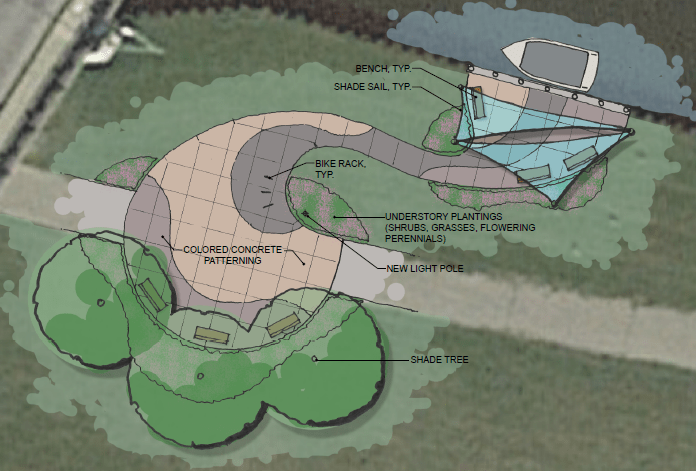 Pictured: Rendering of proposed improvements to the St. Joseph Arboretum site.
Berrien County Community Development and Cornerstone Alliance's application for the Michigan Department of Natural Resources Waterways Program grant has been approved, according to the Berrien County Board of Commissioners.
Through this grant, Berrien County will receive over $100,000 to make improvements to the Twin Cities' waterways. Cornerstone Alliance will provide funds necessary to match the DNR grant. Throughout the process, technical and design assistance throughout the process was provided by Abonmarche Consultants.
The DNR Waterways Program grants provide assistance for engineering studies and infrastructure improvement projects at 63 Grant-in-Aid harbors and boating access sites. Approximately $1.75 million will be made available to Michigan communities in 2019.
In addition to the DNR Waterways Program Grant, the St. Joseph Improvement Association is offering to invest additional funds to improve the St. Joseph Arboretum Site. The SJIA continues to support the waterways improvement project and other community improvements.
The SJIA was founded in 1955 to advertise, promote, foster and encourage the aesthetic beauty and physical economic improvement of downtown St. Joseph, as well as advertise and promote the businesses in downtown. Some of their achievements include being the original founder of the downtown public art "Horses on the Beach," the Light Up The Bluff program, the purchase of the 100 American flags seen around town, the St. Joseph Development Fund and much more. Over the last 14 years, SJIA has invested over $700,000 in downtown St. Joseph.
Chris Frank, Cornerstone Alliance's Vice President of External Affairs, states, "The DNR and SJIA investments would not have been possible without the leadership of Dan Fette from Berrien County Community Development and Mike Morphy and Tom Runkle from Abonmarche. This infrastructure maximizes the use of the area's greatest natural resource in order to improve mobility, placemaking, business growth, and community health. A total of four watercraft access and mooring sites will be constructed along the St. Joseph River. The sites will host bike racks, a kayak launch, and allow for multi-modal transportation along the waterway."
The goal is to have the project complete by the summer of 2020. Abonmarche, Berrien County and Cornerstone Alliance will be finalizing designs, going through the bidding process and then starting construction in the spring of 2020.