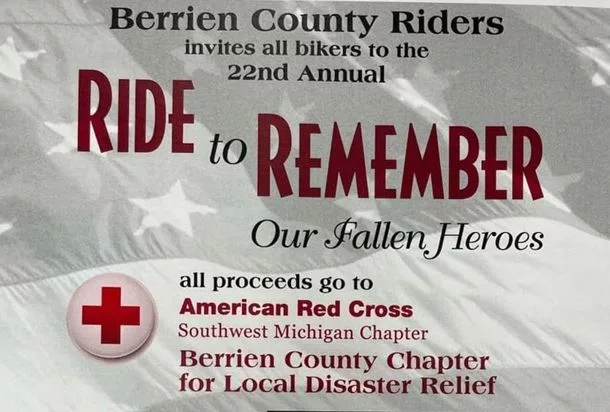 Hundreds of motorcyclists from all over southwest Michigan will take part in the 22nd annual Ride to Remember this Sunday. Ron Gunn with the Berrien County Riders tells us the group started the event after 9/11 to raise money for the Red Cross. It's gone on strong each year ever since. Gunn says it's not just motorcyclists who get involved.
"The biggest thing is we're led through each town with fire trucks and ambulances," Gunn said. "It's quite the procession. Each time we go through a town, the fire trucks will jump off, and in the next town, the fire trucks and/or police officers jump into the line up in front."
They do the ride each year rain or shine. Gunn says it will start at the Berrien County Courthouse on Sunday with registration at 10 a.m. and the departure at noon. From there, the ride heads to Dowagiac and then back, ending at the DANK. All proceeds go to the southwest Michigan Red Cross chapter, and it's $15 to take part. Any motorcyclists who want to take part can just head to the courthouse on Sunday morning.