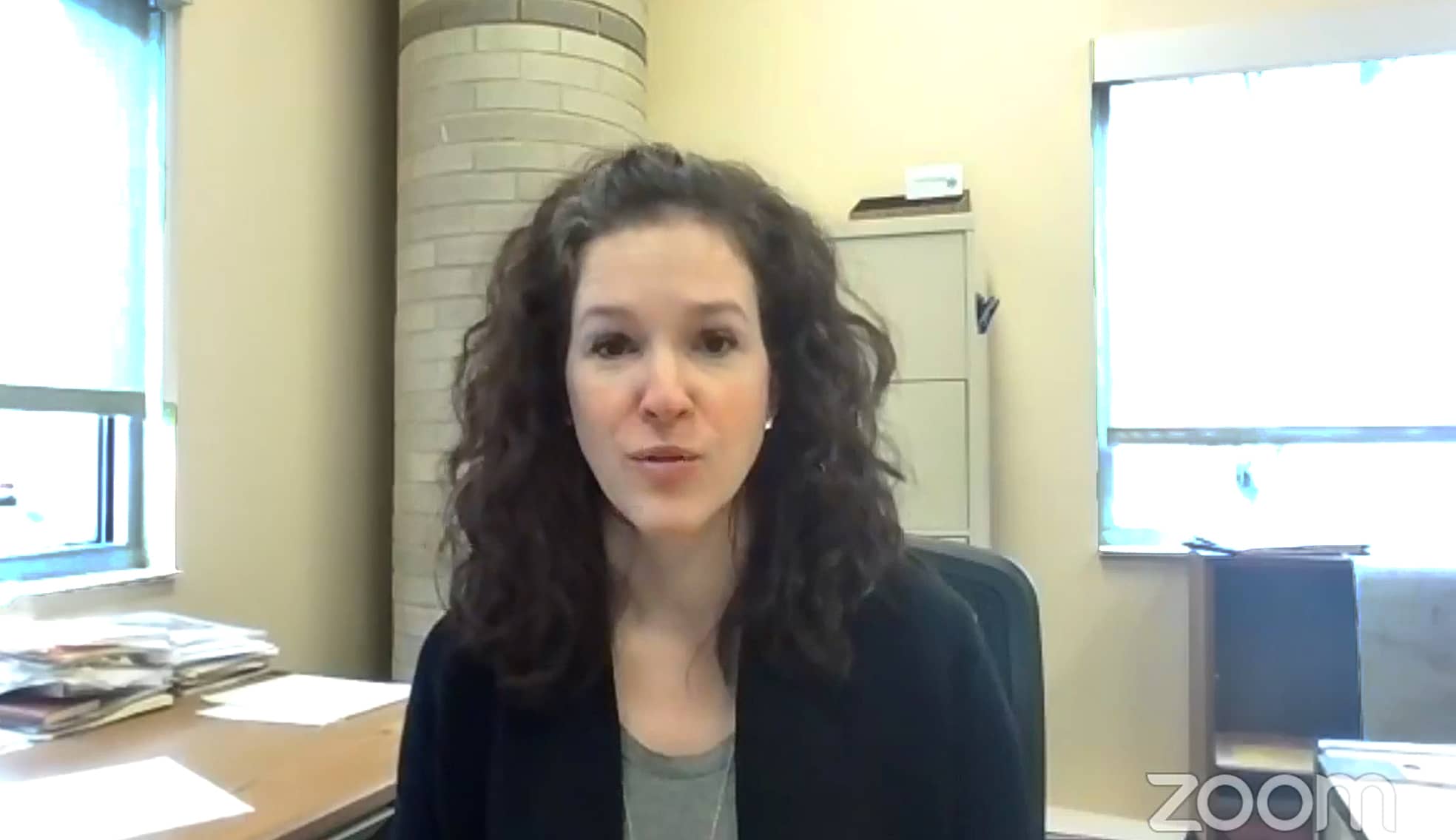 As the number of active COVID cases continues to trend downward in Berrien County, the volume of vaccinations continues to trend upward. The only issue keeping more from being innoculated at a faster clip is the ongoing issue of supply.
Berrien County Health Department Officer Nicki Britten was joined again today by Dr. Loren Hamel, President of Spectrum Health Lakeland in updating the community on case counts, vaccination clinics and more.
Both are encouraged by the recent trends, with Britten saying as much, "We are continuing to be encouraged by some of the data that we're seeing. It's not perfect and it's not showing that there is no COVID risk, but we are seeing a sustained rate of approximately, on average, about 50 cases per day in Berrien County. That's still a lot higher than we were seeing over the summer and in September and how we started October, but we're down considerably from where we were in mid-November, right before Thanksgiving."
Britten likes that recent stability but is still urging caution, noting, "Having the steadiness in that number, and being at that plateau right now is good, but we want to make sure we keep it that way, and don't want to see some rapid increases in cases. We've had increased testing in Berrien County, our percent of positivity is dropping and that is a good thing, we're below 10-percent of our tests that are coming back positive, and that continues to help us be assured that we have enough testing out there to be measuring the amount of transmission that is happening, and all of that is continuing."
Britten adds, "We're grateful from a logistical standpoint at the Health Department that we do have the staff capacity to continue and maintain meaningful case investigation, meaningful contact tracing for the positive cases, while still having staff available to be getting vaccine out, and that continues to be very important. Another reminder though, that the biggest influence on our cases right now and the fluctuation in those numbers really does have to be with preventive measures like social distancing, masking up, avoiding large groups, and making sure that we're keeping all of those things into account. While we're good at it right now, and we're tired of it right now, it continues to be really important. As I've said before, immunization is going to be our long term investment and it will pay dividends this summer. We have to get through it right now, but right now within the health system we have to encourage everyone to keep up the good work. We are seeing the decline and we saw that flattening because of the things that you all were doing out there, and we want to continue to encourage you to be diligent, there is light at the end of the tunnel, but we're still in the tunnel."
At Spectrum Health Lakeland, the case count hasn't gone unnoticed, however Dr. Hamel reminds everyone of some of the things behind the numbers, saying, "When we hear the report of about 50 new cases per day in Berrien County, of course that is the folks that we start getting concerned about because they might need hospitalization. Just remember, those 50 new cases per day are the ones that we know about. If you look at any point in time in Berrien County, we have 7-or-8-hundred people that have active infections of COVID-19, and some of those people require hospitalization."
Hamel is encouraged, over recent census counts at the hospital, reporting, "Our hospitalization rate, like the number of new cases being reported, is stable over the last two weeks or so, and we are so grateful to be in the mid-20s. That's down from up around 80 and for quite a while in the high 70s, so we're grateful for that, and we hope those trends continue. Just remember there are still plenty of folks out there that still have active COVID cases."
Hamel had one statistic on transmission in the community that he says is noteworthy, "What we are seeing, which is also really encouraging, is our tracking of the transmission of the disease. We track how many folks end up giving the disease to someone else when they're sick with the virus, and that number has now dropped well below one. In fact, for every two people with COVID 19 in our county that we know about, only one gives it away to somebody else, on average. That's a really good indication that we're not giving as much of this disease away, which means the masking, the social distancing, the hand hygiene and people being careful across our community is showing evidence of working."
Turning to the vaccination process, Britten updated the community on who is currently eligible for the vaccine, saying, "Right now in the state of Michigan, 65+ are eligible for vaccination as well as some other key essential workers including first responders, those who work in congregate living settings like shelters or corrections facilities, and educators are on that list as well, along with some state and federal frontline workers. That's who's eligible right now and we estimate that to be approximately 40,000 Berrien County residents."
Looking at the county's performance metrics on the vaccine, Britten says, "To date, we've seen some 7,000 to 8,000 doses of vaccine come into Berrien County, which includes those that we administered to health care workers as well. As soon as that eligibility opened up both the Health Department and Spectrum Health Lakeland responded to determine how to move quicker to get through health care workers to make sure we get to those who are now eligible under broadened availability. The allocations that are coming to our community are based 75-percent on our population of older adults and 25-percent on our essential workers, so we are trying to do a bit of that math and figure out how appointments can be scheduled."
Britten looks at the numbers every day and says, "We expect that there are some 25 to 30,000 older adults who are 65+ in Berrien County, so we're working our way through that. Both of us have wait lists so we know who has said 'yes, I want the vaccine.' As we progress, we have clinics that we are planning, and then advertising and scheduling appointments as soon as we know how much of the vaccine we have for those clinics. Lots of planning is happening, but the appointments don't become available until the vaccine is designated to us, and we want to make sure that everyone with an appointment actually does get a vaccine."
The health department has vaccinated over 3,000 people, and more than half of those have been older adults. Hamel says about 7,000 people have been vaccinated between the two organizations.
While the numbers are on the increase, Hamel put it all into perspective this way, "When you think about the vaccine across the country, we've gotten close to 20-million vaccines. Across the world nearly 56-million vaccines. You've heard the new president say '100-million vaccines in 100 days,' and that would be a very good thing. We're pretty close to a million per day now in the country, but if you consider that every adult needs two shots, that's 50-million folks who are going to get vaccinated in 100 days. If you figure there are a couple hundred million people that need the vaccine in the country, you can see that this is a year-long journey at the current pace."
Nevertheless, Hamel is hopeful for increasing numbers, noting, "Some are wondering if we can get to 3-million doses in this country every day, to triple what we're currently doing. I don't know if that's really possible, I know that folks are talking about it, and I can tell that at this point, in this county it is the supply that we're short of. We are ready to give more vaccines, and if our supply doubles, we're going to be there for you, and if it triples, we will do everything it takes to make sure that vaccine gets into your arms as quickly as possible. I would just encourage you to make sure you are ready for that vaccine, make sure you sign up for that, make sure you let us know you're willing so we can put you on that list."
At the Health Department, Britten concurs that they could seriously ramp up volumes if the vaccine rate into the county moves up, saying, "Here at the health department we're confident that we could readily triple the amount of vaccine that we could put out. We have the capacity, we have the staff, we have the workflows all in place and are simply waiting for those allocations." She adds, "On a weekly basis we're coming up with a Plan A and a Plan B that looks at what we think we might get from the state, and our optimistic levels as well as for what we might get in terms of vaccine, so we are definitely ready to go. The public doesn't always know, because we're not making appointments until we know that we have the vaccine to fulfill them, as we don't want to have to cancel anybody's appointment due to lack of supply."
There are now more than 19,000 Berrien County residents aged 65 and over who are on the current waitlist, and Britten says, "We are working through it, and have your information saved if you have signed up. You don't need to re-register if you're on the list with us or with MyChart. Meijer is also creating a waitlist. If, however, you do get onto multiple lists, don't accept an appointment for more than one vaccine," and above all, everyone in the system reminds those eager for the vaccine, "Please be patient!"