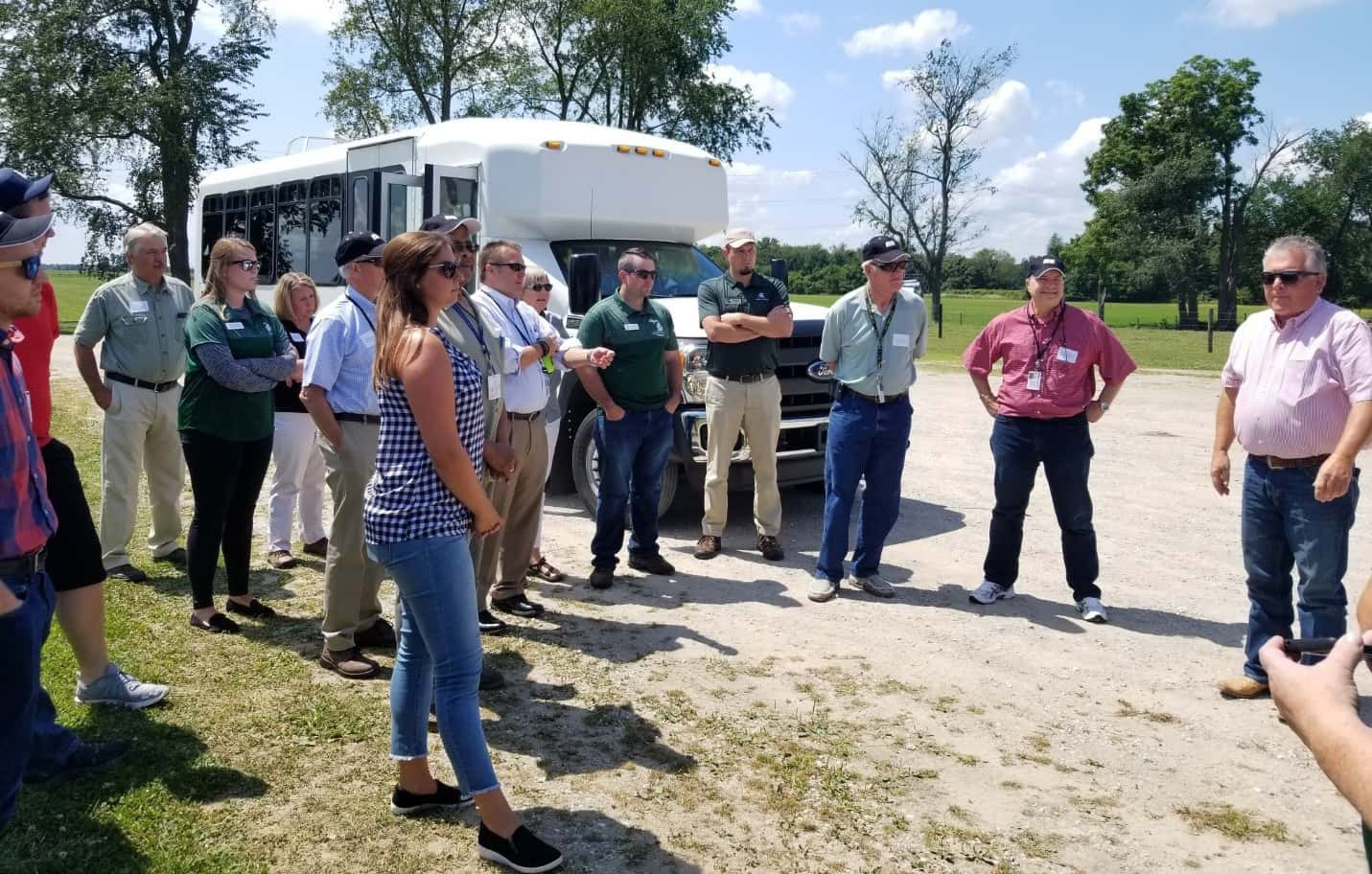 If you're going to make decisions that impact local industry sectors, it's always a good idea to have first-hand knowledge of the issues facing each of those sector. With that thought in mind, elected officials who represent Berrien County at multiple levels joined the team from Michigan State University Extension, Berrien County Farm Bureau and the Berrien County Conservation District to learn about the diverse agriculture industry we have across Berrien County.
Second only to the State of California, Michigan has one of the most diverse agriculture industries in the country and much of that diversity is found right here in Berrien County. Highlighting different types of agriculture, a tour and educational conversations were planned to help improve the general understanding and increase the knowledge of agriculture for Berrien County elected officials.
That event was held a week ago on Thursday August 1st, 2019. The tour took everyone involved to a livestock and row crop operation, a fruit and vegetable production facility and a winery. The focus of the tour was to widen each player's scope and understanding of one of the most important industries in Berrien County.
Those on hand had an opportunity to visit with farmers and hear first-hand what their operations are about, how they manage their business and some of the myriad challenges they face. Local agencies that support the area farmers were also able to visit with the group of elected officials. Nancy Carpenter is Manager of the Berrien Conservation District. She says her staff, "Was happy to explain to the elected officials what programs and services they offer to agricultural growers and works with them on challenging issues in this industry," adding, "We also enjoyed visiting at each of the stops along the tour and seeing the innovative ways that our local farmers are using to be successful. In addition, we noted that the elected officials asked very good questions that sparked excellent discussions."
Representatives from the Berrien County Board of Commissioners, State Representative Pauline Wendzel, along with staff members from State Senator Kim LaSata and State Representative Brad Paquette's offices joined the half-day tour.
The first stop took them to Seldom Rest Farms, a family farm owned by the Scott, Bruce and Andrew Foster families. This multi-generational farm highlighted their Angus cattle show herd. The Foster family explained the importance of the exhibition industry for agriculture, how it helps to develop the future of agriculture by involving youth who have an interest in agriculture, and how they have focused on raising a premier product for the Certified Angus Beef label.
Following the visit to Seldom Rest Farms, tour participants received a glance at the fruit and vegetable production sector, an area that makes up much of Berrien County's agricultural industry. Brian Bixby, owner of Bixby Farms visited with the group to explain how his operation services those who are involved in the sales of fresh produce. Growing and sourcing multiple crops is one of the keys to Bixby's success, noting that being able to supply his customers with different products, helps gain and retain his customers, while giving him an outlet for the crops he grows.
The final tour stop was made at Gravity Winery, where owner Rockie Rick explained the wine making process from the vine to the glass. Tour participants were able to see how the exceptionally harsh winter has had lasting challenges for local wine makers in Michigan's Great Southwest, and how they are working to implement alternative production practices to help combat those challenges, further sustaining their industry.
When talking about the event, Beth Ferry, Extension Educator said, "Michigan State University Extension is a resource for farmers; as a support system for agriculture, we wanted to help create a better understanding of agriculture for our local elected officials. This includes how these unique businesses operate, the challenges that farmers face and why farming is an economic driver for Berrien County. This opportunity also allowed our elected officials to put a face with a name, helping them make connections and build relationships with people that they can reach out to when they need to discuss issues or make decisions that impact our agriculture industry."
The half-day event was hosted by Michigan State University Extension, Berrien County Farm Bureau and the Berrien Conservation District. It was made possible by funding from Greenstone Farm Credit Services and Berrien County Farm Bureau.
MSU Extension District Director Julie Pioch reflected on the partnership, saying "This is a great example of the many different resources for farmers coming together to help support the agriculture industry. It is important to highlight the successes and challenges that farming has in Berrien County, as it is a vital component and economic driver in our local area."
MSU is an affirmative-action, equal-opportunity employer. Michigan State University Extension programs and materials are open to all without regard to race, color, national origin, gender identity, religion, age, height, weight, disability, political beliefs, sexual orientation, marital status, family status or veteran status.