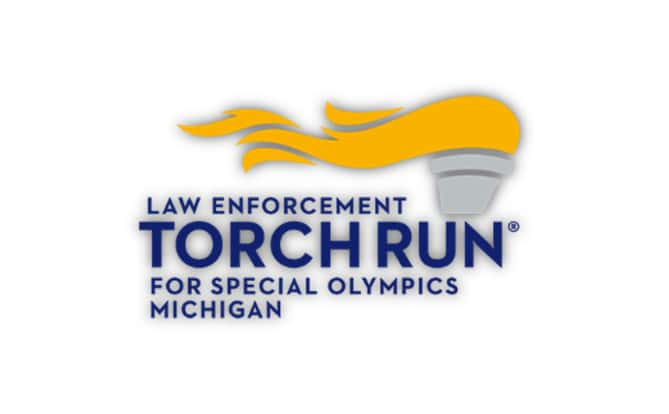 Here's a chance for you to do some good for both your own health and that of the community at large at one and the same time. Members of Berrien County law enforcement are inviting everyone to run alongside of them while raising both funds and awareness for Special Olympics Athletes from the Great Lakes State.
You are invited to join the Berrien County Area Law Enforcement Torch Run to raise money for Special Olympics Michigan athletes at a Community Run next Monday, September 9th at 11:00 am with registration starting at 10:00 am.  The run will start at John E.N. Howard Band Shell on the corner of Lake Boulevard and Port Street.
The public is invited and encouraged to participate in the event, designed as an opportunity for law enforcement, corrections personnel, and community members to run shoulder to shoulder, raising money and awareness for Special Olympics Michigan athletes. It is one in a series of 44 community runs scheduled throughout the month of September around the state during Law Enforcement Torch Run Week.
To participate in one of the 44 Community Runs it is $25 per person which includes a dri-fit shirt. For more information visit click the link below:
That's the link for all 44 runs. You can click the link below to sign up specifically for the St. Joseph portion of the event at this link:
https://www.classy.org/event/st-joseph-community-run/e236101
Although signing up and donating is encouraged, the presence of community support is also appreciated.  Participants have included Special Olympics Michigan athletes, law enforcement, public school grade students, and even pets during the 1-mile run or walk throughout the beautiful route in St. Joe.  The event will be held rain or shine and is the only Law Enforcement Torth Run community run being held in Southwest Michigan.
In addition to the local events throughout the state, the torch run's Central Route is a 750-mile non-stop relay run from Copper Harbor in the tip of Michigan's Upper Peninsula to Belle Isle in Detroit. That run starts early on Monday, September 9th and ends on Friday, September 13th. That relay run consists of three teams:
Fraternal Order of Police (FOP)
Michigan Department of Corrections (MDOC)
Michigan State Police (MSP)
Each team provides six runners who each run five miles at a time averaging eight-minute miles. These dedicated runners have been raising money throughout the year to participate in this prestigious event.
The Law Enforcement Torch Run for Special Olympics is the largest grass-roots fundraiser and public awareness vehicle for Special Olympics in the world. In the past 34 years, the torch run has raised more than $300 million for Special Olympics athletes.
Special Olympics Michigan Inc. provides year-round sports training and athletic competition for over 23,000 children and adults with intellectual disabilities. Athletes build physical fitness, develop self-confidence, and prepare for participation in society competing in over 24 sporting event types throughout the state.
With more than 30,000 volunteers, the generosity of Michigan organizations, and statewide businesses; Special Olympics Michigan offers an all-inclusive, no cost participation to the athlete and their families by raising nearly $1.7 million dollars in Michigan alone.