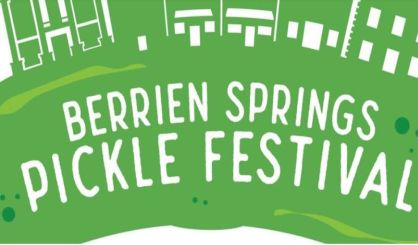 Taking place on Monday is the Berrien Springs Pickle Festival. The event was held in Berrien Springs each summer from 1995 to around 2005 and then brought back last year. Organizer Rhiannon Cizon tells WSJM News it was a big success, drawing a larger crowd and more vendors than expected. So, why pickles?
"I don't 100% know because everybody who was alive at that time – this is only in the mid-90s, this was not that long ago – is pretty much still alive, everyone's still involved, and I've heard like 15 different stories as to why a pickle festival," Cizon said.
Cizon says the pickle concept is fun and ridiculous. It may be considered a general celebration of all things agricultural. Whatever the reason, the Pickle Festival will feature more than 30 vendors, a pancake breakfast, a Big Wheel race, and a pickle fling contest.
"Right now, the current pickle fling world record distance is 292 feet. So, if you think you can make a world record, come on down."
There will also be a pickle decorating contest, a Pickled Piper Tasting Room, and more. Things wraps up with the parade at 4, the street dance, and then the fireworks at dusk. The activities will be held on the grounds of the History Center at Courthouse Square and at the library. You can learn more here.