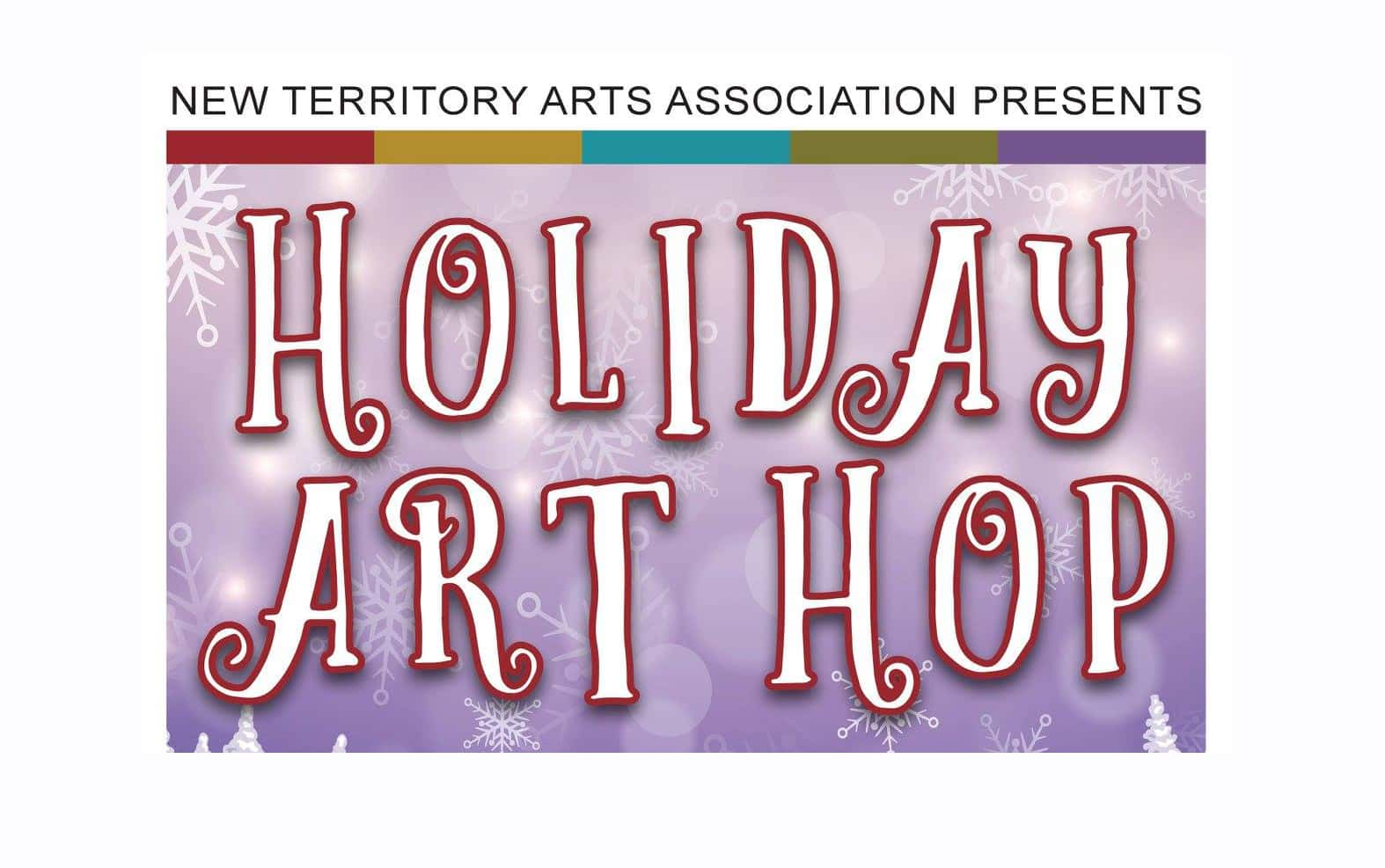 Things are always festive in the Benton Harbor Arts District, but they crank up the festive meter rather substantially each year for the New Territory Arts Association Holiday Art Hop, and this year will be as splendid as ever.
The world is invited to Benton Harbor's front door on Friday, December 13th from 6 until 9pm when the New Territory Arts Association rolls out their Holiday Art Hop featuring great art, music, food, drinks, fun and friends across the board.
It's your chance to browse the district, meet some cool artists, see fantastic artwork, sample food and drink, visit businesses and enjoy all of the good the Benton Harbor Arts District offers.
Arts District venues include: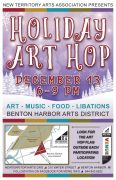 Water Street Glassworks
The Phoenix Coffeeshop
The GhostLight Theater
210 Art Space
The Livery
3 Pillars Music
Houndstooth Restaurant
The OutCenter
The Collective
The Hawks Nest
and more…
Here are a few of the Holiday Art Hop highlights offered up this year:
ARS Gallery — On view at ARS Gallery in Benton Harbor is "Palimpsest," a new exhibition of paintings by Scott Elliott. There will be live music from Jenna Mammina, as well as festive punch and holiday cookies.
3 Pillars Music — 3 Pillars Music will have live music featuring Jimmy Fastiggi playing an array of holiday songs. There will also be light bites and sips with sales on music, guitars and stereo gear.
210 Art Space — See local artist Sara Sokol painting live at 210 Art Space! Watch as she creates one of her signature textured canvases using recycled paper. There will also be open artist's studios along with live music and refreshments.
Stop by Melissa Lane Glass Designs, Studio #11 to see Melissa's fused glass jewelry and things for the home.
Visit Amy Story and her work at Studio #7.  Amy is a freelance graphic designer and illustrator. Her work comes from a desire to connect to herself, to others, to the earth. She believes simple tools can create powerful stories and often relies on recycled paper, gouache, and ink to create micro illustrations with affirmations of mindfulness and optimism.
Water Street Glassworks — Join Water Street Glassworks as they kick off the holiday season. Shop in the gallery, enjoy refreshments, and view glassblowing demonstrations in their studio. They always have something special planned for Art Hops. Find something to give and something to get at Water Street Glasswork's 16th Annual Holiday sale featuring a dazzling array of hand-blown ornaments made by their team of talented glassblowers. 100-percent of the proceeds from the fundraising tradition keeps the fires burning at Water Street Glassworks.