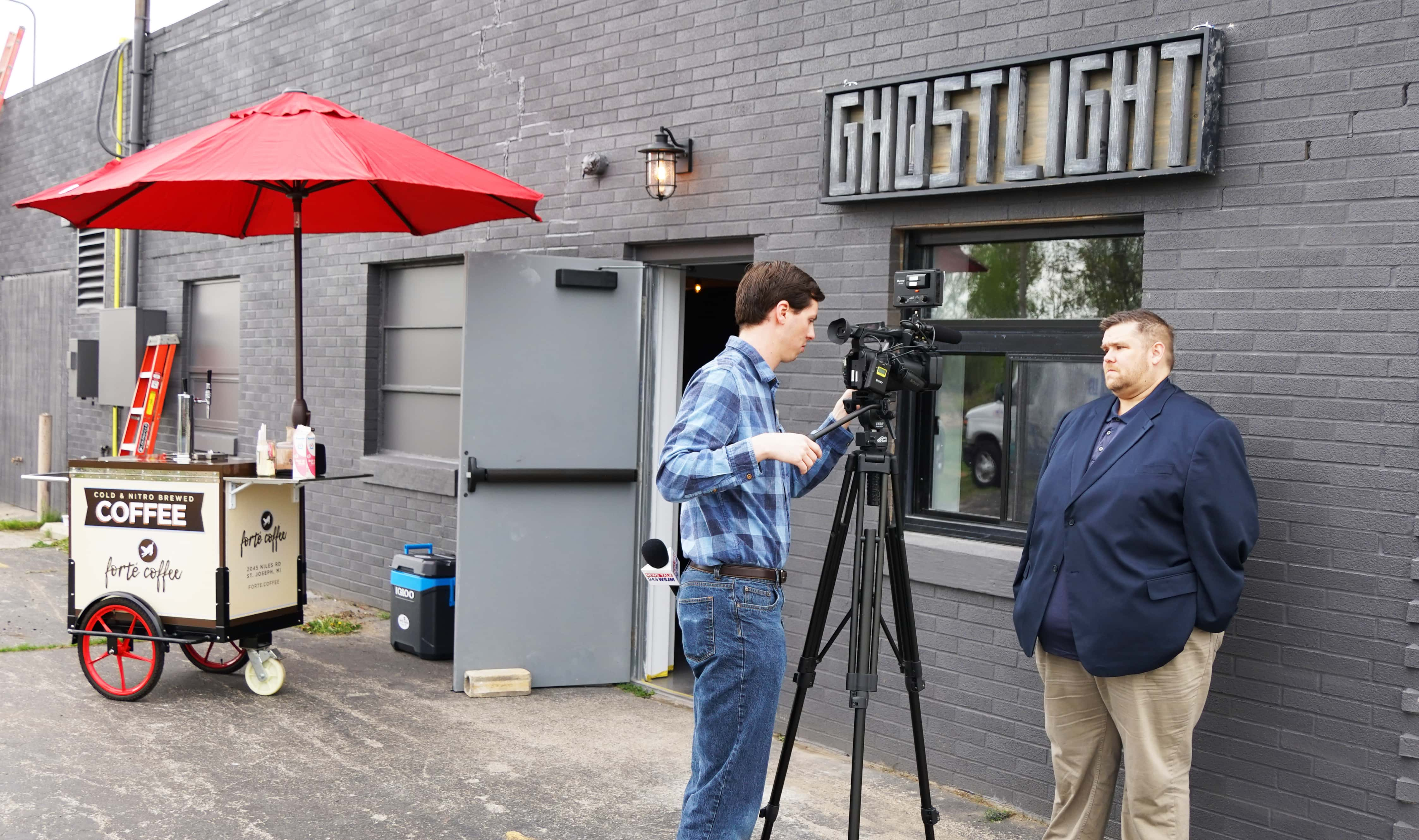 Theatre patrons in Michigan's Great Southwest can begin planning their spring and summer thanks to the release of the second season line up at Benton Harbor's GhostLight Theatre in the city's Arts District.
GhostLight Productions, Inc. and its performance company, The GhostLight Theatre, have announced their 2020 Season, where Artistic Director Paul Mow, working with three talented directors, has selected one play and two musicals as the GhostLight's sophomore season's productions.
The GhostLight season will open May 7th with Significant Other, a play by Joshua Harmon. Les Rorick of The Den Theatre in Chicago will direct the bittersweet romantic comedy about four friends in their late 20s and their search for relationships in 21st century New York City. There will be 8 performances, on Thursdays, Fridays, Saturdays and Sundays, May 7th through May 17th.
Starting June 11th, The GhostLight next will offer a Tony award–winning musical, The Light in the Piazza, written by Adam Guettel and Craig Lucas, directed by the incredibly talented Patrick Ross with music direction by Joshua Goines. In 2005, The Light in the Piazza won 6 Tony awards, including Best Original Score and Best Orchestration. The story centers on Margaret Johnson, an American, traveling across Europe in 1953 with her daughter, Clara. While in Florence, Clara meets a young Italian, & the two fall in love…..but it's complicated. There will be 8 performances, June 11th through June 21st.
Rounding out the season in August, the musical, A New Brain, written by William Finn and James Lapine, will open August 13th at The GhostLight. August Garritano who helped craft Urinetown: The Musical, last year at The GhostLight, will direct, and Joshua Goines will music direct. In the semi-autobiographical musical about a composer facing a sudden life-threatening illness, the healing power of art is celebrated in a delightfully witty musical all about second chances. There will be 8 performances, August 13th through August 23rd.
GhostLight Artist Director Paul Mow says, "We are incredibly excited about these three very different yet beautiful pieces of theatre which all serve to highlight and celebrate the human condition in a myriad of ways. " He adds, "We look forward to sharing these three pieces of theatre with our Southwest Michigan audiences who may not have seen these shows previously."
GhostLight's Executive Director Marty Hesse says, "Because of the overwhelming support from the community, and multiple sold-out performances, we had a spectacular inaugural 2019 Season. Starting this season, the GhostLight lobby will be known as The Kunkel Family Lobby, and the black box theater space will be known as The Schalon Room. Both the Schalon Foundation and the Kunkel family have been major supporters of The GhostLight Theatre."
Hesse goes on to say, "We are so grateful for the continuing support of the Schalon Foundation and their vision of excellence in performing arts in our area." She points out, "They have enabled GhostLight to open this past June, with a fabulous first season of productions and a beautiful and newly-renovated theatre building." She also says, "The new GhostLight building has been fully renovated, and is a beautiful venue for our productions, as well as for events and meetings."
Auditions for all of the 2020 shows are being held on Sunday, March 8th from 3-to-6pm, on Monday, March 9th from 4-to-8pm, and on Tuesday, March 10th from 4-to-8pm at The GhostLight Theatre located at 101 Hinkley Street in the Benton Harbor Arts District. For more information, refer to The GhostLight website or contact Artistic Director Paul Mow at paul@GhostLightBH.com in the weeks leading up to the audition dates.
Ticket prices for all shows are $28 for adults, $22 for seniors, and $12 for students with ID. The theatre is located at 101 Hinkley Street in the Benton Harbor Arts District. For more information, to join the GhostLight mailing list, or to purchase tickets, go to GhostLightBH.com.
This year, The GhostLight Theatre and its friends, donors, and patrons are tasked with raising $75,000 in 2020 to match grants, fund the 2020 season, enhance the light and sound systems, sponsor the CircEsteem Summer Camp, and to continue to bring high-quality performing arts productions to southwest Michigan.
Artistic Director Mow says, "This 2020 Capital Campaign is an opportunity to acknowledge our largest donors and to involve more area residents in supporting the arts in our community, while inspiring future donors to get involved with a variety of giving opportunities."