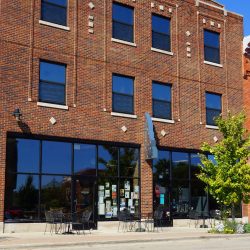 When Japhy Bartlett first signed onto the website CouchSurfing, he labeled himself as a "former gypsy, trying to put down roots in Southwest Michigan," with a mission to "build a business." That mission is drawing closer by the hour. Bartlett and his father are resurrecting the former Phoenix Rising Cafe in downtown Benton Harbor just a few short weeks after the popular diner was closed and its contents were placed up for auction during the Fall Art Hop in the Benton Harbor Arts District.
Earlier today, Bartlett was brewing some coffee samples and inviting Facebook friends and acquaintances to stop in for a taste if they found themselves in the Arts District over the course of the afternoon. Bartlett began his quest to re-launch the Phoenix Rising even before the last cup of coffee was served by previous owner Teri Robinson on September 30th. 
The Bartletts are focusing first and foremost on coffee, tea and baked goods from local bakeries in order to get the doors open as quickly as possible, perhaps within the next couple of days. He says that he's basically awaiting clearance now from the Berrien County Health Department's inspection team to deliver the green light before opening up shop. 
Once they've successfully re-opened the doors and get a handle on coffee, tea and bakery items for customers, Japhy tells me, "The next step will be quick sandwiches with premium meats and cheeses for the lunch crowd, but we want to really get the coffee and tea going smoothly first."
Bartlett is trained as an architect, but his CouchSurfing profile also indicated, "Computers pay better." He is also a well known quantity for the musical crowd having served as the bass player for the local supergroup The Chuck Jagers who play regularly a block away at The Livery microbrewery.
His stated philosophy is, "Happiness is the path," and he'll certainly bring considerable happiness to those who watched in sadness as Robinson brought the curtain down last month on The Phoenix Rising, telling her Facebook fan base, "Thank you everyone for the support, laughter, and amazing experiences we have all shared here at the Phoenix these past years. It has been life changing for me and many others. But…… part of life changing is change. Long story short…….. it is time for me and some of the crew to pursue some new opportunities in our lives."
The Phoenix Rising has been a local coffee shop and cafe serving breakfast, brunch, and lunch with free Wi-Fi in the Arts District of Benton Harbor for more than seven years, and now Japhy Bartlett is resurrecting the business once again. With his interests including, "Good food, microbrews, music, art, literature, exotic religions, and nerdy things," it will certainly be a fun ride for customers past and those who will discover his place for the first time.
Bartlett is a 2005 graduate of the University of Michigan with a Bachelor's Degree in Architecture. He is also the principal owner of Pearachute, a a consultancy that focuses on launching, optimizing, and salvaging eCommerce sites. He launched that venture a dozen years ago in 2005, shortly after graduating U of M.
Stay tuned for opening day, any day now, for the Japhy Bartlett version of The Phoenix Rising which you can find at 124 Water Street in the Benton Harbor Arts District, half a block off of Main Street which is also the I-94 Business Loop through town.