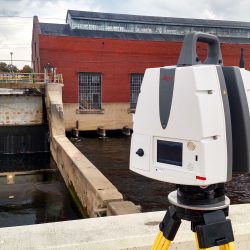 There's a new associate at Wightman & Associates of Benton Harbor whose technical skills and expertise have been employed at such world renowned sites as Dodger Stadium and the Superdome, and he's bringing his new team great new advances in modern technology. As technology continues to evolve, the team at Wightman continues to remain on the cutting edge -- announcing this week the introduction of high-definition laser scanning technology to its suite of professional services.
The Wightman crew is providing clients with the all-new level of effective planning, problem solving, and decision making that comes with the addition of their new high-definition laser scanning technology services. HDLS, coupled with the industry expertise of David Langley who recently joined Wightman, provides clients with crucial detail otherwise unattainable through conventional surveying methods.
Wightman company President Matt Davis says, "High-definition laser scanning is a natural complement to Wightman existing service lines." He notes, "We are among a select number of firms in the United States to provide HDLS as a stand-alone offering and as an integrative tool with architectural, engineering, surveying, GIS, and building information modeling services, all under one roof. By welcoming David Langley, who is one of the top national talents in the laser scanning industry, Wightman is uniquely positioned to provide clients throughout west Michigan and the Midwest with a blend of expertise and relevant technology."
The laser scanner looks similar to traditional survey instruments, however, field capabilities include the capture of up to one million points per second while simultaneously capturing digital photography that can later be used in the planning and design process. Data gathered from multiple set-ups are combined into a point cloud that can be used to create:
Existing structure, or "as-built," documentation
Two-dimensional drawings and cross sections
Three-dimensional models
Building information modeling (BIM) and GIS integration
Web-based viewing collaboration on any device, even cell phones
Fly-through video
Langley tells us, "High-definition laser scanning is well-suited for capturing data on existing structures where safely collecting data is an issue, in spaces not easily accessible, and in complex environments." He also points out, "It saves our clients time and money by identifying and resolving problems during the design process rather than discovering those issues during construction and having to address them on site."
Ideal applications for HDLS technology include complex environments such as:
Those with extensive piping, ductwork, and conduits
Building interiors and exteriors
Infrastructure components such as bridges, dams, and roadway intersections
Substations, utility towers, and transmission lines
Stadiums, theatres, and auditoriums
Langley notes that because complete and accurate measurements are available at the beginning of a project, clients can often reduce contingencies in the bid process, streamline critical decisions that drive the project schedule, and more quickly identify obstacles which hinder smooth workflows.
Other HDLS features include 360-degree data capture at each set-up, both indoor and outdoor use, and capture of survey targets that allows for real-world and site control coordinates. The laser scanner also automatically captures incidental data. This eliminates the need for repeat site visits for collections of additional data not originally known to be needed.
Langley comes to Wightman with 14 years of experience in the laser scanning industry, including most recently seven years as a product manager and applications engineer for Leica Geosystems, a pioneer in the world of high definition laser scanning. His field experience using this technology includes projects throughout the United States including Dodger Stadium in Los Angeles; University of Phoenix Stadium, home of the Arizona Cardinals; and the Superdome in New Orleans.
Langley is a member of the U.S. Institute of Building Documentation, Project Managers Network, ACG, and Society for Future Leaders. He studied land surveying and engineering at Ferris State University, computer-aided design and technology at Eastern Michigan University, and marketing at University of California, Berkeley.
For more information about HDLS services at Wightman, you can contact Greg Vaughn at (616) 843-7009 or David Langley at (925) 285-1488.
Wightman is an architectural, civil engineering, environmental and survey firm that has been serving Southwest Michigan and Northern Indiana since 1946 with headquarters in Benton Harbor and other offices in Allegan and Portage, Michigan.