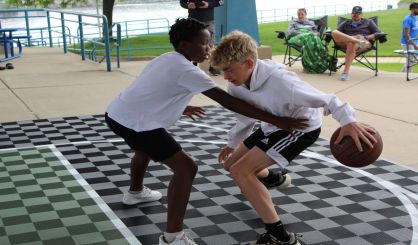 The inaugural Twin Cities 3:3 Tourney was held over the weekend of June 11-12. It was a two-day, half court, 3:3 youth basketball event – a partnership between Boys & Girls Clubs in Benton Harbor, the Berrien County Public Defender's Office, and local law enforcement agencies of Benton Harbor and St. Joseph.
The event was well-supported by the Berrien County Sheriff's Department, the City of Benton Harbor Public Safety Department, the St. Joseph Public Safety Department, Benton Charter Township Police Department, and St. Joseph Township Police Department, Berrien County Building and Grounds Department, and Berrien County Parks and Recreation Department. The modular flooring for the basketball court was donated by Sam and Anna Abdelnour of St. Joseph.
"We had unanimous support and interest in supporting young people from across our communities," said Paul Jancha, Jr., Berrien County Public Defender. "Our goal was for the kids to have a great time while having positive interactions with local law enforcement officials."
The event spanned two days with half-court competitions held at the Club's Fettig Youth Campus in Benton Harbor on Saturday morning and continuing with a final tournament at Silver Beach Park pavilion on Sunday. Teams from Benton Harbor and Michigan Lutheran were represented in the final tournament, with the middle school team from the Boys & Girls Clubs Benton Harbor Fettig Youth Campus being victorious.
Event organizers had plenty of snacks and drinks on hand for the excited competitors. Trophies were awarded to youth from the winning teams.
"Creating opportunities for young people to thrive is at the core of our mission," said Mackenzie Kastl, CEO of Boys & Girls Clubs in southwest Michigan. "The chance to partner with so many local agencies and organizations from neighboring communities serves fully in support of that mission."
Following the success of the event, the group is already planning for a 2023 summer tournament.
For more information about the Boys & Girls Clubs, contact Sherri Ulleg at 269.363.4806 or sulleg@bgcbh.org.