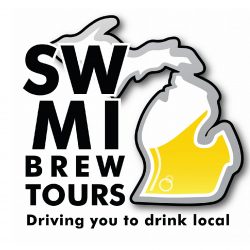 Ever had anybody drive you to drink? Admittedly that phrase is typically reserved for somebody who is driving you batty…making you crazy…or taking you to the edge. Well, the crew at SWMI Brew Tours is putting a whole new spin on that, hoping you'll take them up on the invitation to have them drive you to drink local. Call it a Beer Bus…a Beer Limo…a Beer Ferry. Call it what you want, but just make sure you call it before your next trip to sample some of the amazing offerings on the ever-increasing Makers Trail dedicated to craft brews.
You may have already seen the sleek black SWMI Brew Tours bus trundling around the region or outside of your own favorite watering hole, but they held off on putting the full story out until their website was completed this week. There's a link below.
SWMI Brew Tours was founded on the premise that making brewery visit plans should be easy. Essentially they are dedicated to, "Driving You to Drink Local!" While there are multiple vendors conducting wine tours and at least one doing combo wine & brewery tours…this brew crew is focused on craft breweries in the region.
Based in the Saint Joseph area, the Brew Tours team specializes in providing each and every customer with a wide array of brewery packages and services. Whether you're looking for a quick cruise, a trip with friends or an afternoon of team building, SWMI Brew Tours can help you put together a tour you'll never forget.
They're committed to service and excellence, and will take care of all the details so you can start relaxing long before your next trip.
At SWMI Brew Tours, their passion is South West Michigan Beer. They are laser focused on providing a personal touch well beyond simply making your reservations for you. Each of the SWMI Brew Tours agents have a first-hand knowledge of the breweries they book tour stops for. They're in the business of making your travel arrangements virtually hassle-free.
You can join a tour through the Brew Tours Hop On service to experience craft beer makers in Michigan's Great Southwest or you can opt for a totally private brewery tour. Get in touch with SWMI Brew Tours to learn about their exclusive 6 hour trip package, where the price includes pick up and drop off at your location of choice in Berrien County and up to six brewery visits of your choice.
Operational hours are 11am-5pm Saturdays & Sundays, however they are flexible on times. Drinks are not included, and a minimum of four people is required to launch. Then get ready to create some unforgettable memories and taste some unforgettable beers.
For a completely Private Brewery Tour, you can get in touch with SWMI Brew Tours to learn about that exclusive private tour offer. Whether it a business trip, private party, or some serious "market research," they  are excited to offer you a great trip at a competitive price.​ Additionally, multiple pick up drop locations and more are available.
You can reach SWMI Brew Tours by phone at (269) 363-8846, by email at swmibrewtours@gmail.com, or via their website linked below or follow along on Facebook. Here's the link: